Transportation around Tokyo Bay waterfront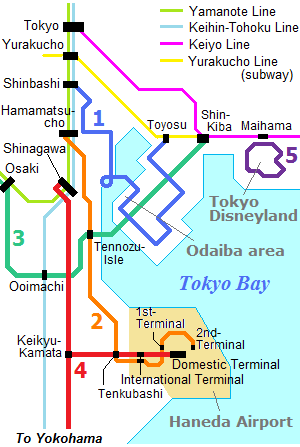 Tokyo Bay waterfront is an appealing area for tourist.
Since the late 1990s, this area has developed rapidly, then many modern buildings and structures have been built.
So new transport facilities have been improved.
This area is mostly occupied with landfill, so monorail and Automated Guideway Transit are adopted for transport facilities because the facilities are light and the construction cost is cheap.
These are convenient means of transportation, but each route and the position of station for transfer are confusing.
I think that this map must be useful for you.
Yurikamome /1/
It is a Automated Guideway Transit service opened in 1995. The total length is 14.7 km.
The starting station is Shinbashi, and is in front of east exit of JR Shinbashi station.
It runs first along seaside area, next across "Rainbow Bridge", then through Odaiba area.
All along the line, we can enjoy the good view.
The terminal station is Toyosu. We can transfer to Yurakucho Line of Tokyo Metro (subway).
Yurikamome official website
Tokyo Monorail /2/
It is a monorail connecting city center and Haneda Airport, and was opened in 1964, when Tokyo Olympic Games were held.
The total distance is 17.8 km, and it takes about 20 minutes from JR Hamamatsucho station to Haneda Airport. In Haneda Airport, three stations, International Terminal, The 1st Terminal and The 2nd Terminal, are set up.
This line has several stations on the way, but this is basically one of the airport accesses.
Tokyo Monorail official website
Rinkai Line /3/
It is a railroad connecting Osaki and Shin-Kiba.
It runs through waterfront and Odaiba area. But whole line is underground, so we cannot see the view from the train.
The trains of JR Saikyo Line run into this line through Osaki station, so it is convenient to visit Bay area from Shibuya, Shinjuku or Saitama Prefecture.
Keihin-kyuko Line (Keikyu Line) /4/
It is one of the main private railroads around Tokyo.
The main line runs from Shinagawa through Yokohama to Miura Peninsula. And it has a branch line to Haneda Airport. In Haneda Airport, there are two stations, International Terminal station and Domestic Terminal station.
Many express trains from both Shinagawa and Yokohama to the airport are operated.
Disney Resort Line /5/
Tokyo Disneyland is most popular theme park in Japan. And Tokyo DisneySea additionally was opened in 2001.
Disney Resort Line is the monorail running around these parks and some resort hotels, and is operated by a formal company.
The total length is about 5 km, and all trains run counterclockwise every some minutes.
There are four stations on the line, and one of them is near JR Maihama station on Keiyo Line.
(Tokyo Disney Resort is in "Chiba Prefecture".)
---
---
---
Copyright ©
travel-around-japan.com
. All Rights Reserved.