Kan'nai area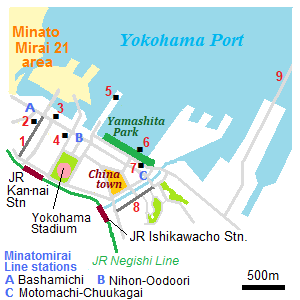 Yokohama port is one of the most important ports in Japan.
And after long national isolation by Edo government, Yokohama port was opened to trade with Europe and the United States in 1859.
So the year 2009 marks the 150th anniversary of the openning.
The central area is located southeast of Yokohama station.
Minato Mirai 21 area is just located between the station and this port.
There is the main pier for passenger ships in the center of the port, and there are Yamashita park and some spots along the waterfront.
And the south side of the port is the original downtown of Yokohama city, and there are several historic spots in the area.
In this area, there are the prefectural office, the city hall and some government offices.
This area is called "Kan'nai".
After openning the port, some enclaves for foreign residents were built around Kan'nai area.
So there are some old European-style buildings of the time in this area.
Bashamichi street /1/
It is a street one block north from the north exit of JR Kan'nai station, and runs toward northeast. The length is about 500 meters.
"Basha" means "horse-drawn buggy", and "michi" means "road".
After openning the Yokohama port in 1859, this street was a main road connecting an enclave for foreign residents and Yokohama port.
The foreigners had come and gone by horse-drawn buggy, but that was unusual for Japanese people. Therefore they called this street such name.
Along this street, gas lamps were installed for the first time in Japan.
And Japan's first ice-cream was selled at this street.
Here is one of the nice streets for a stroll.

Osanbashi pier /2/
It is the main international pier of Yokohama port for passenger ships, and is located the waterfront in the center of Kan'nai area.
There is Akarenga Park in Minato Mirai 21 to the west, and Yamashita Park is located just southeast of this pier.
It is the oldest pier in Yokohama, and it was completed in 1896. To meet modern demands, it was reconstructed in 2002.
On the pier, there is the international passenger terminal.
The building is unique, and it has no post, no beam, and no step.
The rooftop is opened free, and there are some view points. The nickname of the rooftop is "the back of a whale".
Osanbashi Yokohama official website
Yamashita park /3/
It is a park along Yokohama port, and is located just southeast of Osanbashi pier.
It is a little under 1 km long from east to west and is about 80 meters in width.
This park was built in 1930 using the rubble of city as the symbol of reconstuction after the Great Kanto Earthquake in 1923.
There are many statues and flowerbeds, and the view of the port is also nice. So always many people visit here.
And here is one of the most popular spots in the Yokohama.
Hikawamaru /4/
It is a passenger ship moored at Yamashita park.
It had cruised the North Pacific route from 1930 to 1960.
The accomodations and the service were excellent, then many famous people had cruised by this ship.
In 1932, Charlie Chaplin came on board.
We can tour inboard.
Hikawamaru official website
Yokohama Marine Tower /5/
It is a tower located just south of Yamashita park.
It was built in 1961 in commemoration of the 100th anniversary of the opening Yokohama port.
The height is 106 meters, and there is the observatory at the level of 100 meters.
It was built as a lighthouse. So it had been in the Guinnes Book of World Records as the hightest lighthouse in the world.
But the function as a lighthouse was discontinued in 2008.
This tower has renewed in 2009 in commemoration of the 150th anniversary of the opening Yokohama port.
Yokohama Marine Tower official website
Yokohama Bay Bridge /6/
It is a cable-stayed bridge located about 2 km east of Yamashita park, and is build over Yokohama port from north to south in 1989.
The length is 860 meters, and this bridge is for cars.
Some historic buildings in Kan'nai area
Scenic or Nature /
Park or Garden /
Resort /
City, Town or Village /
Quarter or Street /
Temple or Shrine /
Museum or Laboratory /
Market or Commercial facility /
Factory /
Other Building or Construction /
Historic place /
Remains /
World Heritage Site
How to get to here
By JR
Kan'nai station on Negishi Line.
It is close to Bashamichi and the main station for touring around this area. To Yamashita park, about 15 minutes on foot.
Ishikawacho station on Negishi Line. The next station of Kan'nai.
It is close to Chinatown and Motomachi area. To Yamashita park, about 10 minutes on foot.
By Minatomirai Line
There are 3 stations in this area.
From west to east, Bashamichi (close to Bashamichi street), Nihon-Oodoori (close to Osanbashi) and Motomachi-Chuukagai (close to Chinatown and Yamashita park).
To Yokohama Bay Bridge
Some regular sightseeing buses run across this bridge.
To visit Sky Walk, go to Tsurumi station (between Yokohama and Kawasaki) on JR Keihin-Tohoku Line or Keikyu Line.
Then get on the route bus to Sky Walk. It takes about 30-35 minutes on holyday, 47 minutes on weekday.
---
---
---
Copyright ©
travel-around-japan.com
. All Rights Reserved.