San'nai-Maruyama site [
三内丸山遺跡

]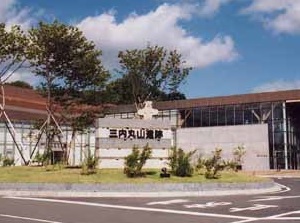 Jomon-Jiyukan in Sannai-Maruyama site
Photo by Aomori Prefecture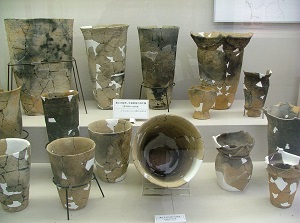 Displaying excavated articles
Photo by Railstation.net
San'nai-Maruama site is the remains of village about 5,500 to 4,000 years ago.
The period is called as Jomon Period in Japan.
It is located about 4 km southwest of Aomori station.
The remains have been known since the 17th century, but it had been considered that they are not so important.
In the 20th century, they were sometimes excavated only partly.
But, in the early 1990s, Aomori Prefecture planned to build a new baseball stadium here, then they started a full-scale investigetion of this site.
Then, in 1994, they found that they are the remains of large-sized village and the size was the largest in Japan.
Therefore, they halted the construction of the studium and started preserving and maintaining this site.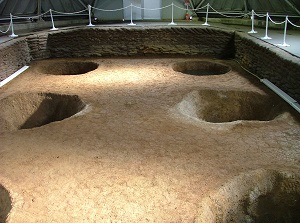 Remains of 6 wooden columns
Photo by Railstation.net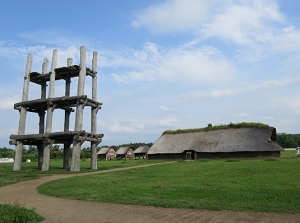 The site of Sannai-Maruyama site
Photo by Railstation.net
The remains have a width of 38 hectares, and there are the site of dwelling, burial grounds and dumping yard in it.
Most important remains are the six wooden columns, and the imagined construction is restored at the other place.
Also some houses in those days are restored.
For visitors, there is the visitor center Jomon-Jiyukan (縄文時遊館).
It is the main facility and is the entrance to the remains.
In the facility, there is the museum displaying the excavated articles and a small theater of video introducing the remains.
To the remains, the visitors walk through a tunnel to travel back in time to Jomon Period.
Some walking trails are set up in the remains like a park.
The scenery is like an ancient village.
Additionally, Tokoku Shinkansen runs about 300 meters west of this site.
So, you can see this site from the Shinkansen window.
How to get here
By route bus, 30 to 40 minutes from JR Aomori station.
Or, shuttle bus "Nebutan-go" visiting some spots is operated.
About 15 minutes from JR Shin-Aomori station.
Other Tourist Attractions in Aomori Prefecture