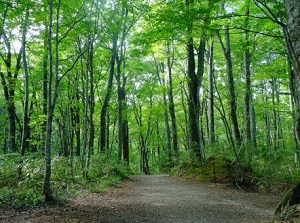 Forest of Shirakami-sanchi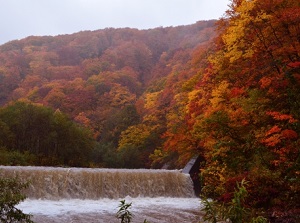 Autumn leaves in Shirakami-sanchi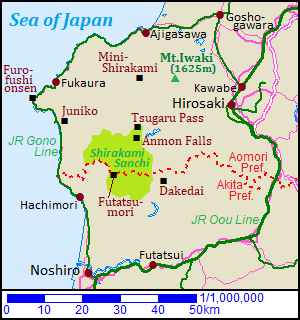 Map around Shirakami-Sanchi
Shirakami-Sanchi is one of the Japan's first sites designated as a World Natural Heritage Site in 1993.
"Shirakami-Sanchi" is the Japanese word of "Shirakami mountains".
"Shirakami" means "white god".
Old beech forests extend into both Aomori and Akita Prefectures.
The forests are 130 thousand hectares in area, and central 17 thousand hectares of them are designated a World Heritage Site.
The forests cover the mountains as much as 1,000 to 1,200 meters high.
Beech trees serve little uses for Japanese people.
So, no tree have been cut down, then untouched natural forests have remained here.
There are few forest roads in this area.
Basically general visitors are forbidden to enter the central area.
As the valuable forests are main, there are few grand or wonderful sceneries as sightseeing spot.
But you can feel the strength of nature at some spots in the forest.
The following spots are popular.
But the ground of whole area is soft, so unfortunately it could be that you cannot reach there by landslide or rockfall.
Anmon Waterfalls (
暗門の滝

)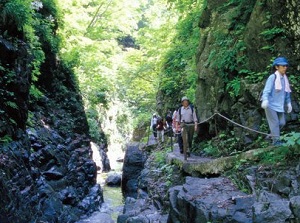 Walking trail to Anmon Waterfalls
Photo by Aomori Prefecture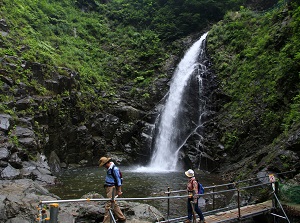 Anmon Waterfalls
Photo by Aomori Prefecture
Anmon Waterfalls are three waterfalls located at the northeastern edge of World Heritage Site.
It is located about 30 km west of Hirosaki city.
There is the first waterfall 42 meters high in Anmon River, and the second waterfall 37 meters high is 200 meters downstream.
And, the third one 26 meters high is 160 meters downstream.
From the parking, you can walk on a trail in beech forest along the Anmon River.
The distance to the third waterfall is about 3 km.
From the middle of June to early November, a route buses from Hirosaki to "Tsugaru-tooge" stop at near the parking.
It takes about 1 hour and 30 minutes from Hirosaki.
Tsugaru mountain pass (
津軽峠

)

View from Tsugaru mountain pass
Photo by Aomori Prefecture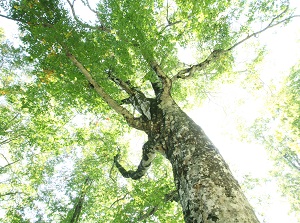 Mother Tree
Photo by Aomori Prefecture
Tsugaru mountain pass ("Tsugaru-tooge" in Japanese) is a mountain pass located about 4 km north of Anmon waterfalls.
We can see the mountains in Shirakami-sanchi and Mount Iwaki.
There is a huge beech tree near this pass, and it is called "Mother Tree".
It is estimated to be 400 years old.
By the route bus, it takes about 40 minutes from the parking of Anmon waterfalls.
Mini Shirakami (
ミニ白神

)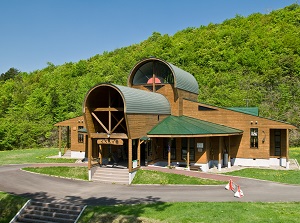 Kuromori-kan
Photo by Aomori Prefecture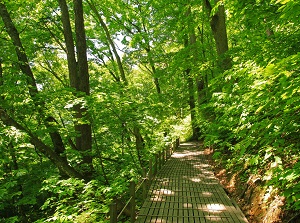 Forest of Mini Shirakami
Photo by Aomori Prefecture
Mini Shirakami is a beech forest in which we can walk.
It is located about 12 km south of Ajigasawa town.
This forest is out of World Heritage Site.
But, since the 17th century, it has been forbidden to cut down the beech trees to hold water for using in farm.
It is 52 hectares wide, and there is a visitor center "Kuromori-kan".
From there, two walking courses, 2.2 km and 1.1 km, are set.
It is opened from April 20th to the end of October.
In this period, a route bus runs from Ajigasawa station and it takes about 30 minutes.
But it runs only once a day (11:45 at Ajigasawa).
How to get here
Ajigasawa and Hachimori stations are on JR Gono Line.
From Hirosaki to Ajigasawa, about 1 hours and 10 minutes by rapid train "Resort Shirakami", or about 1 hours and 20 minutes by local train.
Hotels around Hirosaki, Ajigasawa
Other Tourist Attractions in Aomori Prefecture