Water bus and Ferry
Water Bus in Tokyo

Water Bus on Sumida River in Tokyo
Sumida River flows from north to south along the east part of central Tokyo.
Asakusa is the the on the right bank of the river.
There is Tokyo Port at the mouth of the river, and Odaiba area is around the port.
The width of the river is about 150 meters. (The width is nearly the same as the Seine River in Paris.)
Between Asakusa and Odaiba area, water buses are operated by two companies.
They are operated from around 9:30 to around 18:30, once or twice an hour.
You can use them as both a sightseeing cruise and a transportation.
Water Bus in Osaka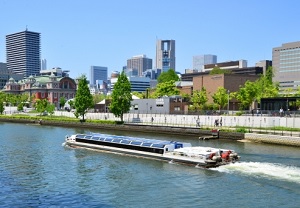 Water Bus in Osaka
Kyu-Yodo River flows in the central Osaka city.
A water bus cruising the river is operated.
There is a long island called as Nakanoshima in the river, and the water bus runs around the island.
One of the ports is Osaka Castle.
The width of the river is about 70 meters.
They are operated from around 10:00 to around 17:00, once an hour.
Miyajima Ferry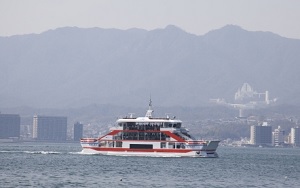 Miyajima Ferry
Miyajima (Itsukushima) Island is located about 20km southwest of central Hiroshima city.
The nearest port is Miyajima-guchi, and two companies operate the ferry to Miyajima Island.
The distance is only about 1.7 km.
Both companies operates the ferry every 15 minutes, and it takes only 10 minutes.
One company is JR (Japan Railway) West Ferry, and the other company is Miyajima Matsudai Ferry.
Both ports are side by side, and the fare is the same.
You may take which of the ferries you like.
But, if you have "Japan Rail Pass", you can board on the ferry of JR West Ferry by the pass.
As a little-known ferry, I used "Yakata-bune" boat cruise by Aqua Net Hiroshima company, when I visited Miyajima.
The pier is 1.3 km far from Miyajimaguchi, but the boat passes just near the O-torii (Great Shrine Gate in the sea).
Ferries to remote islands
There are many remote islands in Japan.
So, many ferries to the islands are operated.
Hokkaido area
Kanto area
Koshin-etsu area
Chugoku and Shikoku area
Kyushu area