Tourist Attractions in Fukuoka
Fukuoka is the prefectural capital of Fukuoka Prefecture.
It is located at the northwest part of the prefecture.
Fukuoka is the largest city in Kyushu Island.
The main area spreads along Hakata Bay.
Hakata Bay is surrounded with Umi-no-Nakamichi sand bank (海の中道), Shikanoshima island (志賀島) and Nokonoshima island (能古島).
Therefore, the sea in the bay is calm.
Since ancient times, this area had been the entrance to Asian Continent.
It is said that rice cultivation was introduced from Korea to Japan through this area in the 4th B.C.
Old Chinese historical documents written in the 3rd century says a Japanese king paid tribute to the Chinese king and the Chinese king gave a golden seal to the Japanese king in 57 A.D.
The golden seal was unearthed on Shikanoshima island in 1784.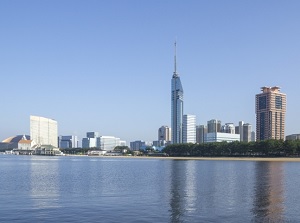 Seaside area in Fukuoka city
In 1274 and 1281, the major militaly by Kublai Khan in Mongol Empire attempt invade and conquest against Japan, at this coast.
Ten thousand of Mongol soldiers came ashore by ship, but Japanese people battled them bitterly around this coast and beat back the Mongols.
After the second battle, Mongol ships retreated offshore.
At that time, hard storm hit them and the great military was devastated on the sea.
This storm rescued Japan, and the people called the storm as "Kamikaze" (Wind by God).
In the early 17th century, Kuroda family, the warlords, built Fukuoka Castle.
Now, this city has Hakata area with business district and Fukuoka area with commercial zone.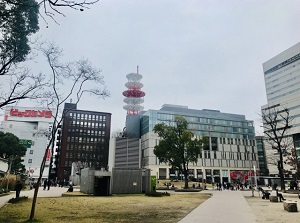 Tenjin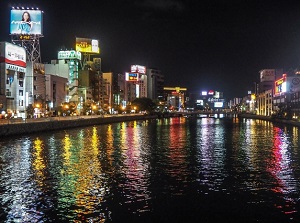 Nakasu
Naka River (那珂川) flows through the central area to the north.
The east side of the river is Hakata area (博多).
It is a business district and there is JR Hakata station.
There is Tenjin area (天神) on the west side.
It is the central commercial zone in Fukuoka.
There is the terminal station of Nishitetsu railway.
Between Hakata and Tenjin areas, there is a river island about 1 km long and about 150 meters wide.
It is called Nakasu (中洲) and is the popular entertainment district in Fukuoka.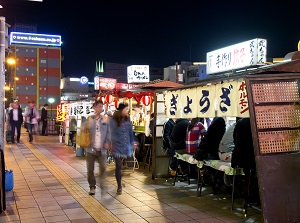 Yatai in Fukuoka
© Fukuoka City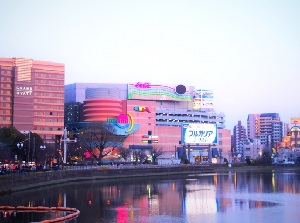 Canal City Hakata
When talking about Fukuoka, it should be remembered that there are many Yatai.
Yatai is a food stall, and about 100 Yatais are opened on the street every day.
Main areas of them are Nakasu and Tenjin.
Yatais in Nakasu are along the river, and ones in Tenjin are along the main streets.
Many of them serve Hakata ramen.
But the others serve variety of foods such as Yakitori, Oden.
(However, they never serve raw foods such as Sashimi, Sushi.)
Generally, they are opened around 6 to 7 p.m. and are closed at 0 to 3 a.m.
JR Hakata station is the terminal of San-yo Shinkansen and is located at Hakata area.
There is Canal City Hakata around the southeastern edge of Nakasu district.
It is the largest commercial complex in Fukuoka.
There is located by Naka River and it is also a popular spot for tourist.
Fukuoka Airport is located about 2 km east of Hakata station, so it is very easy to visit Fukuoka city.
The subway links the airport, Hakata station and the main area.
How to get here
By Shinkansen train, to Hakata, about 5 hours from Tokyo, about 2.5 hours from Shin-Osaka, about 15 minutes from Kokura.
From Fukuoka Airport, by subway, about 5 minutes to Hakata station, about 12 minutes to Tenjin.
By express bus, 14 hours from Tokyo, 9 hours from Osaka.
Other Tourist Attractions in Fukuoka Prefecture