Telephone and Internet in Japan
How to use mobile terminal in Japan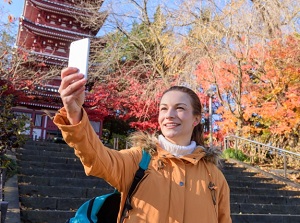 Over 75 percent of Japanese people own smartphone now.
(Other 20 percent of the people use feature phone.)
When you visit Japan, you will find that many people continue to operate smartphone in the train or on the road.
Therefore, the network environment is enough in Japan.
If you want to use your mobile terminal in Japan, check the way to do so on the official site of your telephone service company, first.
If it isn't enough, consider some following ways.
Prepaid-type SIM Card
This may be the newest cheap way to use mobile terminal in Japan.
If you want to use it cheaply and lightly in short duration, this is the best way.
Please check the following websites. All of them are for foreign traveler.
Free Wi-Fi
If you visit only big cities such as Tokyo, Kyoto, Osaka, etc., it is the good way to use your terminal freely.
There are many places in the cities.
Japan Tourism Agency shows the info on the official website.
Rental Wi-Fi
If you want to use use your mobile terminal heavily, using rental Wi-Fi is a way.
Rental mobile phone and Wi-Fi
It is also a way to rent a mobile phone.

Public telephone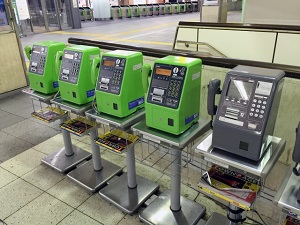 Public telephones in Shinjuku station
If you don't have a mobile phone which is usable in Japan and you must make a call, go to a railroad station, a supermarket, a convenience store, a hotel, or a big hospital.
Maybe, you can find a public telephone there.
Of course, you can make a call from the room in the hotel where you are staying, but generally the telephone charge comes expensive by adding service charge and so on.
Therefore, I think you had better use public telephone.
You can use some coins or a telephone card (prepaid card) for calling.
Only 10 yen and 100 yen coins are available.
5 yen, 50 yen and 500 yen coins don't be accepted.
When you insert 10 yen, you can call for about 57 seconds within the city.
If a long‐distance call, the available time becomes short.
There are 500-yen telephone card and 1,000-yen telephone card, and the latter card is worth 1,050 yen.
You can buy them at a vending machine around the public telephone or covenience store and so on.
During you call with telephone card, the balance is displayed.
Please check the following websites about public telephone.
There are two telephone companies (East Japan and West Japan), but the telephone set is the same.
You can make an international call from public telephones which display "International".
The international telephone service in Japan is offered by several companies.
But you have only to know the below "KDDI".
Telephone number in Japan
When you make a call on a mobile terminal, you must dial the area code before the phone number.
(If you make a call to the same city on a public telephone, you can omit the code.)
The area codes of main cities are the following.
Tokyo : 03 / Osaka : 06 / Sapporo : 011 / Sendai : 022 / Yokohama : 045 / Nagoya : 052 / Kyoto : 075 / Kobe : 078 / Hiroshima : 082 / Fukuoka : 092 / Naha : 098
For example: 03-xxxx-xxxx (To Tokyo) / 075-xxx-xxxx (To Kyoto)
Above code is for landline telephone.
(The number of digits is 10.)
But the following codes are for mobile terminal and the other special telephons.
(The number of digits is 11.)
(Mobile terminal) 090-xxxx-xxxx / 080-xxxx-xxxx / 070-xxxx-xxxx
(IP telephone) 050-xxxx-xxxx
In addition, toll-free telephone numbers are as follows.
0120-xxx-xxx / 0800-xxx-xxx
Numbers of emergency call
110 = Police
119 = Ambulance, Fire engine
But the operator may be unable to understand your language.
In such a case, it is sensible to ask any Japanese person by you to make a call.
In Kyoto, because foreign visiters are increasing, the operaters speaking in various languages are assigned.
If you must dial "110" in Kyoto, do so without hesitation.