Bus in Japan
Fixed route bus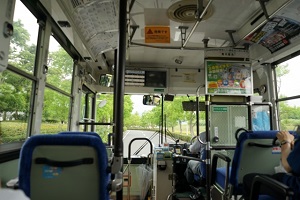 Inside of a fixed route bus
Fixed route bus is an familiar transportation.
It runs in most cities and towns in Japan.
When you travel around Japan, you may have some opportunities to get on a bus to reach your destination.
In Tokyo and Osaka, you can visit various tourist attractions by railway.
Kyoto is a big tourist city, but the main transportation in Kyoto is fixed route bus because Kyoto has only two lines of subway.
In most cases, when you use fixed route bus, you enter the bus through the door at the center part and get off through the door at the front.
If the bus stop name of your destination has been announced in the bus, push a button on the wall and inform the driver that you get off the stop.
When you get off the bus, insert the money into the fare box beside of the driver.
When the bus runs only inside the city, the fare is the same in many case.
But when the bus runs a long distance, the fare is different according to the distance.
At that case, when you get on the bus, you pick up a paper strip with a number.
There is a fare board by exit, so you pay the fare of the number.
Express bus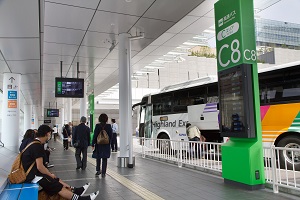 Busta Shinjuku
Like Shinkansen, nationwide network of expressways are completed.
Therefore, many long-distance express buses run on the expressways every day.
Of course, it takes a few times longer than Shinkansen, but the fare is about half.
If you want to travel around Japan as cheaply as possible, it is a good way to use express bus.
In addition, JR including Shinkansen has only a night train. (between Tokyo and Izumo, Takamatsu)
On the other hand, many night express buses are operated on various routes.
If you want to move to far city in one night and travel around Japan efficiently, it is a good way to use night express bus.
Main express bus terminal in Tokyo area
Main express bus terminal in Nagoya area
Main express bus terminal in Osaka area
Bus companies operating express bus
JR Bus group
There are JR Bus companies in each region.
They are in JR company group, but you can't get on the express bus by "Japan Rail Pass".
Other bus companies
Express bus booking website
The Ministry of Land, Infrastructure and Transport in Japan provides the websites for booking of express bus in Japan.
It introduces some bookin sites.
Regular tourist bus service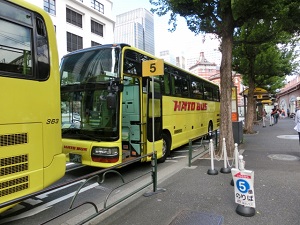 Tour bus
In main tourist areas, regular tourist bus is operated.
If you want to visit main tourist attractions without any trouble, it is a good way to join any bus tour.
You can select your favorite tour in some interesting tours.
In most case, there are one-day tour, half-day tour, 2 or 3-hours tour, etc.
Some cities operate "Loop Bus" like fixed route bus.
It stops at some tourist attractions in order and returns to the starting point. The bus is operated frequently.
If you buy the tour ticket, you can use the bus as you like within the day.
Tokyo, Kanto area
Kansai area
Hokkaido area
Tohoku, Koshin-etsu area
Hokuriku, Tokai area
Chugoku area
Kyushu area