Rental car in Japan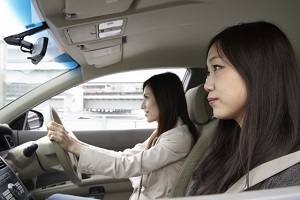 Japanese cars have the steering wheel on the right-hand side
If you can drive a car, it is a good idea to rent a car and travel in Japan.
You can take a tour effectively and can visit more places.
However, Japanese law requires that you must hold the "International Driving Permit" to rent a car in Japan.
And it must be issued under the 1949 Geneva Convention on Internatioal Road Traffic. (not 1968 Vienna Convention on Road Traffic !)
If you are a Taiwanese, you can rent a car by Taiwanese driver's license and necessary document issued by Taiwan government since September 2007.
If you plan to rent a car, prepare the necessary procedures early.
The service offices of car rental company are around airports and railway stations.
And they are mainly in big cities.
To rent a car, it is assured to make a reservation via internet before you start off on a journey.
Of course, it's possible to go directly to the office, but you may not get your favorite car in that case.
The laws to drive in Japan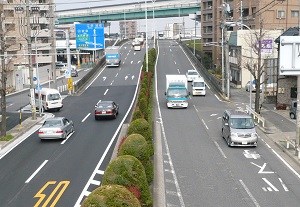 In Japan cars must keep to the left side
In Japan, you must drive on the LEFT side of the road.
As a result, Japanese cars have the steering wheel on the right-hand side.
So if you always drive on the right in your country, watch the traffic especially when you turn.
In addition, drivers and all passengers are always required to use seat belts.
And, children aged 6 or younger are required to be seated in a "child-seat".
Needless to say, you shouldn't absolutely drink and drive.
And the use of mobile-phone while driving is prohibited
Manner when you drive a car in Japan
It's the simplest thing, but I hear the drivers have bad manners in some countries.
The followings are standard in Japan.
If you drive in Japan, you must keep them in mind.
You shouldn't blow the horns except if you feel any danger.
When you find the pedestrians who are crossing or want to cross the road, you should stop the car and give preference to the pedestrian's crossing.
When police cars, fire engines, or ambulance are coming, make way for them.
Accidents caused by rental car are increasing
Recently, accidents of rental car are increasing.
Especially, the number of accidents caused by foreign traveler are three times more than Japanese rental car driver.
The reasons are as follows.
The driver is inexperienced in right‐hand drive and keeping to the left.
The driver can't understand the Japanese road signs.
The sense of speed and the driving manner are different from the home country.
Anyhow, driving in Japan needs the most careful attention.
And, when you rent a car, you should check about car insurance.
Rental car companies in Japan
There are global car rental companies and Japanese car rental companies in Japan.