Tourist Attractions in Hiroshima city
Hiroshima city is the prefectural capital of Hiroshima Prefecture.
It has a population of 1.2 million.
It is the central city in Chugoku District, and there are the local agencies of the governnment and many companies.
But Hiroshima is known as the first city in the world to be the target of an atomic bomb.
On August 6, 1945, Enola Gay (the B-29 bomber) by United States Army Air Forces dropped an atomic bomb on this city at 8:15 a.m.
The unthinkable blast in temperatures of some thousand degrees killed tens of thousands Hiroshima citizens in a moment.
And total 140 thousand people died within the year.
(The city had a population of about 350 thousand people at that time.)
After the war, Hiroshima was restored with overcoming various difficulties, and has developed as the city of peace.
We hope to achieve a peaceful and safe world free of nuclear weapons.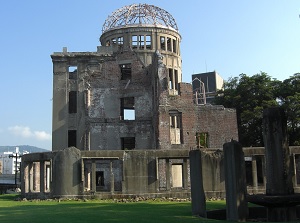 Genbaku Dome (Atomic-Bomb Memorial Dome)
The main area of Hiroshima city is on the delta formed by Ota River, so some branch rivers flow through the city.
The south side of the city faces Hiroshima Bay, and the main area is surrounded by mountains.
JR Hiroshima station is located on the northeast edge of the main area and the central area is within 2 km from the station.
Streetcar of Hiroshima Electric Railway (Hiroden) runs in the main area, and the visitor can visit the popular sightseeing spots.
How to get here
Railway
To Hiroshima from Shin-Osaka : 1.5 hours by Shinkansen.
To Hiroshima from Tokyo : About 4 hours by Shinkansen.
To Miyajima-guchi from Hiroshima : About 30 minutes by JR local train.
Express bus
To Hiroshima station from Hiroshima Airport : about an hour
To Hiroshima from Tokyo : about 11 hours. (Night bus)
To Hiroshima from Osaka : about 5 hours.
Other Tourist Attractions in Hiroshima Prefecture