Hiroshima Peace Memorial Park [
広島平和記念公園

]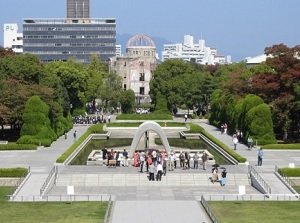 Hiroshima Peace Memorial Park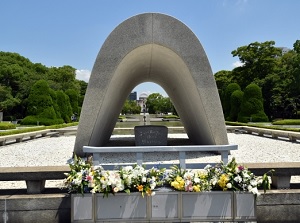 Memorial Cenotaph
Hiroshima Peace Memorial Park is a park to the south of Genbaku Dome.
The site between Honkawa river and Motoyasu River is about 600 meters from north to south and about 350 meters from east to west.
After A-bomb was dropped and the Pacific War (World War II) finished, the construction of a park to appeal for world peace and never to repeat the foolish mistakes by humankind was planned.
The park was completed in this place near the center of explosion in 1954.
Every year, Hiroshima Peace Memorial Ceremony is held on August 6, the day of the atomic bombing.
At 8:15 a.m., participants offer a one-minute silent prayer for the victims.
For this one-minute, all streetcars and buses in Hiroshima also stop, and all passengers offer silent prayer.
Then the Mayor of Hiroshima makes a peace declaration, which is sent to the leaders of nuclear nations around the world.
On May 27, 2016, after the 42nd G7 summit in Ise-Shima area, U.S. President Barack Obama visited this park.
He was the first sitting U.S. president to visit the site of the atomic bombing.
No word of apology was in his message, but this was a revolutionary event.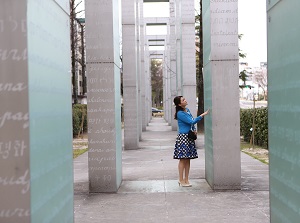 Monument of Hiroshima Peace Memorial Park
Photo : Hiroshima Prefectural Tourism Federation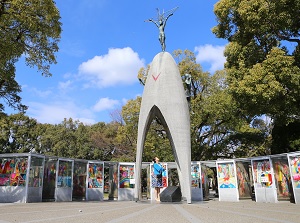 Monument of Hiroshima Peace Memorial Park
Photo : Hiroshima Prefectural Tourism Federation
In the center of the park, there is Memorial Cenotaph covered with a concrete and saddle-shaped monument.
From the monument, Genbaku Dome is seen.
On the cenotaph, the words to the victims are carved.
Let all the souls here in peace; For we shall not repeat the evil.
In the cenotaph, the name lists of the people killed by A-bomb have been housed, and new names of the people died from atomic bomb disease in the year are added every year.
Now, the lists have over 250 thousand names.
In the park, there are many other monuments.
And, Hiroshima Peace Memorial Museum is in the south part of this park.
How to get here
By streetcar with route No. 2 or 6, about 20 minutes from Hiroshima station to Genbaku-Dome-mae stop.
From Genbaku Dome, about 5 minutes walk.
Hotels around Hiroshima Peace Memorial Park
Other Tourist Attractions in Hiroshima city