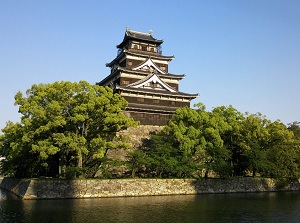 Hiroshima Castle
Photo : Hiroshima Prefectural Tourism Federation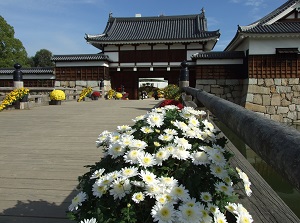 Entrance gate of Hiroshima Castle
Photo : Hiroshima Prefectural Tourism Federation
Hiroshima Castle is located about 1.5 km west of Hiroshima station.
And, it is located about 1 km northeast of Genbaku Dome.
From the 14th to 16th century, there was the castle in this area in the mountain to the north of current Hiroshima city.
The purpose was the guard on the route between Seto Inland Sea side and the Sea of Japan side.
After the age of war, the lord of Hiroshima area decided to build the castle town with business districts and a port near Seto Inland Sea.
So, Hiroshima Castle was built in the current place in 1589.
Then the castle town has developed as Hiroshima city since that.
The nickname of the castle is Rijô (鯉城) in Japanese.
"Ri" means "carp" and is the pronunciation of Chinese. In Japanese, it is pronounced as "koi".
"Jô" means "castle".
On the west side of this castle, there is a district named Koi.
Or, there are many carps in the moats of the castle.
It is said that the naming came from such reasons.
(The name of popular baseball team in Hiroshima is also "Carp".)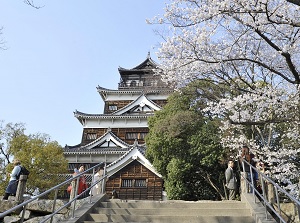 Hiroshima Castle in spring
Photo : Hiroshima Prefectural Tourism Federation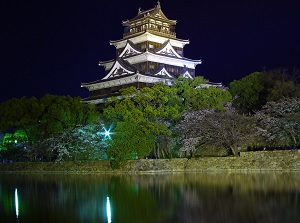 Hiroshima Castle in the evening
Photo : Hiroshima Prefectural Tourism Federation
After the end of feudal period in 1868, the new Meiji Government demolished many castles in Japan because the castles were unnecessary for the modern state.
Fortunately, this castle was preserved, and it was designated as a national treasure.
But, the A-bomb in 1945 destroyed this castle completely.
Current castle tower was rebuilt in 1958.
The main site of the castle is about 240 meters from north to south and about 200 meters from east to west.
And it is surrounded by wide moats about 50 to 70 meters wide.
There is the castle at the northwest corner of the site.
It is a five-storied building, and the inside of the castle tower is the museum of history.
Most part of the site is a park.
There are some ruins of the castle in the park.
How to get here
By street car with route No. 1, 2 or 6, about 18 minutes from Hiroshima station to Kamiyacho-higashi or Kamiyacho-nishi stop.
About 600 meters walk from there.
Hotels around Hiroshima Castle
Other Tourist Attractions in Hiroshima city