Hiroshima Prefecture [
広島県

]
Hiroshima Prefecture is located in the center of Chugoku Region.
The southern coast faces Seto Inland Sea (Seto Naikai).
There are about 140 islands near the coast.
The west part of the coastline faces Hiroshima Bay.
Hiroshima city and Miyajima island with Itsukushima Shrine is near the bay.
The whole prefecture is mountainous, but the highest part is lower than a level of 1,400 meters.
So main cities are along the southern coastline.
The climate in the southern area is mild and has relatively low rainfall.
The mountainous area in the north part has heavy snowfall in winter.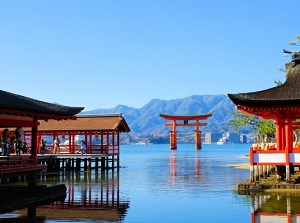 Itsukushima Shrine
All of manufacturing industry, agriculture and fisheries are active.
Hiroshima bay is known for the cultivation of oyster.
Hiroshima city is the prefectural capital, and is a large city with a population of 1.2 million.
It is well-known as the city destroyed by the first atomic bombing in human history.
You can know the miserable condition by A-bomb in Hiroshima.
Tourist Attractions in Hiroshima Prefecture
Hotels in Hiroshima Prefecture
Transportation
Railway
To Hiroshima from Shin-Osaka : 1.5 hours by Shinkansen.
To Hiroshima from Tokyo : About 4 hours by Shinkansen.
To Miyajima-guchi from Hiroshima : About 30 minutes by JR local train.
Express bus
To Hiroshima from Tokyo : about 11 hours. (Night bus)
To Hiroshima from Osaka : about 5 hours.
Airport
Hiroshima airport is located about 50 km east of Hiroshima city.
It has the flights from Shin-Chitose (Sapporo), Sendai, Narita, Haneda (Tokyo), Okinawa.
Main events in Hiroshima Prefecture
Hiroshima Flower Festival (May 3 - 5)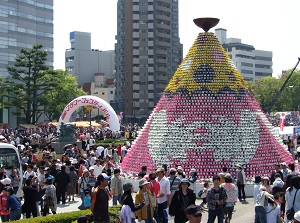 Photo by Hiroshima Prefectural Tourism Federation
Hiroshima Flower Festival is the main event in spring, and is held in the center of Hiroshima city.
The festival has been held since 1977, and about a million people visit this festival.
The symbol of this festival is a huge twelve-sided pyramid and it is covered with a lot of flowers.
The main sites are Hiroshima Peace Memorial Park and Heiwa-Odori street, and parades, dances, concerts are held.
Hiroshima Peace Memorial Ceremony (August 6)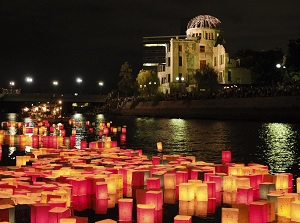 Photo by Hiroshima Prefectural Tourism Federation
August 6th is the day of atomic bombing on Hiroshima.
Every year, Hiroshima's mayor, family members of the victims and other citizens attend the Peace Memorial Ceremony.
Participants offer a one-minute silent prayer for the victims at 8:15 a.m. (Atomic bombing time) and wish for peace.
The previous mayors have appealed for peace and a nuclear-free world in this ceremony every year.
In the evening, Lantern Floating Ceremony is held.
Many colorful lanterns bearing prayerful words for peace are floated in the rivers in front of Atomic-Bomb Memorial Dome.
Local foods and products in Hiroshima Prefecture
Hiroshima-style Okonomiyaki

Photo by Hiroshima Prefectural Tourism Federation
Okonomiyaki is one of the popular foods in Japan.
It is thin and flat pancake cooked on a hot plate with bits of meat, seafood and chopped cabbages.
Most popular areas of Okonomiyaki is Osaka and Hiroshima.
The former is called "Kansai-style" and the latter is called "Hiroshima-style".
Kansai-style is general.
But, Hiroshima-style is unique, and noodles are mixed into the pancake.
The noodle is Chinese noodle or Udon.
Oyster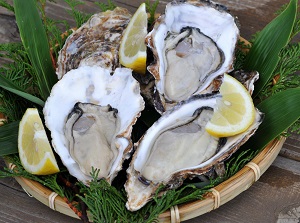 Photo by Hiroshima Prefectural Tourism Federation
Japan is the third largest producer of oyster after China and Korea.
Hiroshima Prefecture produces more than 50 percent of Japan's total amount of oyster.
Most oysters are cultivate around Hiroshima Bay.
January and February are the best season for Hiroshima oyster, so many cities and towns along the coast hold "Oyster Festival" in the season.
We can enjoy tasting raw oyseters, roasted oysters, boiled rice with oysters, etc.
Momiji-manju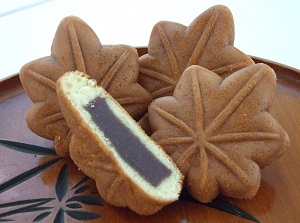 Photo by Hiroshima Prefectural Tourism Federation
Momiji-manju is the well-known cake for a souvenir of Miyajima Island.
"Momiji" means "maple leaf", and Miyajima is famous for the beautiful colored maple leaves in autumn.
The shape of the cake is "a maple leaf", and it is filled with sweet red bean jam.
When you visit Hiroshima and Miyajima, you must find many momiji-manjuu in any souvenir shop.
Shamoji in Miyajima Island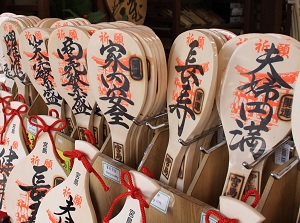 Photo by Hiroshima Prefectural Tourism Federation
Shamoji is a flat rice paddle used in the Japanese kitchen.
It is used to stir and to serve rice, and to mix vinegar into the rice for sushi rice.
The traditional shamoji is made of wood.
It has been used in Japan since the beginning of production of rice over 10,000 years ago.
In Miyajima Island, a priest devised the shamoji for souvenir in the end of the 18th century.
The shamoji had a meaning to pray for victory.
In Miyajima Island, shamoji is sold as a lucky charm in the souvenir shops.