Tottori Prefecture is located at the northeast of Chugoku District.
The north coast faces the Sea of Japan.
Generally, the area along the Sea of Japan in Chugoku District is call San-in, so Tottori Prefecture belongs to San-in area.
The total population of the prefecture is about 550 thousand, and it is the prefecture with the least population in Japan.
Instead, this prefecture has the rich nature.
Many days from spring to autumn are fine, but most of the days in winter are rainy, snowy or cloudy.
In midwinter, most areas of the prefecture have heavy snow.
The main industries in this prefecture are agriculture and fishery.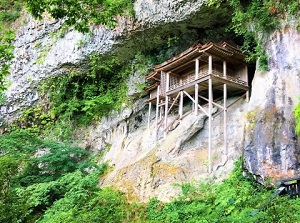 Sanbutsuji temple
The prefectural capital is Tottori city, and is located at the east part of the prefecture.
There is Yonago city at the west end of the prefecture.
The main railway line and the expressway from Seto Inland Sea side come into this city.
And it has an airport.
So, Yonago is the central junction of San-in area.
Tourist Attractions in Tottori Prefecture
Transportation
Railway
To Tottori from Okayama : About 2 hours by JR limited express.
To Yonago from Okayama : About 1 hour and 20 minutes by JR limited express.
To Tottori from Yonago : About 1 hourby JR limited express.
To Yonago from Matsue : 25 to 40 minutes by JR train.
Express bus
To Tottori from Tokyo : about 10 hours. (Night bus)
To Tottori from Osaka : about 3.5 hours.
Airport
Tottori Airport is located about 9 km northwest of the center of Tottori station.
It has the flights from Haneda (Tokyo).
Yonago Kitaro Airport is located about 12 km northwest of Yonago station.
It has the flights from Haneda (Tokyo).
Main events in Tottori Prefecture
Nagashi-bina (Around early April)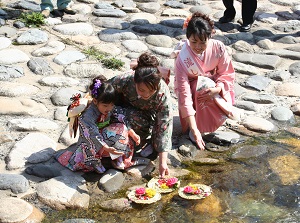 Photo : ©Tottori Pref.
March 3rd is the day of the Doll Festival in Japan, and it is the festival for girls.
Families of girls display a set of dolls representing the emperor, empress, their servants, miniature furniture, etc., on a five or seven-tiered stand.
But, in ancient times, people used to float paper dolls down rivers on this day, believing the dolls would carry away their bad luck.
In Mochigase town located about 20 km south of Tottori city, this traditional custom is still kept.
A couple of paper dolls are put on a tray made of straw, and girls float them on Sendai River.
The day of the festival is based on the lunar calendar, so it is held in around early April.
Tottori Shan-shan Festival (Saturday and Sunday in mid-August)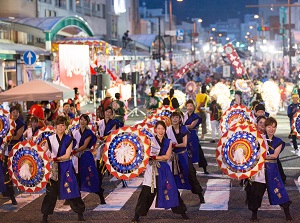 Photo : ©Tottori Pref.
Tottori Shan-shan Festival is the main summer festival held in Tottori city.
"Shan-shan" is the sound of many bells, and the main event is the dance parade by thousands of citizens with the umbrella set up many bells.
The dance using the umbrella has been performed as call for rain in the east part of Tottori Prefecture since the 19th century.
This traditional dance was added to this festival in 1965, so it became the greatest event.
Local foods and products in Tottori Prefecture
Matsuba crab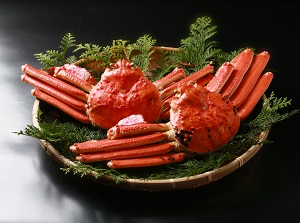 Photo : ©Tottori Pref.
Matsuba crab ("Matsubagani" in Japanese) is caught in the Sea of Japan around San-in area.
It is generally known as "queen crab" or "snow crab" in English.
To be exact, Matsuba crab is male of queen crab, so it is heavy and has full of tasty meat.
The fishing season starts in November, so we can enjoy tasting the crabs in winter.
In Tottori Prefecture, we can get fresh Matsuba crabs and eat them as sashimi, grilled crab, shabu-shabu or one-pot cooking.
Nijisseiki pear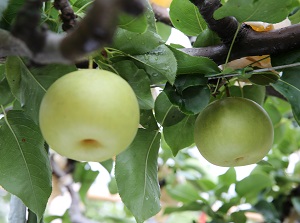 Photo : ©Tottori Pref.
Nijisseiki pear is one of pear varieries.
In 1888, a boy found a young tree growing at a garbage dump in Chiba Prefecture, by chance.
It was an unfamiliar pear tree, and he grew the tree carefully in his farm for 10 years.
At last, the tree bore fruits.
The skin is green and the fruit is juicy, sweet and sour.
It became a major Japanese pear.
"Nijisseiki" means "twentieth century".
This name was given in 1898.
Tottori Prefecture is one of the Japan's leading producers of pear, and about 80 percent of the pear production in Tottori are Nijisseiki.