Mount Koya (Koyasan) [
高野山

]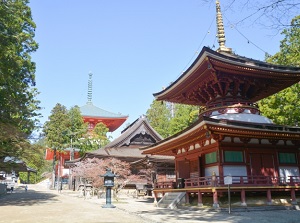 Danjo-Garan of Kongobuji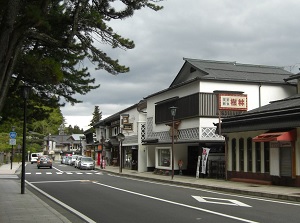 Main street of Koyasan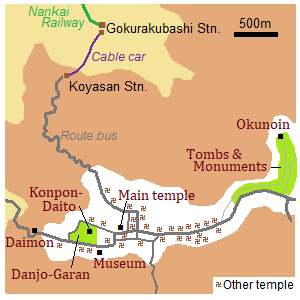 Mount Koya is located about 45 km east of Wakayama city.
It is called Koyasan in Japanese.
"O" in the word is pronounced long, so it is read as "Kôyasan".
There isn't the mountain named "Koya" or "Koyasan".
A small basin is at an altitude of about 800 meters, and eight mountains about 1,000 meters high surround the basin.
The basin is usually called as "Koyasan".
Koyasan has been a sacred area of Shingon Buddhism which is one of major Japanese Buddhism.
The area was constructed as the training place of Buddhism by high priest Kuukai (774-835).
Kuukai had been also called Kôbô-Daishi as his title of honor.
He was the founder of Shingon Buddhism, and has been one of the most known and believed priests in Japan.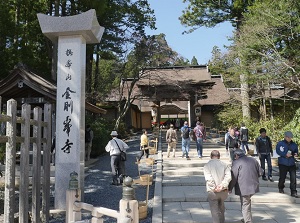 Entrance gate of Kongobuji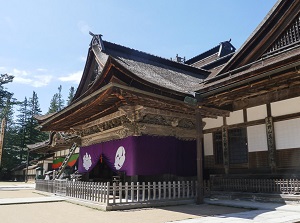 Main temple of Kongobuji
The central temple of Koyasan is Kongobuji (金剛峯寺).
Whole area of Koyasan is the site of Kongobuji.
It is the headquaters of Shingon Buddhism, and was founded in 816.
Many worshippers visit this temple every year.
And many people have made a pilgrimage through the 88 temples associated with Kuukai in Shikoku island from ancient times.
The pilgrims who have finished visiting all of 88 temples visit Koyasan to thank Kuukai for their safe pilgrimages.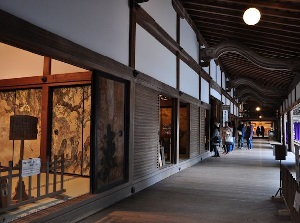 Main temple of Kongobuji
Photo by Railstation.net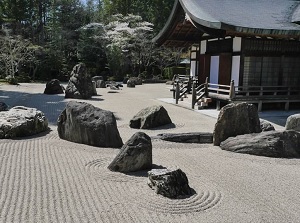 Japanese garden in Main temple
The main temple had been completed around the middle of 10th century.
But most of the buildings had been destroyed by fire of lightning strike in 994.
So this temple was abandoned.
After that, new temple had been rebuilt by high priest Jouyo since 1016, then Koyasan became a major sacred town with many temples in the 13th century.
In the 16th century, this temple confronted Oda Nobunaga (1534-1582, one of the strongest warlords).
Then Toyotomi Hideyoshi (1537-1598, the warlord who united Japan) pressed this temple.
But Koyasan showed submission to Hideyoshi and he had a faith in Koyasan.
Since that, many Shoguns and feudal lords built there tombs or memorial monuments in Koyasan.
By the way, women had been prohibited from entering Koyasan since the foundation.
That was released in 1904.

Bell tower in Main temple
Photo by Railstation.net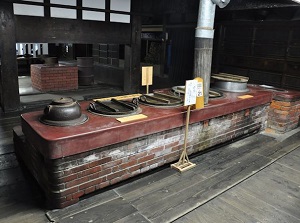 Kitchen in Main temple
Photo by Railstation.net
The sacred town spreads along a main road about 3.5 km long running from east to west.
In the center of the town, there is the main temple of Kongobuji.
It was rebuilt in 1863.
There is a large parking lot in front of the entrance, so it is always crowded with many visitors, cars and buses.
To travel around this area, route bus (Nankai Rinkan Bus) is operated.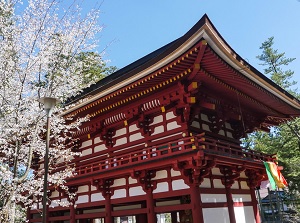 Chumon (Entrance gate of Danjo-Garan)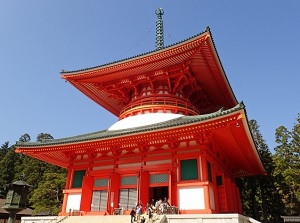 Konpon-Daito in Danjo-Garan
There is a site named Danjo-Garan (壇上伽藍) about 300 meters west of the main temple.
It is the site that Kuukai constructed and operated first, and has several important buildings.
They are Kondo, Miedo, Fudoudo, etc.
Most attractive building in Danjo-Garan is Konpon-Daito (根本大塔).
It is is a two-story pagoda 48.5 meters high, and is the symbol of Koyasan.
The original pagoda was built in the 9th century, and this pagoda was rebuilt in 1937.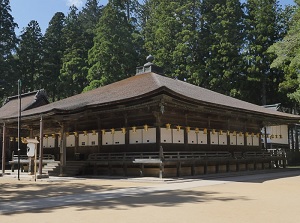 Miedo in Danjo-Garan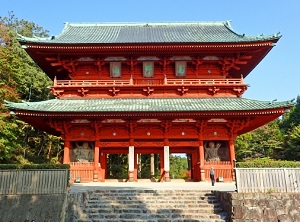 Daimon of Koyasan
There is large Daimon gate (大門) about 800 meters west of Danjo-Garan.
The height is about 25 meters, and was rebuilt in 1705.
It is located at the west end of Koyasan, and is the main gate to Koyasan.
After cars and tour buses climb up a long and steep mountain road, they reach this gate.
The visitors know that they has arrived at the sacred town at last.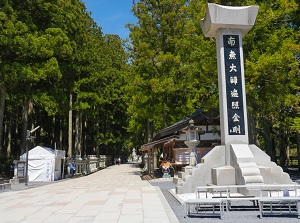 Entrance to Okunoin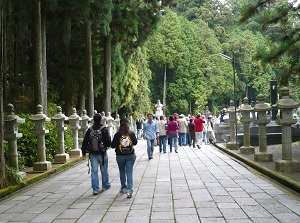 Approach to Okunoin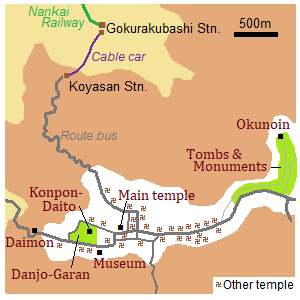 At the east end of Koyasan, there is Okunoin (奥の院).
Okunoin is the most sacred temple built at the place where Kuukai died in 835.
It is said that Kuukai was gone by doing Zen sitting meditation with the pose of Dainichi-Nyorai Buddha.
There is the approach about 2 km long from the main road to Okunoin.
Around the approach, hundreds of thousands of tombs and memorial monuments are set up.
The approach starts near Okunoin-guchi bus stop.
It is located about 0.9 km east of main temple of Kongobuji.
In addition, there is Okunoin-mae bus stop about 1 km east of the place, and there is the entrance of the branch approach.
The approach is shorter than main approach, the length is about 800 meters.
They have been built by many people who want to be with sacred Kuukai for a long time.
They include the tombs and the monuments of many historical warlords, many famous actors, many intellectuals, and many business managers.
We are not allowed to take the photo of the sacred temple.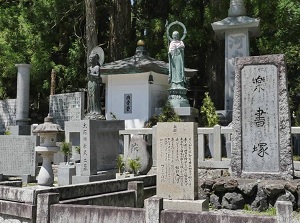 Tombs and monuments by the approach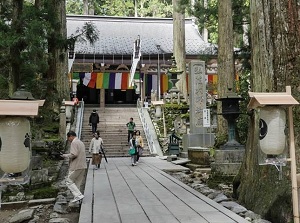 Okunoin temple
In the other part of Koyasan, there are 117 small branch temples of Kongobuji.
Koyasan has no hotel and ryokan.
But 52 temples have "shukubo" (inn of temple), and we can lodge there.
Koyasan is a part of "Sacred Sites and Pilgrimage Routes in the Kii Mountain Range" of UNESCO World Heritage Site.
How to get here
By limited express of Nankai Railway, about 1 hour and 20 to 30 minutes from Nanba (Osaka) to Gokurakubashi terminal.
Then, by cable car, about 5 minutes from Gokurakubashi to Koyasan.
From there, by route bus, about 11 minutes to around Kongobuji.
Other Tourist Attractions in Wakayama Prefecture