Wakayama Prefecture [
和歌山県

]
Wakayama Prefecture is located in the west and south parts of Kii Peninsula, the largest peninsula in Japan.
It is located to the south of Osaka Prefecture.
The southern coast faces the Pacific Ocean (formally, Philippine Sea), and the western coast faces the Kii Channel between Kii Peninsula and Shikoku Island.
The position is at the southernmost part of Honshu Island.
So, the climate is warm, then various fruits are cultivated.
Especially mikan (a kind of citrus) and ume (Japanese apricot) are famous.
Most parts of the prefecture is mountainous, and the mountains are called Kii Mountain Range.
So all cities are dotted along the coastline and Kinokawa river flowing near northern prefectural border.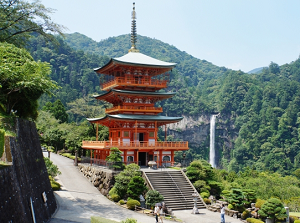 Nachi Falls
It had been thought that the gods of Japan were living in Kii Mountain Range since ancient times.
So two major sacred areas, Koyasan (高野山, Mount Koya) and Kumano Sanzan (熊野三山, Three Shrines in Kumano), have been set up.
These are the major sightseeing spots in Wakayama Prefecture.
And there are a few famous hot spring resorts along the coastline.
In Wakayama Prefecture, we can enjoy both sacred mountains and relaxing coasts.
We usually call the south part of the prefecure with several sightseeing spots Nanki (南紀).
The prefectural capital is Wakayama city, and is located near the northwest end of the prefecture.
It is at about 50 km southwest of Osaka city and is within the Osaka Metropolitan Area.
And the distance from Kansai International Airport is only 25 km.
So it is an entrance city to Nanki area.
Tourist Attractions in Wakayama Prefecture
Transportation
Railway
To Shirahama from Tennoji (Osaka) : About 2 hours and 10 minutes by JR limited express.
To Kii-Katsuura from Tennoji (Osaka) : About 3.5 hours by JR limited express.
To Gokurakubashi (Koyasan) from Nanba (Osaka) : About 1.5 hours by limited express of Nankai Railway.
Express bus
To Wakayama from Tokyo : about 10 hours. (night bus)
To Shirahama from Tokyo : about 11 hours. (night bus)
To Shirahama from Osaka : about 3.5 hours.
To Kii-Katsura from Tokyo : about 10 hours. (night bus)
Airport
Most convenient airport is Kansai International Airport.
From there, JR line and Nankai Railway are available.
Nanki-Shirahama Airport is located about 3 km south of the resort area of Shirahama.
It has the flights from only Haneda (Tokyo).
Main events in Wakayama Prefecture
Otô Matsuri (February 6)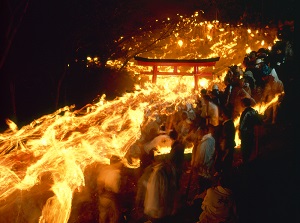 Photo by Wakayama Tourism Federation
Otô Matsuri is an annual festival of Kamikura Shrine in Shingu city at the eastern edge of the prececture.
It is said that this festival was started from 574.
On the way, women are prohibited to visit the shrine.
In the evening, about two thousand men with white clothes go up to the shrine on the mountainside. Each of them has a torch with the praying words.
Sacred fires are lit on the torches in the precincts, then the men with the torches run down the steep road.
The scene is like a river of flame.
Nachi Fire Festival (July 14)
Nachi Fire Festival is an annual festival of Kumano Nachi Taisha shrine in Nachi-Katsuura town.
The formal name is "Ôgi Matsuri".
"Ôgi" means "folding fan".
12 decorated tall mikoshi (portable shrine) appear, and several folded fans are set up on each mikoshi.
All mikoshis are carried by many men from the shrine to near Nachi Falls, the sprit of Kumano Nachi Taisha.
Around the falls, 12 large and heavy torches carried by men wait for the mikoshi.
12 Mikoshi and 12 torches battle there.
But the battle is to purify the mikoshi by fire of the torch.
Then all purified mikoshi arrive at the sacred falls, and several ceremonies are performed there.
Local foods and products in Wakayama Prefecture
Umeboshi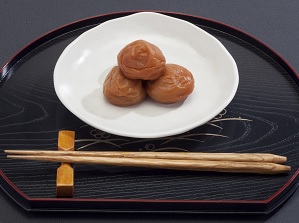 Photo by Wakayama Tourism Federation
Umeboshi is a pickled ume fruits (Japanese apricot), and is one of the most popular Japanese food.
It is very sour and salty.
Wakayama Prefecture has been the Japan's leading producer of umeboshi since the 17th century.
Especially, the ume cultivar named "Nankobai" produces high-quality umeboshi.
Most of Nankobai in Japan are cultivated in Wakayama Prefecture.
Mikan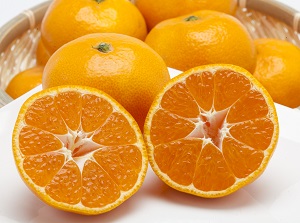 Photo by Wakayama Tourism Federation
Mikan is a kind of citrus, and is one of the most popular fruits in Japan.
It looks like orange.
But mikan is seedless and sweet, and we can peel it easily.
Wakayama Prefecture is the leading producer of mikan.
Especially Arida-mikan produced along Arida River is famous.
Mikan is harvested around late autumn, and we enjoy tasting mikan during winter.
Mehari-zushi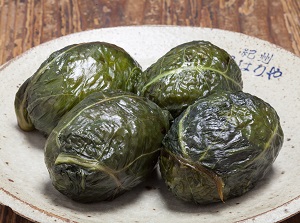 Photo by Wakayama Tourism Federation
Mehari-zushi is a local food in the southeast part of Wakayama Prefecture.
First, rice ball is made with vinegared rice.
Then it is wrapped with the pickled leaves of takana which is a kind of leaf mustard.
It has been a portable lunch when farmers go work in the fields or in the forests.
"Mehari" means "opening the eyes wide".
Basically, the rice ball is about the size of hamburger.
When you open your mouth wide and sink tour teeth into a large Mehari-zushi, you will open your eyes very wide.