Kanto Region is the southeast part of Honshu Island in Japan.
The last "o" in "Kanto" is pronounced long, so it is read as "Kantô" in Japanese.
It has an area of about 200 km from east to west, and about 250 km from north to south.
The west and north sides of the region are mountainous but the other main part is Kanto Plain which is the widest plain in Japan.
This region faces to the Pacific Ocean.
There is Bôsô Peninsula in the southeast part of the region and it surrounds Tokyo Bay to the west side of the peninsula.
There is Tokyo Metropolis on the west coast of Tokyo Bay.
Tokyo is the capital and largest city of Japan.
It is the center of politics, economy and culture of Japan, and has a population of about 13.8 million people.
The population in Kanto region including Tokyo Metropolis is over 43 million.
That is one third of the total population of Japan.
Because Tokyo is the capital, Kanto Region is often called National Capital Region.
The population inflow into this region has continued for a long time.
On the other hand, the population of all other regions in Japan has been declining.
This population concentration in National Capital Region is one of social problems for the future of Japan.
In fact, the area within 20 km from the center of Tokyo is filled with buildings and houses.
And the scenery of rural area is seen 30 to 50 km away from the center of Tokyo.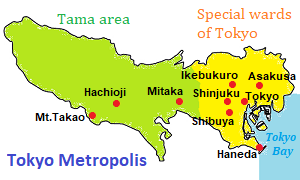 Tokyo Metropolis is a prefecture extending east and west.
It has two administrative areas.
One is Special wards of Tokyo and is the eastern part of Tokyo Metropolis.
Practically, it is the center area of Tokyo and it has 23 wards.
When we talk about Tokyo, it means this area.
In this narrow area, 9.3 million people live.
Another is Tama area and is the western part of Tokyo Metropolis.
The part near Special wards of Tokyo is densely built-up area, but the west part in Tama area is mountainous.
There are six prefectures around Tokyo Metropolis.
Main railway and highway routes connect between these prefecture and Tokyo.
Trains and buses are operated frequently, so it is convenient to visit the prefectures.
In Pacific Ocean to the south of Kanto Region, small islands are dotted in line.
The islands within about 650 km from Honshu Island are called Izu Islands.
And the islands about 1,000 km south of Honshu Island are called Ogasawara Islands.
These belonged to Tokyo Metropolis.
There is rich nature in these islands, but it takes a few days for touring.
Tokyo Metropolis (Special Wards) Tokyo Metropolis (Tama area) Kanagawa Pref. Chiba Pref. Saitama Pref. Ibaraki Pref. Tochigi Pref. Gunma Pref. Izu Islands & Ogasawara Islands
Transportation in Kanto Region
Airline
There are two major airports in Kanto Region.
They are Narita International Airport and Haneda Airport.
Narita Airport is the biggest international airport in Japan, and it has the flights from a lot of cities in the world.
Haneda Airport is the biggest domestic airport in Japan, and has also the international flights from main cities in East Asia and South-East Asia, some cities in USA, and a few cities in Europe.
About these airports, please check this page.
Railway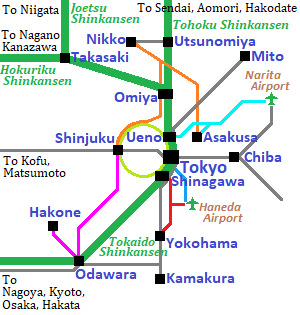 Main railway lines of JR in Kanto Region.
Green lines are Shinkansen.
Thin grey lines are JR Lines and yellowish green line is JR Yamanote loop line.
Other colored line is the limited express of the other railway compnies.
The central railway station in Tokyo is Tokyo Station.
It is also the central station of JR lines in whole Japan.
All Shinkansen trains start from Tokyo.
By Shinkansen, we can go to main cities in Honshu Island.
Many railway lines including the lines in the attached map run in Kanto Region.
JR lines including Shinkansen has the dense network in Kanto Region.
The lines of some other railway companies radiate from the center of Tokyo.
Especially, Tobu Railway operates the limited express to Nikko, and Odakyu Railway operates the limited express to Hakone.
And, Keisei Railway has the line to Narita International Airport, and Keikyu Railway has the line to Haneda Airport.
And under the center of Tokyo, there is a complicated network of subways.
Some lines of subway are connected with the line of the other railway company, so through-service is provided.
So, we can visit the main cities in Kanto Region within 2 hours from Tokyo.