Tokyo Metropolis (Tama area) [
東京都 (多摩地区)

]
Tokyo is the capital and the largest city in Japan.
In Japanese, both vowels "o" in the word of "Tokyo" is pronounced long as "Tôkyô".
Tokyo Metropolis is one of the prefectures in Japan, and extends east and west.
The western area of Tokyo Metropolis is called Tama area.
I introduce the tourist attractions of Tama area in this page.
About the main area (Special wards of Tokyo), please see the following page.
The population of Tokyo Metropolis is about 13.8 million (over 10 percent of the population of Japan).
9.3 million of them is in this narrow Special wards of Tokyo, and 4.5 million people live in Tama area.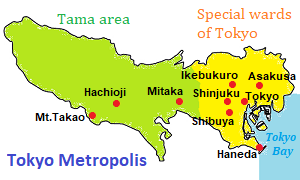 Tama area is about 60 kilometers from east to west, and there is Hachioji city around the center of the area.
It is roughly a west end of Kanto Plain.
The area between Hachioji and Special wards of Tokyo is clustered with dwelling houses and there are many small cities.
It is a part of Tokyo metropolitan area.
On the other hand, the area to the west of Hachioji is mountainous and upper Tama River runs through the area.
Around the west end of the prefecture, there are the mountains around 2,000 meters high.
Tourist Attractions in Tokyo Metropolis (Tama area)
Hotels in Tokyo Metropolis
Transportation
Railway
To Mitaka from Shinjuku : By JR Chuo Line, 13 to 23 minutes.
To Takao from Shinjuku : By JR Chuo Line, about 45 minutes.
To Okutama from Tachikawa : By JR Oume Lime, about 1 hour and 20 minutes.