Izu & Ogasawara Islands [
伊豆諸島, 小笠原諸島

]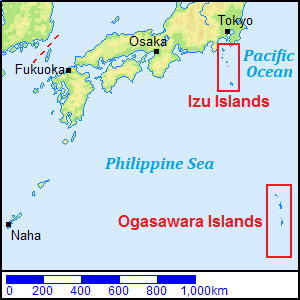 Izu Islands are located 100 to 700 km south of Tokyo, and have about 100 small islands.
Main islands are within a northern range of 200 km, and the islands where people live are only nine of them.
The nearest island to the mainland is Izu-Ôshima, and it is the largest island in Izu Islands.
Ogasawara Islands are located 900 to 1,100 km south of Tokyo, and has about 30 islands.
(In English, these are called as Bonin Islands.)
Ogasawara Islands were registered as a World Natural Heritage site in 2011.
The main islands are Chichijima and Hahajima and about 2,500 people live only in these two islands.
After World War II, Ogasawara Islands had been placed under U.S. rule, then they returned to Japan in 1968.
These islands including Izu Islands line on an ocean ridge along the long ocean trench.
And each island was originally undersea volcano until a few million years ago.
Therefore, most of Izu and Ogasawara Islands are volcanic islands.
Most active volcanoes are Izu-Ôshima and Miyakejima in Izu Islands.
In addition, there is Nishinoshima island located about 130 km west of Chichijima in Ogasawara Islands.
It was a small solitary island and the size was within 600 meters.
In 1973, an eruption began in the sea by the island.
A small lava island appeared and the eruption stopped next year.
But the eruption began again in 2013, and massive lava has been erupted.
The size of the island became a diameter of 2 km.
We are just seeing the process of formation of island.
(Of course, we can't visit there now.)
Izu Islands are warm, and Ogasawara Islands are in the subtropical zone.
But these are not resort islands with luxury beach.
Rather, they are the rustic islands with rich nature.
Particularly, Ogasawara Islands have animals and plants with unique evolution.
So it is called "Galapagos of the East".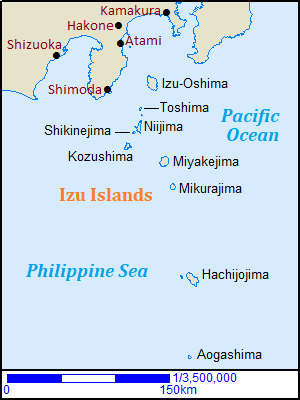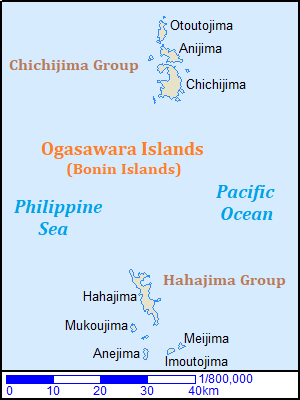 These islands belong to Tokyo Metropolis administratively.
But, when you visit there islands, you can't use credit card in most shops in these islands.
There is no convenience store in all islands.
Of course, there are some shops for the people in the island.
Internet are mostly available in these islands.
By the way, formally, the sea on the east side of these islands is the Pacific Ocean, and the sea on the west side is Philippine Sea.
But Japanese people call both seas "Pacific Ocean" (Taiheiyou) without distinguishing them in most cases.
Tourist Attractions in Izu Islands
Tourist Attractions in Ogasawara Islands
Hotels in Izu & Ogasawara Islands
Transportation
Airplane
There are a few flights a day from Haneda airport in Tokyo to Izu-Ôshima, Miyakejima and Hachijojima islands.
Meanwhile there is no airport in Ogasawara Islands.
Ship
We can go to most islands from Takashiba pier in Tokyo, Atami port or Shimoda port.
From Tokyo to Ogasawara Islands, it takes 24 hours.
It is operated once a week.
But the ship is only transportation to Ogasawara Islands.
Local foods and products in Izu & Ogasawara Islands
Shima-zushi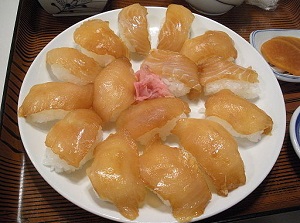 Shimazushi in Ogasawara Islands,
Photo by Takunawan [CC0],
via Wikimedia Commons
It is the sushi served in Izu and Ogasawara Islands.
Hachijojima island is the central place of it.
These area is warm, so fish topped on vinegared rice for sushi is used after being marinated in shoyu (soy sauce) before the fish goes bad.
Additionally, because "wasabi" for normal sushi is unobtainable in the islands, mustard is used as the spice instead.
Kusaya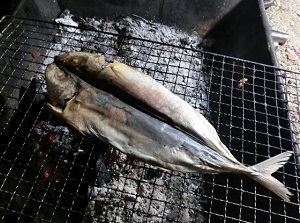 It is a dried fish produced in Izu Islands.
But it emits a disgustful smell when it is grilled.
(When a person grilled it in a city, he had been reported to the police that someone was burning a "dead body".)
It is made by washing fresh fish in clear water, soaking in "kusaya brine" for a day and drying in the sunshine.
The "kusaya brine" is the source of the smell.
It is the brine with fermented ingredient of fish for many decades.
The smell is very bad, but the brine has antibacterial effect in warm climate and exceptional high nutrition value.
I heard that the challenger who has overcome the fierce smell becomes a kusaya lover. (I am sorry, I have not yet challenged that...)
Camellia oil
Camellia japonica is the native flower of Japan.
It is distributed throughout the country except Hokkaido.
Especially Izu-Ôshima island is known for the camellia.
In Japan, camellia oil has been used as hair dressing, food, handicraft industry, etc. since old times.
It is made from camellia flower seeds.
But the seeds are gathered once a year, so the amount of production is not so much.
Izu-Ôshima and Toshima in Izu Islands produce the half of Japan's camellia oil.