Kanagawa Prefecture [
神奈川県

]
Kanagawa Prefecture is located just south of Tokyo Metropolis.
The east coast faces Tokyo Bay, and the south coast faces Sagami Bay.
Miura Peninsula extends from the southeast part and forms the entrance of Tokyo Bay.
The eastern half of the prefecture is a part of Kanto Plain, and there is the dense population zone forming Tokyo Metropolitan area.
The area includes the big cities such as Kawasaki with 1.5 million people and Yokohama with 3.7 million people.
Yokohama is the second big city in Japan after Tokyo, and is the prefectural capital of Kanagawa Prefecture.
This area is mostly the commutable area for Tokyo.
So most transportations are often crowded.
The southern area including Miura Peninsula is called Shônan.
There is an old city Kamakura.
Shônan area faces Sagami Bay, and it is the sunny and sophistcated area.
It has been popular among young generation.
The western half of the prefecture is mountainous, and there is very popular tourist spot Hakone at the southwest part of the prefecture.
Tourist Attractions in Kanagawa Prefecture
Hotels in Kanagawa Prefecture
Transportation
Railway
To Yokohama from Tokyo : By JR Tokaido Line, 26 minutes.
To Yokohama from Shibuya : By Toyoko Line of Tokyu Railway, 30 minutes.
To Kamakura from Tokyo : By JR Yokosuka Line, about 1 hour.
To Hakone-Yumoto from Shinjuku : By limited express of Odakyu Railway, about 1 hour 35 minutes.
From Haneda Airport to Yokohama
About 25 minutes by Keikyu Railway.
About 45 minutes by express bus
Main events in Kanagawa Prefecture
Kamakura Festival (The 2nd and 3rd Sunday in April)
Kamakura Festival is the greatest festival in an ancient city Kamakura.
It has been held every day since 1959.
Many events are held around Tsurugaoka Hachiman shrine.
Kamakura was founded by Minamoto Yoritomo in the late 12th century, and this festival is related to him.
On the 2nd Sunday in April, the parades by the people dressed in period costume are held.
And in the evening, "Shizuka's Dance" is held in the shrine.
Shizuka is a concubine of Minamoto Yoshitsune who was a tragic hero and Yoritomo's brother.
This dance is the reenactment that she danced here before Yoritomo in 1186.
On the 3rd Sunday, "Yabusame" is held.
A samurai on a galloping horse shoots arrows at some small targets.
Daimyo's procession in Hakone (November 3)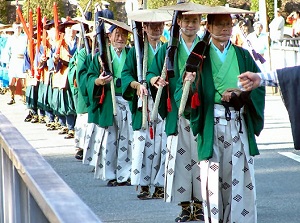 Photo by Railstation.net
Daimyo is the feudal lord in Edo Period (1603-1868).
They had been placed as the head of local domains throughout Japan.
They had been forced to serve for the govenment in Edo (Current Tokyo) every other year, so they went to Edo then returned to home domain after the service.
At that time, major processions had been held.
Because, they had taken many their retainers and servants.
This event is the reenactment of the procession, and about 170 people dressed in period costume parade about 6 km in Hakone town.
Local foods and products in Kanagawa Prefecture
Shumai in Yokohama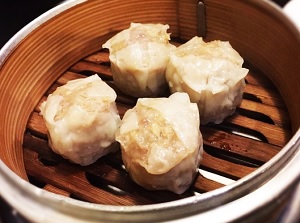 Shumai is a traditional Chinese dumpling, and is made by wrapping ground pork and some vegetables with a thin sheet of dough and steaming it.
It was introduced to Japan in the 15th century, but a ramen restaurant in Asakusa first served to the public in 1910.
And Kiyouken which is the top maker in Yokohama began to sell the boxed shumai to take out in 1928, since then, the shumai has become the speciality of Yokohama.
Kamaboko in Odawara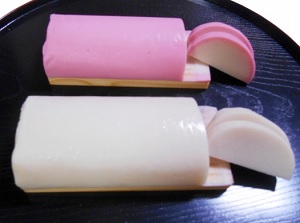 Kamaboko is a popular Japanese processed seafood.
It is made by placing pureed various white fish on a wooden board and steaming it.
In Odawara, the tasty kamaboko has been produced since the 18th century by using rich fish in Sagami Bay and delicious water from Hakone.
And there are some brand-name makers of kamaboko in Odawara.
These are Suzuhiro, Maruu, Kagosei and so on.
Hanoke Yosegi-zaiku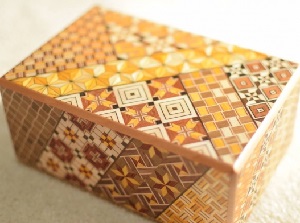 Yosegi-zaiku is a traditional woodwork, and is a geometric mosaic of small wood pieces.
There has been various kinds of trees in Hakone area, so a craftman in Hakone first created the product using these woods in the early 19th century.
As the products, there are jewel box, small drewers, wooden tray, Japanese inlay and so on.
And the "secret box" is famous.
You cannot open it unless you follow the correct procedure.