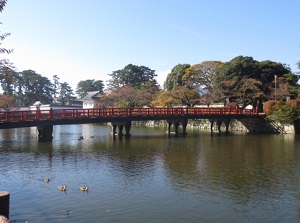 Moat of Odawara castle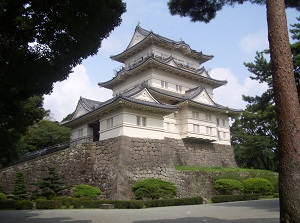 Castle tower of Odawara Castle
Odawara city is located in the southwest part of Kanagawa Prefecture.
It is the main gateway town to Hakone.
Odawara Castle is located about 0.5 km south of Odawara station.
It is said that this castle was built in the early 15th century.
In 1495, Hojo Soun, a strong lord, occupied this castle, then his sons had enlarged the scale of it.
In the late 16th century, this become the largest castle in Japan.
After the beginning of Edo government (1603), Tokugawa Ieyasu, the first Shogun, reduced the scale of this castle.
But he thought that this castle was important as the strategic point to defend Edo against the attack from the west Japan, so this castle had been maintained for following more than 250 years.
In 1870, it had been destroyed by Meiji govenment because it had had no use for new modern nation.
Since the late 20th century, this site has been restored as a historic place.
In 1960 the castle tower was restored.
After that, some structures have been restored.
The site is about 500 meters from east to west and about 300 meters from north to south.
There are the moats on the east and south side of the site.
The castle tower was in the west part of the site and the whole site is a historic park.
The castle tower is about 39 meters tall and the inside is the museum about the history of Odawara.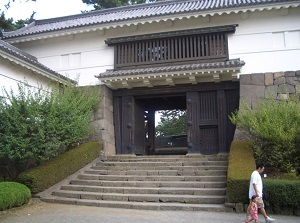 Tokiwagimon gate

Odawara Castle in spring
The main gate to the castle tower is Tokiwagimon (常盤木門) restored in 1971.
In Tokiwagimon, there is Samurai museum.
And you can wear the samurai armour, the costume of Ninja, or the kimono of princess here.
In spring, the cherry blossoms in this site are beautiful.
How to get here
About 800 meters walk from Odawara station.
Hotels in Odawara city
Other Tourist Attractions in Kanagawa Prefecture