The time of sunrise and sunset in Japan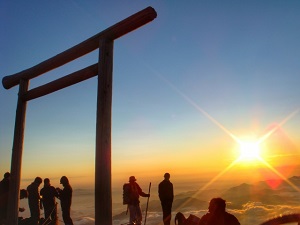 Sunrise at the top of Mt.Fuji
Japan has only one standard time, and the base point is Akashi city in the west of Kobe.
But Japan is wider than you expected.
Therefore, the times of sunrise and sunset have a gap between the eastern place and the western place in the same day.
When you travel around Japan, it is important to know the times of sunrise and sunset for seeing the scenery in a lighted place.
Most important point is that the length of daytime depends on the degrees of latitude.
The latitude of the main cities are the following.
(All values are the north latitude.)
Sapporo = 43°04' (Nearly equal to Marseille in France, Toronto in Canada)
Tokyo = 35°41' (Nearly equal to Crete Island in Greece, Santa Fe in USA)
Kyoto = 35°01' (A little south of Tokyo)
Fukuoka = 33°35' (Nearly equal to Casablanca in Morocco, Los Angeles in USA)
Naha (Okinawa) = 26°13' (Nearly equal to Luxor in Egypt, Miami in USA)
The position of latitude in Japan is nearly equal to the Mediterranean Sea.
And it is just equal to the position of the USA, and the position of the main area of Japan including Tokyo and Kyoto is the same as the south part of USA.
Therefore, the daytime of winter in Japan is longer enough than Europe.
When you stay in Japan, have a sense of timing in such place.
Date
City
Sunrise
Sunset
Jan. 1
(New Year's Day)
Sapporo
7:05
16:11
Tokyo
6:50
16:38
Kyoto
7:03
16:57
Fukuoka
7:22
17:21
Naha
7:15
17:49
Feb. 14
(Valentine's Day)
Sapporo
6:33
17:05
Tokyo
6:28
17:22
Kyoto
6:43
17:39
Fukuoka
7:03
18:02
Naha
7:04
18:22
Mar. 20
(Vernal Equinox Day)
Sapporo
5:37
17:47
Tokyo
5:44
17:52
Kyoto
6:00
18:09
Fukuoka
6:22
18:30
Naha
6:32
18:41
May. 5
(Children's Day)
Sapporo
4:22
18:40
Tokyo
4:44
18:31
Kyoto
5:01
18:46
Fukuoka
5:26
19:04
Naha
5:48
19:04
Jun. 21
(Summer solstice)
Sapporo
3:54
19:18
Tokyo
4:24
19:00
Kyoto
4:42
19:15
Fukuoka
5:08
19:32
Naha
5:36
19:25
Aug. 1
(Mid-Summer)
Sapporo
4:24
18:57
Tokyo
4:48
18:45
Kyoto
5:04
19:01
Fukuoka
5:30
19:19
Naha
5:53
19:17
Sep. 23
(Autumnal Equinox Day)
Sapporo
5:21
17:31
Tokyo
5:28
17:37
Kyoto
5:44
17:54
Fukuoka
6:06
18:14
Naha
6:17
18:25
Nov. 3
(Culture Day)
Sapporo
6:10
16:25
Tokyo
6:04
16:44
Kyoto
6:18
17:02
Fukuoka
6:38
17:25
Naha
6:38
17:46
Dec. 21
(Winter solstice)
Sapporo
7:01
16:03
Tokyo
6:46
16:31
Kyoto
6:59
16:50
Fukuoka
7:18
17:14
Naha
7:11
17:43