Tochigi Prefecture is located at the north part of Kanto region, and the shape on the map is roughly oval.
The prefectural capital is Utsunomiya city (宇都宮), which is located at the just south of the central point of the prefecture.
The west part of the prefecture is mountainous, and the east part is hilly.
So the central area is flatland.
In such land, both agriculture and industry are active.
Dairy farming is also practiced in the highland area.
Since ancient times, this area has been the main route from Tokyo area to Tohoku Region.
Now, Tohoku Shinkansen and expressway run through the prefecture from south to north.
The northwestern hilly area of Utsunomiya is Nikko (日光).
Since the 17th century, here became an important sacred area.
Now, it is the largest sightseeing place in Tochigi Prefecture.
Tourist Attractions in Tochigi Prefecture
Around Nikko area
Other area in Tochigi Prefecture
Hotels in Tochigi Prefecture
Transportation
Railway
To Nikko from Tokyo (Asakusa, Shinjuku) : 2 hours by Tobu Railway or JR Line.
To Utsunomiya from Tokyo, Ueno : About 1 hour by Tohoku Shinkansen, or 1 hour and 40-50 minutes by local train of JR Utsunomiya Line.
To Nasu-Shiobara from Tokyo : 1 hour and 10 minutes by Tohoku Shinkansen.
Express bus
To Nikko from Tokyo : about 3 hours.
Main events in Tochigi Prefecture
Yayoi Festival (April 13 - 17)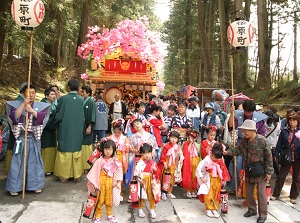 Photo by Nikko City Tourism Association
Yayoi Festival is the annual festival of Futarasan shrine in Nikko.
More than a dozen floats decorated with beautiful pink flowers march along to festival music throughout the town.
In the last day, they gather in the precincts of the shrine, then all of them parade around the main shrine.
The floats are the representative ones from each district in Nikko.
And the order of floats and conventions of the operation had been arranged strictly.
So if the men of a float has made a little mistake, they have gotten into a big trouble between the districts.
Thousand Samurai Parade (May 18, October 17)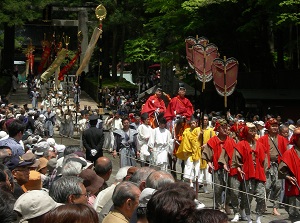 Photo by Ibaraki Prefecture
It is the parade held on the main approach of Nikko Toshogu shrine and Rinnoji temple in spring and autumn.
More than thousand people parade about 1 km.
They put on historical costumes.
Many of them wear armor, some of them have pikes, and some of them sit astride horses.
At the end of the line, mikoshi (portable shrines) also parade.
Local foods and products in Tochigi Prefecture
Gyoza in Utsunomiya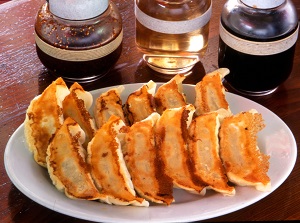 Gyoza is a kind of dumpling stuffed with minced pork and vegetables.
Originally, it is one of Chinese foods, and is called "jiaozi" in Chinese.
In Japan, it has been popular since the cooks who had learned in Manchuria (current northeastern China) came back to Japan and served after World War II.
Utsunomiya has always been one of the cities that a citizen buys much gyoza in Japan a year.
So, since the 1990s, Utsunomiya has promoted its gyoza as part of efforts to develop the city.
Now Utsunomiya-gyoza is well-known throughout the country.
Yuba in Nikko
Yuba is a Japanese and Chinese food known as "tofu skin" or "dried bean curd".
It is made by boiling soy milk and collecting the film or skin of protein on the liquid surfice.
In Japan it is the specialty of Nikko and Kyoto.
Kyoto-yuba is thin, but Nikko-yuba is thick.
Because, Nikko-yuba is made by rolling or bundling the thin film.
Originally yuba had been the food for ascetic training monk in the mountains since ancient times.
It is said that ordinary people began to eat from the late 19th century.
Kanpyo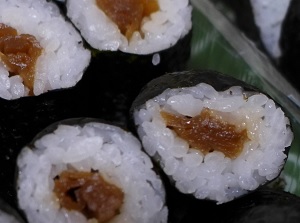 Sushi roll of Kanpyo
Kanpyo is one of Japanese foods, and is dried shavings of calabash, a type of gourd.
It is made by peeling the calabash, shaving it like a long strip with a plane and drying it.
The work of shaving is done before daylight in midsummer and the strips are dried in strong summer sunshine.
Over 80 percent of kanpyo in Japan is produced in Tochigi Prefecture.
Kanpyo is commonly used as one of ingredients of sushi roll.
Mashiko Pottery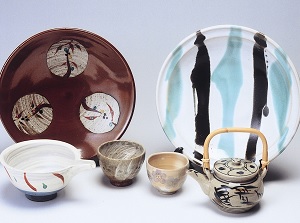 Mashiko Pottery is the massive pottery produced in Mashiko town located at the southwest part of Tochigi Prefecture.
It is said that the production was started around the middle of the 19th century.
First, pots and water jars had been made.
But a ceramic artist began to create a ceramic jar with rid for tea ceremony and the other craftworks since the 1930s.
Since that, Mashiko pottery has been famous in Japan.
Additionally, Bernard Leach (1887-1979, a British potter) introduced it to Europe.