Kinugawa hot spring resort [
鬼怒川温泉

]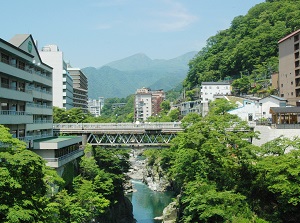 Kinugawa Onsen
Photo by Nikko City Tourism Association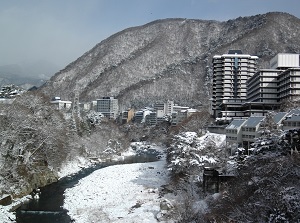 Kinugawa Onsen in winter
Photo by Nikko City Tourism Association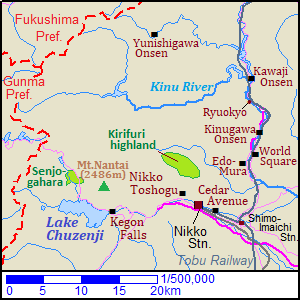 Kinugawa onsen is one of the most popular hot spring resorts in Kanto region.
It is located about 14 km northeast of central Nikko city.
This hot spring resort is in the valley formed by Kinu River, and there are many large hotels and ryokans on both riversides along the length of 2 km.
There is Kinugawa-onsen station at the south end of the resort, and there is Kinugawa-koen station at the north end.
It is said that this hot spring was found in 1752.
In those days, this hot spring was in the territory of temples or shrines in Nikko.
So, only feudal lords and priests visiting Nikko were allowed to stay here.
But in Meiji Period (1868-), this resort was opened to the public.
After World War II, the limited express train service from Tokyo started, so this resort developed.
Because here is relatively close to Tokyo area, a great many guests had stayed.
So many big hotels were built.
During the high-speed growth era, here had been full of guests.
But after the 1970s, oil shock, bubble economy burst and financial crisis occurs, then this resort has had a tough time.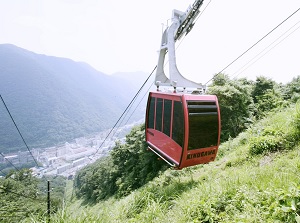 Kinugawa Onsen Ropeway
Photo by Nikko City Tourism Association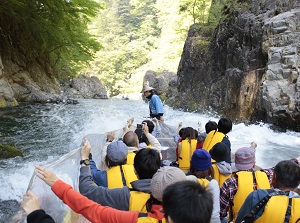 Boat tours of Kinu River
Photo by Nikko City Tourism Association
At the north part of the resort, a ropeway is operated, and we can climb to the observatory.
And the small boat tours of Kinu River are operated from the middle of April to the end of November.
It starts from near Kinugawa-onsen station.
The spring water is alkaline.
So, it is said that Kinugawa's water relieves burns and Kawaji's water heals wounds.
How to get here
Get off at Kinugawa-onsen station by limited express of Tobu Railway.
About 2 hours from Asakusa.
Other Tourist Attractions in Tochigi Prefecture