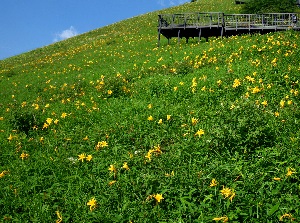 Daylilies in Kisuge-daira
Photo : Nikko Branch, Natural Parks Foundation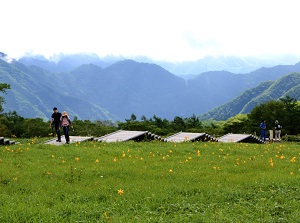 Tenkuu-Kairou
Photo : Nikko Branch, Natural Parks Foundation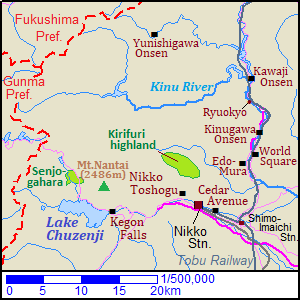 Kirifuri highland is the area on the southeastern side of Mount Akanagi (2,010 m).
The highland is located to the north within a range of 3 to 8 km from central Nikko city.
Most of area is located at the level of over 1,000 meters, and grassland and forests spread.
So here is one of the popular spots for outdoor activity.
In the whole area, many pensions (resort inns), lodges and restaurants are dotted.
The most popular spot is Kisuge-daira park (キスゲ平).
It is a grassland located at the northernmost part of the area.
"Kisuge" means "daylily", and it is the yellow flower blooming on highland.
From late June to late July, here is covered with countless yellow daylilies.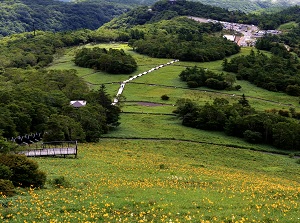 Kisuge-daira
Photo : Nikko Branch, Natural Parks Foundation

Kisuge-daira in winter
Photo : Nikko Branch, Natural Parks Foundation
The grassland spreads on the slope.
A walking trail and stairs are from the foot to the top of a mountain, through the glassland.
The distance of a straight line is about 1 km, and the altitude difference is about 250 meters.
The stairs have 1,445 step in total, and are called Tenkuu-Kairou (天空回廊) meaning Corridor of Heaven.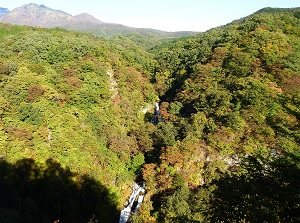 Kirifuri Falls
Photo : Nikko Branch, Natural Parks Foundation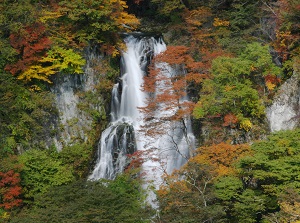 Kirifuri Falls
Photo : Nikko City Tourism Association
Around halfway between central Nikko and Kisuge-daira, there is a gorge formed by Kirifuri River.
Some waterfalls are in this gorge.
Kirifuri Falls (霧降ノ滝) is most popular among the waterfalls.
(In Japanese, "Kirifuri-no-taki")
It is located to the east of pension area.
It is made up of two waterfalls.
The upper fall is 25 meters high, the lower fall is 26 meters high, and the total height is 75 meters.
Particularly, the flying spray at the lower fall is like fog.
"Kirifuri" means "Fog rises".
An observatory for this waterfall is set up nearby.
How to get here
To Kirifuri Falls, by route bus, about 8 minute to Kirifuri-no-taki-iriguchi stop from Nikko station.
To Kisuge-daira, about 27 minutes to Kirifuri-kogen terminal from Nikko station.
Other Tourist Attractions in Tochigi Prefecture