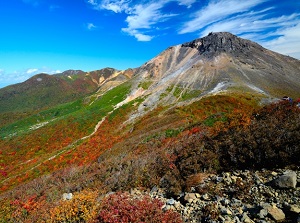 Chausu peak of Mount Nasu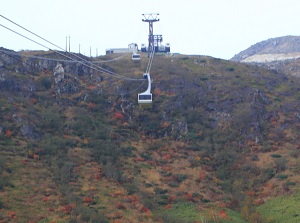 Nasu Ropeway
Nasu highland spreads at the northernmost end of Tochigi Prefecture.
There is Mount Nasu (那須岳), which is a group of complex volcano and has several peaks, around the prefecture's border with Fukushima Prefecture.
The highest peak is Sanbonyari (1,917 meters), and the second highest peak is Chausu (1,915 meters).
The highland spreads to the south and southeast of the peaks.
The area ranges about 20 km.
Along the southeastern edge of the highland, Tohoku Expressway, Tohoku Shinkansen, and JR Tohoku Line run.
The altitude of them is about 300 meters.
This highland is cool, and the average high temperature in midsummer is about 25 degrees C.
So there is a nice resort area, and many small hotels, pensions, lodges, villas and restaurans are dotted in the broad area.

Observatory at the foot of Mt.Nasu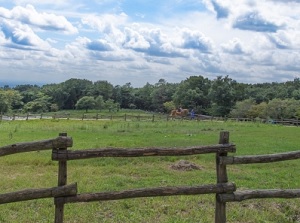 Stock farm in Nasu highland
Additionally, there is Nasu Imperial Villa (那須御用邸) which is a residence owned by the Japanese Imperial Family.
It is well known to Japanese people.
And there are many small theme parks and various unique museums in this area.
In spring, some kinds of azalea are beautiful.
In summer, there are some spots where we can enjoy the glows on many fireflies.
In autumn, the colored leaves are wonderful.
In winter, ski and hot spring are good.
Not only general tourists but also mountain hikers to Mount Nasu visit here.
From the foot of Chausu peak to the top, Nasu Ropeway is operated from the middle of March to the end of November.
It climbs a difference in height of about 300 meters.
Nasu Onsen resort (
那須温泉郷

)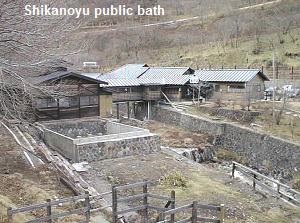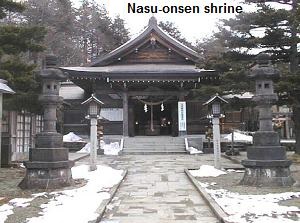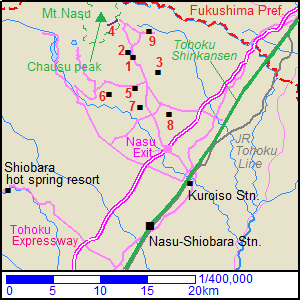 1) Nasu Yumoto Onsen 2) Sesshouseki
3) Nasu Imperial Villa 4) Nasu Ropeway
Nasu Onsen resort ("Nasu Onsen-kyo" in Japanese) is the central area of Nasu highland.
It is located just to the southeast of Mount Nasu, and the area is about 2 to 5 km from the peaks of the mountain.
The oldest and main area is Nasu Yumoto hot spring resort (那須湯元温泉).
The altitude is about 1,000 meters.
There are many hotels and ryokans along a mountain stream.
At the north end of the resort, there is the old publib bath Shikanoyu (鹿の湯).
It is the spring source of Nasu Yumoto Onsen, and it is said that it was opened in the 7th century.
It has two bathrooms.
One is for mixed bathing, and the other is for only women.
The hot water is cloudy and strongly acidic.
Sesshouseki (
殺生石

)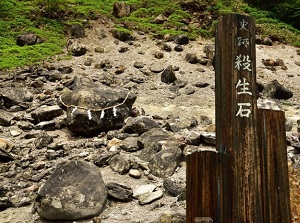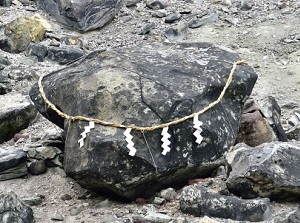 Sesshouseki is a place that there are many rocks are strewn and poisonous volcanic gas is emitting around there.
It is located about 0.5 km north of Shikanoyu.
In the 12th century, Emperor Toba had loved a beautiful lady passionately.
But a fortuneteller saw through her identity.
She was a fox with nine tails.
So, she was killed after troops pursued her.
It is said that she transformed into a rock and emitted the posonous gas to keep off all people and animals.
The rock is Sesshouseki.
Original rock of Sesshouseki was in above photos, but it broke in two naturally in early March 2022.
Some say that the phenomenon is a sign warning of something bad.
A walking trail is set up from Shikanoyu to Sesshouseki, and there is Onsen Shrine (温泉神社) on the way.
Some amusement parks in Nasu highland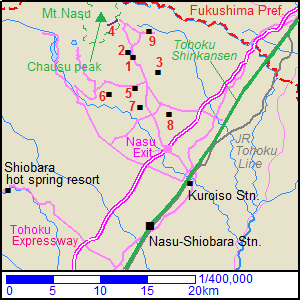 5) Minamigaoka Bokujo 6) Nasu Highland Park
7) Nasu Safari Park 8) Lake Rindo Family Park
9) Nasu Animal Kingdom
There are some amusement parks at the foot of Mount Nasu.
Every park has its unique characteristics.
Minamigaoka Bokujo (

南ヶ丘牧場

)

A stock farm located just south of Nasu Yumoto hot spring resort.

This farm breeds Guernsey cattle, a few cattle, and is opened to the public as a theme park.

We can ride a horse or a donkey, and, of course, we can enjoy tasting the milk, dairy products and meats produced in this farm.

Nasu Highland Park (

那須ハイランドパーク

)

An amusement park located about 5 km southwest of Nasu Yumoto hot spring resort.

This park is popular for 10 scary rides, and there are total of more than 40 attractions.

Nasu Safari Park (

那須サファリパーク

)

A zoo-like attraction, and we can observe the wildlife in a park's bus or a car.
It is located about 3.5 km south of Nasu Yumoto hot spring resort.

In the park, there are about 70 kinds of African animals such as lions, elephants, giraffes or zebras.
As the exotic animals, we can see "white lions" and "white ostriches".

Lake Rindo Family Park (

那須りんどう湖レイクビュー

)

A theme park located about 3.5 km east of Nasu Safari Park.

The concept is "little Switzerland", and there are many lovely attractions around artificial Rindo Lake.
It is a nice spot for the people with children.

Nasu Animal Kingdom (

那須どうぶつ王国

)

A park that we can contact with various small animals.
It is located about 4.5 km northeast of Nasu Yumoto hot spring resort.

Especially the half area of the park is for dogs and cats, and "Dog show" is held.
How to get here
By Tohoku Shinkansen, about 1 hour and 15 to 20 minutes from Tokyo to Nasu-Shiobara.
By route bus, about 1 hour to Nasu Yumoto Onsen.
Or, at Nasu-Shiobara station, change to the local train of JR Tohoku Line.
About 5 minutes to Kuroiso.
Get on either route bus from Kuroiso station.
- For Nasu-Ropeway : 35 minutes to Nasu-Yumoto, 60 minutes Nasu-Ropeway.
- For Highland-Park : 23 minutes Lake-Rindo, 35 minutes Minamigaoka-Bokujo, 55 minutes Highland-Park.
Hotels around Nasu area
Other Tourist Attractions in Tochigi Prefecture