Hiroshima Peace Memorial Museum [
広島平和記念資料館

]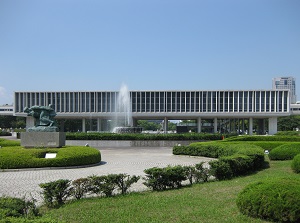 Hiroshima Peace Memorial Museum
Photo : Hiroshima Prefectural Tourism Federation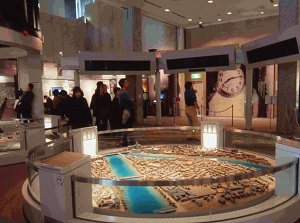 Inside of the museum
Photo : Hiroshima Prefectural Tourism Federation
Hiroshima Peace Memorial Museum is a museum in the Hiroshima Peace Memorial Park.
This museum was opened in 1955.
The museum has two buildings.
They are Main Building and East Building, and visitors visit East Museum first.
In East Building, the history of Hiroshima city until A-bombing and the historic background why Hiroshima was selected as the target are introduced.
In Main Building, we can see the human damage and physical damage by atomic bomb in Hiroshima.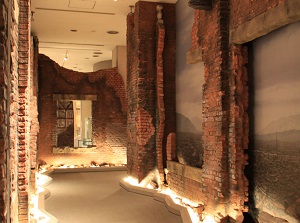 Image of the ruin
Photo : Hiroshima Prefectural Tourism Federation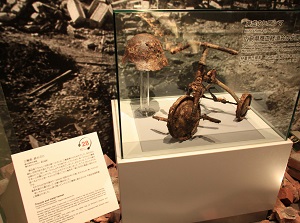 Damaged tricycle for child
Photo : Hiroshima Prefectural Tourism Federation
Various miserable articles found in the ruin, the diorama of the city after the exposion, and other items are displayed.
Especially the charred lunch box which a schoolgirl had, and the stone on which a shape of woman was printed, are well known.
Every year, more than a million people visit this museum.
Recently, over 200,000 visitors of them are foreigners.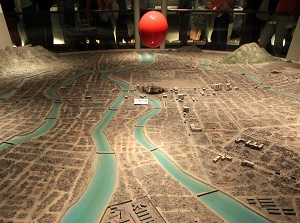 Image of A-bombing
Photo : Hiroshima Prefectural Tourism Federation
Many leaders of the countries and Nobel Peace Prize winner have visited this museum.
On May 27, 2016, Barack Obama visited this park as the first sitting U.S. president.
At that time, he donated four "orizuru" (paper crane) which he made by hand.
How to get here
By streetcar with route No. 2 or 6, about 20 minutes from Hiroshima station to Genbaku-Dome-mae stop.
From Genbaku Dome, about 10 minutes walk.
Other Tourist Attractions in Hiroshima city