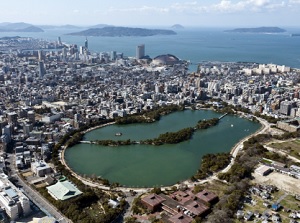 Ohori Park
© Fukuoka City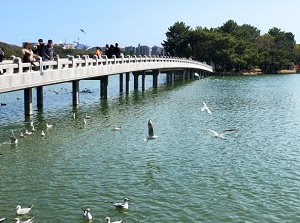 Bridge in Ohori Park
Ohori Park is a park located right to the west of Fukuoka Castle.
The first "o" in the word is pronounced long, so it is read as "Ôhoei-kôen" in Japanese.
The park has a large oval-shaped pond.
It is about 700 meters from north to south and about 350 to 400 meters from east to west.
Originally, the pond was an outer moat of Fukuoka Castle and was an inlet connected to Hakata Bay in the Middle Ages.
An industrial exposition was held in Fukuoka in 1927, so this park was constructed after the reclamation of the inlet.
After the exposition, the park was open to the public in 1929.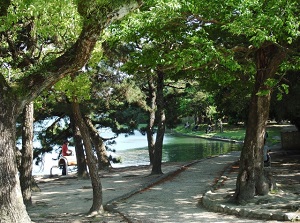 Walking trail by the pond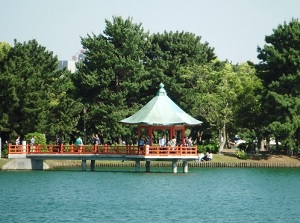 Ukimido in Ohori Park
Some small islands are in the pond and they are connected by bridges.
It is set up as a walking trail through the center of the pond.
By an island, there is a small temple Ukimido (浮見堂) over the pond.
Around the pond, there are Fukuoka Art Museum, Noh theater and Japanese Garden.
How to get here
The nearest station of subway is Ohorikoen (●K06 Kuko Line).
About 200 meters from the station.
Other Tourist Attractions in Fukuoka city