Seaside Momochi [
シーサイドももち

]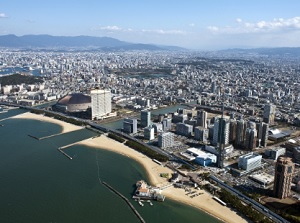 Seaside Momochi
© Fukuoka City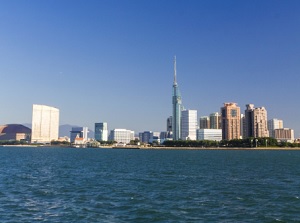 Seaside Momochi from the sea
© Fukuoka City
Seaside Momochi is a main waterfront area located to the northwest of Tenjin district.
The main area of Fukuoka city faces Hakata Bay, and the shore in this area has been calld as "Momochihama".
In the late 1980s, this area was involved in the process of urban development.
Artificial sandy beaches were constructed on the coast, and a promenade is set up along the beach.
And several buildings and facilities were built.

We can see a new cityscape of Fukuoka.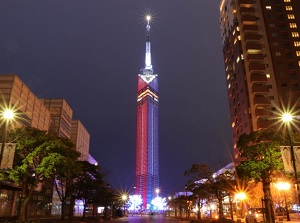 Fukuoka Tower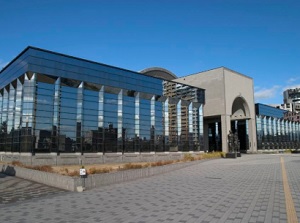 Fukuoka City Museum
© Fukuoka City
There is Fukuoka Tower in the center of the district.
It is a broadcasting tower 234 meters high and was built in 1989.
There are two floors for observation room and a floor for restaurant at around 120 meters above the ground.
There is Fukuoka City Museum (福岡市博物館) about 400 meters south of Fukuoka Tower.
It introduces the excavated articles from the ruins around Fukuoka and arms, armors and old documents in the samurai period.
Especially, you can see the gold stamp excavated in Shikanoshima island to the north of Hakata Bay.
The king of a small country in Japan sent his mission to the Later Han Dynasty and was given the gold stamp in 57 A.D.
There is a commercial complex Marizon in the center of the beach.
It has some restautants and shops, and there is a pier to visit Umi-no-Nakamichi sandbar about 7 km north of this beach.
How to get here
The nearest station of subway is Nishijin (●K04 Kuko Line).
About 1 to 1.5 km walk from the station.
Hotels around Seaside Momochi
Other Tourist Attractions in Fukuoka city