Miyazaki Prefecture [
宮崎県

]
Miyazaki Prefecture is located in the southeast part of Kyushu Island.
The prefectural capital is Miyazaki city in the southern part of the prefecture.
The east side of the prefecture faces the Pacific Ocean.
The coast line is nearly straight.
Kuroshio (Black Stream, a great warm ocean current) flows along this coast.
Therefore, the prefecture is warm and has much fall.
The annual sunshine in hours is long.
So this prefecture has tropical atmosphare in the mainland of Japan.
The old name of the prefecture is Hyûga (日向).
The kanji characters of Hyuga mean "facing sun".
Literally, we can see the sunrise at most shores along in the prefecture.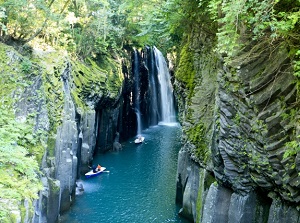 Takachiho gorge
The northern, western and southern sides of the prefecture are very mountainous.
And the other areas are hilly.
Miyazaki Prefecture has few volcanos, and there are few hot spring resorts.
Because of such geographical features, most cities are along the coast and only a few cities are in a basin in the south part of the prefecture.
Therefore, main railway and expressway run along the coastline and through the basin.
There is no railway and expressway to the west.
Tourist Attractions in Miyazaki Prefecture
Hotels in Miyazaki Prefecture
Transportation
Railway
To Nobeoka from Oita : By JR limited express, about 2 hours and 10 minutes.
To Miyazaki from Oita : By JR limited express, about 3 hours and 20 minutes.
To Miyazaki from Kagoshima-chuo : By JR limited express, about 2 hours and 30 minutes.
Express bus
To Miyazaki from Fukuoka : about 5 hours.
To Miyazaki from Kagoshima : about 3 hours.
Airport
Miyazaki Airport is located about 4 km southeast of JR Miyazaki station.
It has the flights from Haneda (Tokyo), Itami (Osaka) and Fukuoka frequently, and has also the flights from Narita and Chubu (Nagoya) a few times a day.
Main events in Miyazaki Prefecture
Miyazaki Shrine Grand Festival (October 26 & following Saturday, Sunday)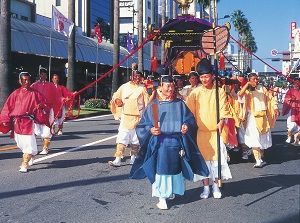 Photo by Miyazaki Prefecture
Miyazaki Shrine is a major Shinto shrine in Miyazaki Prefecture.
The annual festival is the greatest in the prefecture.
The ceremonies are held in the shrine on October 26.
And the attractive parades are held on the following Saturday and Sunday.
Emperor Jinmu was enshrined in this shrine, so the main parade is called "Jinmu-sama".
Jinmu-sama has two different processions.
One is the sacred procession for Emperor Jinmu.
Courtly and ceremonious parade is performed.
Another is the secular and lively procession.
Many dances in Miyazaki Prefecture, rolling of drums, and some other performances are held.
Takachiho Yokagura (From November to February)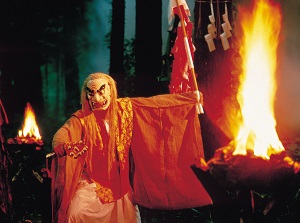 Photo by Miyazaki Prefecture
"Kagura" is the dance and music of Shinto (Unique Japanese religion), and it is performed to offer to Shinto shrine.
"Yokagura" means "overnight Kagura".
This Yokagura is held in all districts in Takachiho region from November to February.
33 dances based on the story of Shinto god are performed.
It takes more than a dozen hours, so the performance starts in the evening and finishes in the afternoon the next day.
This is the important event for Takachiho's people during an off-season for farmers.
Local foods and products in Miyazaki Prefecture
Hiyajiru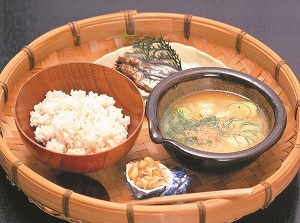 Photo by Miyazaki Prefecture
Hiyajiru is a summer local dish in Miyazaki Prefecture.
"Hiyajiru" means "cold soup".
The dish is made by pouring cold miso soup onto rice.
The miso soup is made for Hiyajiru specially.
First, miso paste and flakes of broiled fish are grinded with a wooden pestle, and they are browned.
Dashi broth is added to them, then it gets a special miso soup.
And broken tofu and some condiments are put in the soup.
After cooled, the soup is served.
Chikin-Nanban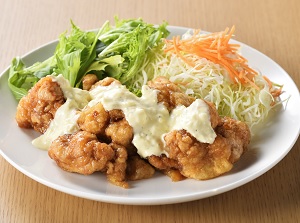 Photo by Miyazaki Prefecture
Chikin-Nanban is a Western-style dish invented by a Japanese cook in Nobeoka city in 1964.
First, a flour-coated chicken meat is deep-fried.
Soon after that, it is soaked in sugared vinegar for a short time.
After tartar sauce is put on the meat, it is served.
This dish has been very popular only in Miyazaki Prefecture.
Recently, Chikin-Nanban has become a popular menu of takeout lunch stands throughout Japan.
Retasu-maki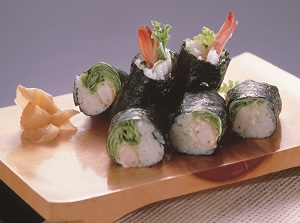 Photo by Miyazaki Prefecture
Retasu-maki is a kind of sushi roll.
In English, it is "Lettuce roll".
Lettuce and boiled shrimp with mayonnaise are used as the ingredient of sushi roll.
This sushi roll was invented by a master of sushi restaurant in Miyazaki city in 1966.
He has a friend of popular musician who had hated vegetables.
So the master created this sushi roll for him.
This unique sushi had spread by word of mouth, then it became a popular menu in Miyazaki's sushi.