Fukuoka Prefecture is located in the north part of Kyushu Island.
There is Honshu Island just to the north across narrow Kanmon Channel.
Moji district (門司) in Kitakyushu city facing the channel has been the entrance of Kyushu Island.
The city on the Honshu side is Shimonoseki (下関).
The northeastern coast of Fukuoka Prefecture faces Seto Inland Sea (Seto Naikai), and the northwestern coast faces the Sea of Japan.
Fukuoka prefecture is situated closest to Korean Peninsula in the Eurasian Continent.
The distance to Busan in South Korea is only about 200 km.
Therefore, since ancient times, this area had had various contacts with the continent.
A golden seal which was given as a gift by the King of China in the 1st century was unearthed here.
In 1274 and 1281, there were the attacks from the Yuan dynasty by Mongolian ruling China and Central Asia.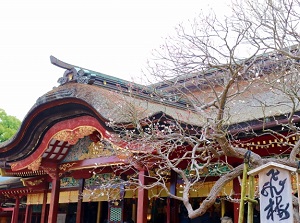 Dazaifu Tenmangu shrine
Fukuoka Prefecture has two big city, Fukuoka city and Kitakyushu city.
Fukuoka (福岡) is the prefectural capital located on the northwest coast.
It is the largest city in Kyushu Island, and has a population of about 1.5 million.
The name is the same as the prefecture.
Especially, the central area is called Hakata district (博多), and the station name of Shinkansen is Hakata.
Kitakyushu (北九州) is located at the north part of the prefecture.
As above, Moji district faces Kanmon Channel.
It is a major industrial city.
There was a great coalfield region between Fukuoka and Kitakyushu, so the iron industry in Kitakyushu had developed because of the rich production of coal in the first half of the 20th century.
But the energy had switched from coal to oil in the 1960s, so the coalfield had been closed in the 1970s.
Fukuoka (Hakata) is the base point to tour around the west part of Kyushu Island by railway.
And Kitakyushu is the base point to tour around the east part of Kyushu island.
The central station is Kokura (小倉).
Tourist Attractions in Fukuoka Prefecture
Hotels in Fukuoka Prefecture
Transportation
Railway
To Hakata from Tokyo : By Shinkansen, about 5 hours.
To Hakata from Shin-Osaka : By Shinkansen, about 2.5 hours.
To Hakata from Kokura : By Shinkansen, about 15 minutes.
Airport
Fukuoka Airport is located about 2 km east of Hakata station.
It is one of the main international airports in Japan, so it has the international flights from mant cities in the world.
It has many domestic flights and some international flights from China, South Korea and a few countries in Southeast Asia.
Especially, the flights between Haneda (Tokyo), Itami (Osaka), Chubu (Nagoya) airports are frequent.
Kitakyushu Airport is located on the sea about 20 km east of Kokura.
The flights between Haneda (Tokyo) are frequent.
Main events in Fukuoka Prefecture
Tama-seseri (January 3)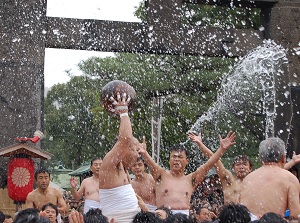 © Fukuoka Prefecture Tourist Association
Tama-seseri is the annual festival of Hakozakigu shrine in Fukuoka city.
It has been held for over 500 years.
First, two purified wooden balls with a weight of 8 kilograms are handed to a cluster of many men with only a loincloth.
They jostle each other and hand the balls one after another.
it is said that the man who can touch the ball will be happy.
When they reach in front of the main shrine, the balls are handed to the cluster again.
They are split into two teams, fishermen and farmers, and scramble for the balls.
And the team who put the ball into the main shrine wins.
When fishermen team has won, they will get a good catch of fish.
Or, when farmers team has won, they will get a good crop.
Hakata Dontaku Festival (May 3, 4)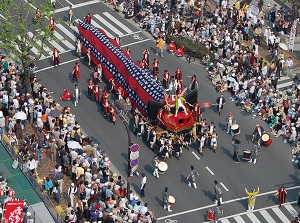 © Fukuoka Prefecture Tourist Association
Hakata Dontaku is the big annual festival in Fukuoka city, and over 2 million visitors come to see this festival every year.
Many various dancing teams march with dancing, and they dance on the stage in several place in the city.
Originally, it was the festival held in the New Year Days, and started in the 12th century.
In 1871, Meiji Government called the holiday as "Zontag" of Dutch word meaning "Sunday".
It was the new concept for Japanese people who had been lived in the feudal country.
Hakata's people called it as "dontaku".
This fastival was given the name because it was held in the holiday which the government set.
Kokura Gion-daiko Festival (Mid-July)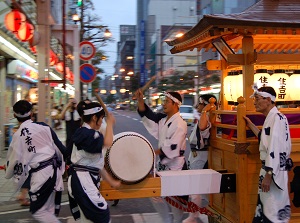 © Fukuoka Prefecture Tourist Association
Kokura Gion-daiko Festival is held in Kokura district in Kitakyushu city.
It was begun to be modeled after Gion festival in Kyoto in 1618, because the lord of Kokura Domain came from Kyoto.
But, since the late 19th century, this fastival had changed from the graceful parade to the show of beating drum.
"Taiko" ("daiko" in the connected word) means "Japanese drum".
Many teams march with beating Taiko.
It is unique that both sides of drum are beaten by two players.
Local foods and products in Fukuoka Prefecture
Hakata Ramen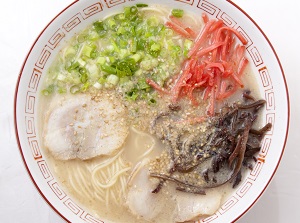 © Fukuoka Prefecture Tourist Association
Hakata Ramen is one of popular ramen noodles in Japan.
It was born in Fukuoka city in the 1940s, and has become one of three major ramens in Japan, along with Sapporo Ramen and Kitagata Ramen.
It features its milky white soup.
The broth is made by boiling pork bones at high heat.
Gelatinous texture in poke bone makes the broth white, and adds the rich taste.
The soup is called "Tonkotsu soup".
The noodle is thin, and mainly chopped negi (green onion) and a sliced barbecued pork are topped.
Chopped red pickled ginger and white sesame seeds are often added according to taste.
Karashi Mentaiko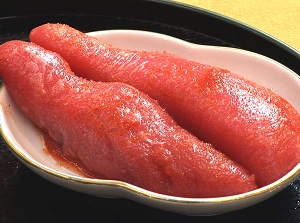 © Fukuoka Prefecture Tourist Association
Generally, "mentaiko" in Japanese means "salted walleye pollack roe".
It has been eaten in Japan and Korea.
In Korea, it has been salted with chopped red pepper.
When Japan governed Korea in the early 20th century, Japanese people who went to Korea knew the method using red pepper first.
After the World War II, a businessman who came back from Korea to Fukuoka invented a new mentaiko using red pepper in 1960.
It was "Karashi mentaiko", and "Karashi" means "red pepper".
Unlike korean mentaiko, he made it by pickling mentaiko in flavored liquid containing red pepper and maturing for a few days.
Now there are many Karashi mentaiko makers in Japan, and they keep a lid on how to make the flavored liquid.
Hakata Mizutaki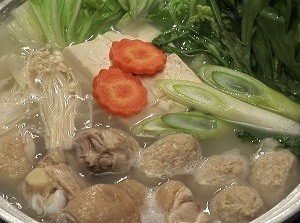 © Fukuoka Prefecture Tourist Association
Mizutaki is a kind of one-pot dish cooked at the table.
Hakata Mizutaki is a popular local cuisine in Fukuoka Prefecture.
Chicken bones and skin are put into the water in a pot, and they are boiled.
No seasoning is used in the pot.
Of course, it gets to tasty soup.
After that, chicken meats, various vagitables and tofu are put into the soup, and we eat them after dipping into the sauce of shoyu (soy sauce) and vinegar.
Hakata Doll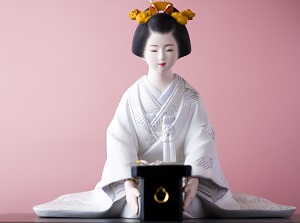 © Fukuoka City
Hakata Doll is a traditional craft produced in Hakata district in Fukuoka city.
It is molded from clay, fired, then painted.
It has been produced since the early 17th century.
In 1890, this doll was exhibited in the 3rd World Exposition in Paris, and caught a great deal of attention.
Since that, Hakata Doll has been known throughout the world.
The works of Hakata Doll has several types.
They are beauty doll, samurai doll, Kabuki doll, Noh doll, child doll, etc.