Koinoki Shrine is a small Shinto shrine in the precinct of Mizuta Tenmangu shrine.
It is located in Chikugo city about 45 km south of Fukuoka city and about 8 km northeast of Yanagawa city.
And the shrine is about 1.8 km southwest of JR Hainuzuka station which is the central station of Chikugo city.
Mizuta Tenmangu (水田天満宮) was founded by order of Emperor Go-Horikawa (1212-1234).
It was constructed by Sugawara Tamenaga (1158-1246) in 1226.
Mizuta Tenmangu enshrines Sugawara Michizane (845-903), and Tamenaga is a descendant of Michizane.
About Michizane, the history is the same as Dazaifu Tenmangu.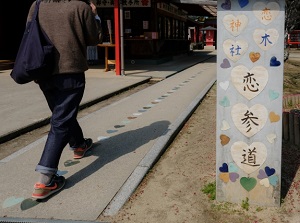 Approach of Koinoki Shrine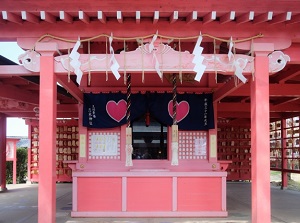 Main shrine of Koinoki Shrine
Koinoki Shrine was founded as a subordinate shrine of Mizuta Tenmangu around the 13th century.
It is said that Koinoki Shrine was founded to repose the soul of Michizane and enshrined "God of Love".
Michizane was relegated from Kyoto to Kyushi Island by conspiracy of his political enemies and died in Kyushu far from Kyoto of his hometown.
It is said that he had the strong mind to love his wife and the Emperor.
The Shinto shrine enshrining "God of Love" is only Koinoki Shrine in Japan.
Because this shrine has such history, it is decorated with many heart-shaped signs and pink color.
Therefore, many young women visit and worship Koinoki Shrine.
How to get here
By rapid train of JR Kagoshima Line, about 55 minutes from Hakata to Hainuzuka.
Then, by route bus, about 7 minutes to Mizuta-Tenmangu Koinoki-jinja stop.
But it is operated only a few times a day.
The distance from the station is about 1.8 km, so it takes about 25 minutes on foot.
Hotels around Hainuzuka station
Other Tourist Attractions in Fukuoka Prefecture