Remains of Ancient Dazaifu Government Office [
大宰府政庁跡

]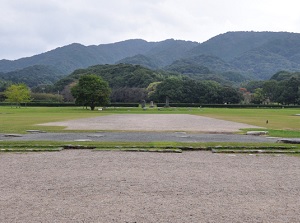 Remains of Ancient Dazaifu Government Office
Photo by Railstation.net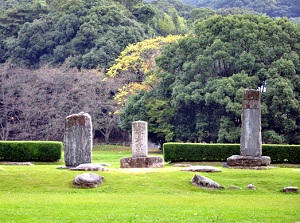 Monuments in Ancient Dazaifu Government Office
Photo by Railstation.net
Dazaifu Government Office is a town of the govenment in the ancient times.
There is the ruin about 0.8 km west of Kanzeonji temple and about 2.3 km west-southwest of Dazaifu Tenmangu.
This government office had been called Dazaifu, and it became the name of this area.
From the 1st to the 7th centuries, many small countries like a village appeared in Japan.
A few countries in Kyushu island had a relationship with ancient China.
In the 7th century, the area around Nara became the center of the state, and ancient Japan was formed.
Kyushu area was far from the capital around Nara, but it was the important area to diplomacy with and security against China and Korean Peninsula.
Therefore, Dazaifu Government Office was established.
It is unknown when it was constructed, but it is thought that the period was the late 7th century.
And it is said that the government office went into decline rapidly in the middle of the 10th century.
The full-scale investigation has been conducted since 1968.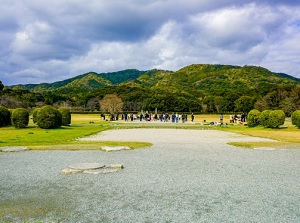 Visitors in Ancient Dazaifu Government Office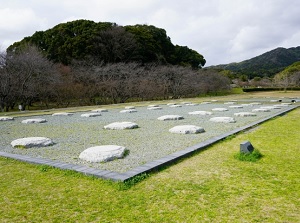 A ruin in Ancient Dazaifu Government Office
The site is a rectangle with about 111 meters long from east to west and about 188 meters long from north to south.
There was the main palace in the north part, the main area surrounded by corridors occupied the site, and the main gate was set up on the south side.
There were four buildings in the main area, and it is said that about 50 officers were working.
Now it is a flat field surrounded by low hills and forests.
Some areas of ruin are dotted in the site.
And several monuments and signs are set up.
There is a museum Dazaifu Tenjikan (大宰府展示館) near the site.
Sakamoto Hachimangu shrine (
坂本八幡宮

)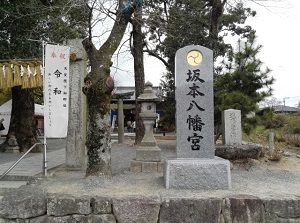 Entrance of Sakamoto Hachimangu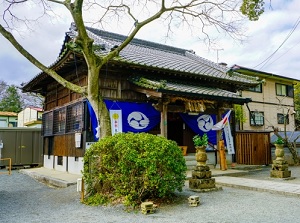 Main shrine of Sakamoto Hachimangu
Sakamoto Hachimangu is a small Shinto shrine located about 0.4 km north of Dazaifu Government Office.
Ôtomo no Tabito (665-731) was a court noble and a poet.
He was appointed to Dazaifu Government Office as the director from 728 to 730.
It is said that there was the residence of Tabito in the site of Sakamoto Hachimangu.
"Man'yoshu" is the oldest extant collection of Japanese poetry compiled in the late 8th century, and has more than 4,500 short poems.
78 poems by Ôtomo no Tabito are also contained in Man'yoshu.
Sakamoto Hachimangu had been a small local shrine.
But, this shrine became a very popular shrine after April. 1, 2019.
In Japan, both Christian Era and Japanese Era are used as the representation of year.
New Japanese Era starts from the year in which new Emperor is enthroned.
On May. 1, 2019, the Crown Prince Naruhito ascended the Throne.
Before that, Japanese government announced that the new name of Japanese Era was Reiwa (令和).
After that, Japanese people knew that the word of "Reiwa" was from a description in Man'yoshu about a poetry party held in the residence of Ôtomo no Tabito.
Because the change of Japanese Era was a big event for all Japanese people, the fact caused a sensation.
Since that, this local shrine has been popular.
How to get here
By local train of Nishitetsu railway, about 22 minutes from Nishitetsu-Fukuoka (Tenjin) to Tofurou-mae.
Then by community bus "Mahoroba-go", 5 minutes from the station to Dazaifu-seicho-ato stop.
From Dazaifu station near Dazaifu Tenmangu, 14 minutes by community bus "Mahoroba-go".
Hotels around Dazaifu Government Office
Other Tourist Attractions in Fukuoka Prefecture