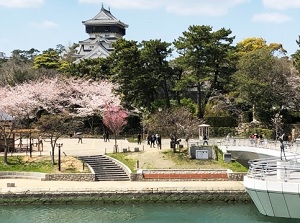 Kokura Castle in spring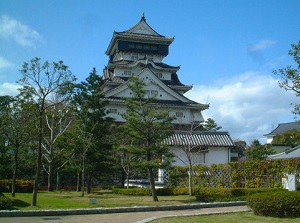 Castle tower of Kokura Castle
Photo by Railstation.net
Kokura Castle is a castle located about 1 km west-southwest of Kokura station.
Kokura is the center of Kitakyushu city, and Kokura station is also the main station of the city.
It is located about 10 km southwest of Mojiko Retro.
It is said that a fort was built in the site in the late 13th century.
In 1569, the original castle was built.
When Edo government was established, Hosokawa Tadaoki (1563-1646) came to this area as the lord in 1600.
And he rebuilt the castle from 1602, and he constructed the castle town around the castle.
The castle tower and some buildings were destroyed by fire in 1837.
But the castle tower was not rebuilt.
In addition, the remaining buildings were reduced to ashes in the civil war in 1866.
Current castle tower was built in 1959, due to public demand.
The design of the castle tower based on historical investigation was very simple without decoration.
But because the public opinion was realization of the style like common Japanese castle, some gables and windows were added.
The castle tower is five stories high.
The inside is the museum and the hightest floor is the observarory room.
The site is about 300 meters from east to west and about 250 meters from north to south.
The castle tower is in the center of the site and some moats surrounds the site.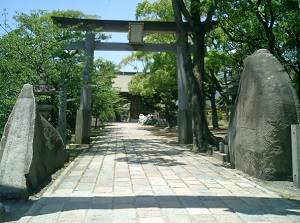 Yasaka Shrine in Kokura Castle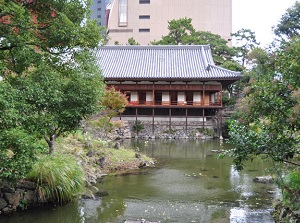 Japanese garden in Kokura Castle
Photo by Railstation.net
In the north part, there is Yasaka Shrine (八坂神社).
It was established in 870 and the main shrine was built in the town to the north of the castle in 1617.
Then, it was moved to the current place in 1934.
There is a Japanese garden to the east of the castle tower.
It was constructed in 1998, and a teahouse and a study hall in the period were reconstructed.
How to get here
All Shinkansen trains stop at Kokura station.
And by the rapid train of JR Kagoshima Line, about 13 minutes from Mojiko, about 1 hour and 10 minutes from Hakata.
From Kokura station, about 15 minutes walk.
Hotels around Kokura Castle
Other Tourist Attractions in Fukuoka Prefecture