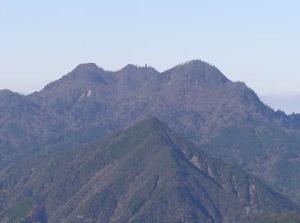 Three peaks of Mount Hiko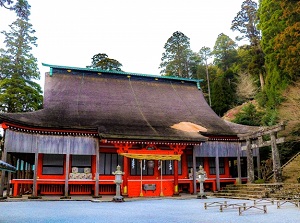 Hoheiden of Hikosan-jingu
Hikosan-jingu is a Shinto shrine in the mountain located about 60 km south of Kitakyushu city and about 60 km east of Fukuoka city.
Hikosan is a mountain on the border between Fukuoka and Oita Prefectures, and is called as "Mount Hiko" in English.
It has three peaks: "Kita-dake" (1,192 m), "Naka-dake" (1,188 m) and "Minami-dake" (1,199 m).
In ancient times, this mountain was worshipped as Shinto gods.
Therefore, it is said that Hikosan-jingu shrine was established in 531.
Each peak has been enshrined as the different god.
After that, Hikosan had been one of the three sacred mountains of "Shugendo", along with Mount Haguro in Dewa-Sanzan in Yamagata Prefecture and Mount Omine in Nara Prefecture.
In the 8th century, people started to enter the mountains to practice asceticism.
In the 9th to 10th centuries, mountain worship and esoteric Buddhism were mixed, then the training began to be called "Shugendo".
The priests of Shugendo lived in the mountain to train.
In addition, the priests in Hikosan trained individual military art techniques.
Therefore, the group of priests in Hikosan became a large army in the Middle Ages.
But they were involved into the battle between the two Domains in Fukuoka Prefecture in 1581, then many of them were killed.
Since that, Shugendo in Hikosan has declined.
In the 1870s, Japanese government abolished Shugendo in Hikosan, and only Hikosan-jingu as Shinto remained.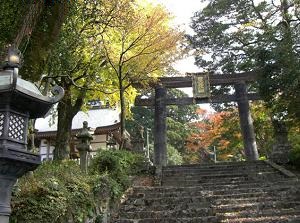 Kane-no-Torii of Hikosan-jingu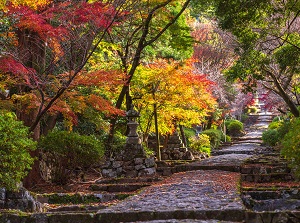 Approach to Hoheiden
© Fukuoka Prefecture Tourist Association
There are two main shrines in the mountain.
One is Jôgû (上宮).
It is on the top of Naka-dake peak of Hikosan, and the the central shrine of Hikosan-jingu.
Another is Hôheiden (奉幣殿), and is located on the mountainside at an altitude of about 720 meters.
In addition, some auxiliary and subordinate shrines are dotted around the main shrines.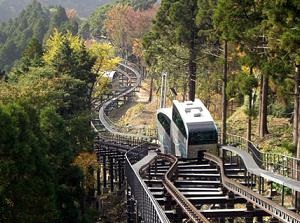 Slopecar to Hikosan-jingu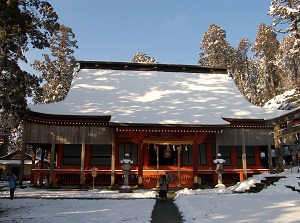 Hoheiden of Hikosan-jingu in winter
© Fukuoka Prefecture Tourist Association
First, visitors come to the foot of Hikosan.
As the entrance gate, there is Kane-no-Torii (銅鳥居).
It is located at an altitude of about 550 meters.
Kane-no-Torii is made of bronze and was built in 1637.
It is designated as a national important cultural property.
From there, the approach about 0.8 km long climbs the slope to Hôheiden.
The difference of elevation is about 160 meters.
The approach is a stone staircase with about 800 steps.
In 2005, "Slopecar" like small monorail has been set up along the approach.
When you want to climb easily, get on the car.
It runs through a flower garden, and takes about 15 minutes.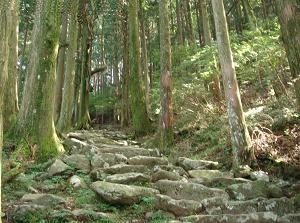 Path to Jogu of Hikosan-jingu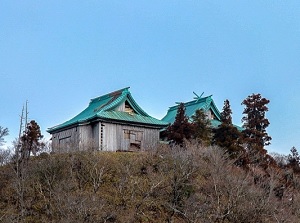 Jogu of Hikosan-jingu
Most of the visitors by car go to the middle point of the approach.
A parking lot and some shops are there, and the route bus comes here. (Jingu-shita stop)
Hôheiden was rebuilt in 1616.
Originally, the building was the hall of a Buddhist temple for Shugendo priests.
It is also designated as a national important cultural property.
From Hôheiden to Jôgû, the distance is about 2 km, and the difference of elevation is about 470 meters.
The path to Jôgû is rough.
So when you visit Jôgû, you had better dress like a hiker.
There are a few small shrines on the route.
Jôgû on the top of Naka-dake peak is the origin of this shrine.
The building was rebuilt in 1842.
How to get here
By local train of JR Hita-Hikosan Line, about 1 hour and 15 minutes from Kokura (Shinkansen station) to Soeda station.
Then, by route bus, about 32 minutes to Kane-no-Torii stop, about 38 minutes to Jingu-shita stop.
The bus is operated every about 2.5 hours.
And, on Saturaday, Sunday and Japanese national holiday, passengers must change the bus at Hikosan-eki stop on the way.
Other Tourist Attractions in Fukuoka Prefecture