Kumamoto Prefecture [
熊本県

]
Kumamoto Prefecture is located nearly in the center of Kyushu Island.
This prefecture is mountainous over the whole area, and most of the cities are along the coastline.
In the northeast part of this prefecture, there is Mount Aso (阿蘇山).
It is an huge active volcano.
Aso is the symbol of Kumamoto Prefecture, so Kumamoto Prefecture is often called "Hinokuni" (Land of Fire) because of the activity of the volcano.
In the south part of the prefecture, Kuma River (球磨川) flows and forms Hitoyoshi Basin in the middle part of the river.
It is one of the the three fastest rivers in Japan along with Mogami River in Yamagata Prefecture and Fuji River in Shizuoka Prefecture.
Kumamoto city (熊本) is the prefectural capital, and is located to the west of Mount Aso.
The west side of the prefecture faces the sea.
But the sea is surrounded by the large peninsula of Nagasaki and many islands, so we can see various sceneries along the sea.
The main islands are Amakusa (天草).
Most main islands are connected with bridge, so we can visit by bus or car.

Kumamoto Castle under repair
By the way, "Kuma" in the word of "Kumamoto" means "bear".
So Kumamoto Prefecture created a mascot character Kumamon.
It is a simple figure of black bear with red cheeks, but has been well known across the country.
When you visit Kumamoto Prefecture, you may find Kumamon in various places.
On April 14, 2016, very strong earthquake occured around Kumamoto city.
And after that, strong afterquakes occured again and again.
All areas in Kumamoto Prefecture were damaged.
Kumamoto Castle is the symbol of Kumamoto city, but it was also badly damaged by the earthquake.
The repairing is likely to take several more years.
Tourist Attractions in Kumamoto Prefecture
Hotels in Kumamoto Prefecture
Transportation
Railway
To Kumamoto from Hakata : By Kyushu Shinkansen, 40 to 50 minutes.
To Yatsushiro from Hakata : By Kyushu Shinkansen, 50 minutes.
To Hitoyoshi from Yatsushiro : By JR Hisatsu Line, 1 hour and 10 to 20 minutes.
Express bus
To Kumamoto from Osaka : about 10 hours. (Night bus)
To Kumamoto from Fukuoka : about 2 hours.
Airport
Kuamamto Airport is located about 18 km east of Kumamoto city.
It has the flights from Narita, Haneda (Tokyo) and Itami (Osaka) frequently, and has also the flights from Kansai (Osaka), Chubu (Nagoya) and Naha (Okunawa) one to three times a day.
Main events in Kumamoto Prefecture
Hiburi-shinji (Mid-March)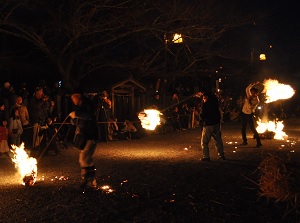 Photo: Kyushu Tourism Promotion Organization
Hiburi-shinji is an attractive event in the annual festival of Aso Shrine.
The festival is held for praying for huge harvest.
Hiburi-shinji shows the scene of the marriage of the gods for harvest.
The sacred object of goddess is carried from the other shrine to Aso Shrine.
And many torches are set on fire and many people swing the torches to welcome the goddess.
The tourists can join the play.
Yamaga Lantern Festival (August 15 - 17)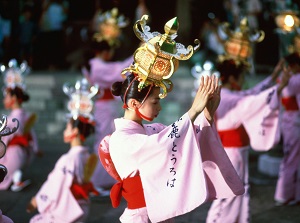 Photo: Kyushu Tourism Promotion Organization
Yamaga Lantern Festival is the annual festival of Ômiya Shrine in Yamaga city located in the north part of Kumamoto Prefecture.
The women wearing Yukata (Japanese summer kimono) dance with putting a lantern on their head.
The lantern is made of golden and silver papers.
Of course, a candlelight is set up in the lantern.
In the evening on the second day, a thousand women dance with the lantern.
The graceful scene is the highlight of this festival.
Local foods and products in Kumamoto Prefecture
Karashi-renkon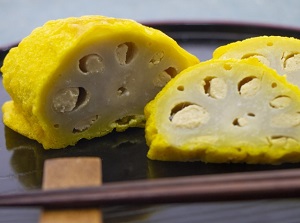 Karashi-renkon is a local food in Kumamoto Prefecture.
"Karashi" means "mustard", and "renkon" means "lotus root".
The holes of boilded lotus roots are filled with a mixture of miso, musterd and honey, and they are deep-fried after coating with wheat flour.
The turmeric is added into the flour, so the surface is yellow.
Of course, the fillings of the lotus root are also yellow.
Taipiien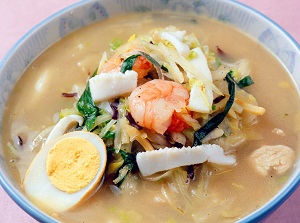 Photo: Kyushu Tourism Promotion Organization
Taipiien is a local dish around Kumamoto city.
It looks like Chanpon in Nagasaki, but the noodle is Chinese bean-starch vermicelli instead of Chinese noodle.
Shrimp, squid, pork, Chinese cabbage, bamboo shoot etc. are topped on the vermicelli and soup, and fried egg is also added.
The original dish is one of Fujian cuisines in China, and it is said that Chinese people introduced it to Japan in the 1930s.
Basashi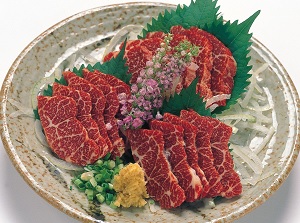 Photo: Kyushu Tourism Promotion Organization
Basashi is the sashimi of horse meat, and is one of the famous local cuisine in Kumamoto.
Raw horse meat is sliced thinly, and we eat it after dip them into shoyu (soy sauce) adding grated ginger or garlic.
Kato Kiyomasa (1562-1611) was a samurai warrior and built Kumamoto Castle.
When he was fighting in a civil war, he had no choice but to eat the meat of war-horse beacuse of cutting off the supply route of foods.
After he came back to Kumamoto in safety, it is said that he spread this taste in this region.
Ikinari-dango

Photo: Kyushu Tourism Promotion Organization
Ikinari-dango is a local sweets in Kumamoto Prefecture.
"Dango" means sweet rice dumpling in Japanese, but this is not the sweets of Dango.
The main ingredient is sweet potato.
A small amount of red bean jam is applied on a sliced sweet potato, and it is steamed after coating with batter.
We can get it in Kumamoto Prefecture.
But it has been one of the traditional sweets which is made in home.
Kuma shochu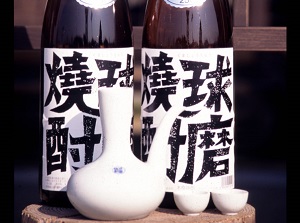 Photo: Kyushu Tourism Promotion Organization
"Shochu" is Japanese distilled spirit.
Kuma shochu has been made around Hitoyoshi Basin in the south part of Kumamoto Prefecture, where Kuma River flows.
It is made from rice, and the taste is rich a little.
It has been brewed in this area since the 16th century, and there are 28 breweries in this area now.
To drink Kuma shochu, unique drinking vessels have been used by tradition.
Especially, the shape of bottle "gara" is unique.
(The small cup is called "choku".)