Nagasaki Prefecture [
長崎県

]
Nagasaki Prefecture is located in the northwest part of Kyushu Island.
The coastline is very complex, so this prefecture has many bays, coves and peninsulas.
And 971 islands are in this prefecture.
Main islands are Tsushima (対馬, about 90 to 160 km north of the mainland), Iki (壱岐, about 50 km north) and Goto Islands (五島列島, about 50 to 100 km west).
And there is Hirado Island (平戸島 near the northern coast of the prefecture.
Whole area of the prefecture including the island is mountainous.
A warm current runs off the coast of the prefecture, so Nagasaki Prefecture has a mild climate.
Main cities are Nagasaki (長崎) and Sasebo (佐世保).
Nagasaki city is the prefectural capital.
Both are the port cities, and Sasebo has the bases of Japanese Maritime Self-Defense Force and the United States Navy.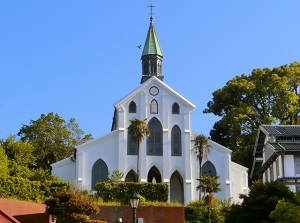 Oura Catholic Church in Nagasaki city
In the middle of the 16th century, Christian missionaries came from Portugal, and they Christianized many people in this area.
From the early 17th century to the middle of the 19th century, Japanese government had banned Christianity, but many hidden Christians were in this area.
It is said that Nagasaki Prefecture has the highest percentage of Christians in Japan.
Many Christian Churches and some villages of former hidden Christians are dotted in the prefecture, and they were designated a UNESCO World Heritage site in 2018.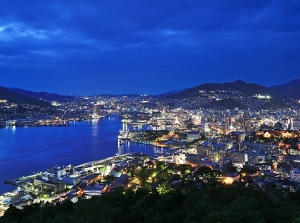 Evening view of Nagasaki city
Nagasaki city is located around the south part of the mainland in the prefecture.
This area had been a small village.
But a main port was constructed in 1570, so this area became an important place and developed.
During Edo Period (1603-1868), the government had an isolationist policy.
But Nagasaki had been the only port for foreign trade in Japan.
Near the port, artificial island Dejima was constructed, and the merchants of China and the Netherlands had stayed in the island.
"Madama Butterfly" by Giacomo Puccini is a famous opera set in Nagasaki in the 1890s.
The historical background makes Nagasaki an exotic city.
At 11:02 a.m., on August 9, 1945, the U.S. B-29 Superfortress Bockscar dropped an atomic bomb on Nagasaki city.
Three days before this day, Hiroshima city had been sacrificed by the first evil A-bomb.
The second A-bomb killed about 74 thousand people and injured about 75,000 people in Nagasaki city in a moment.
I hope that the use of A-bomb was the last time in human history, for eternity.
Tourist Attractions in Nagasaki Prefecture
Nagasaki city
Other areas in Nagasaki Prefecture
Hotels in Nagasaki Prefecture
Transportation
Railway
To Nagasaki from Hakata : By JR limited express, about 2 hours.
To Sasebo from Hakata : By JR limited express, about 2 hours.
Express bus
To Nagasaki from Osaka : about 12 hours. (Night bus)
To Nagasaki from Fukuoka : about 2.5 hours.
Airport
Nagasaki Airport is located in Omura Bay about 35 km north of Nagasaki city.
It has the flights from Haneda (Tokyo) and Itami (Osaka) frequently, and has also the flights from Chubu (Nagoya), Kobe and Naha (Okunawa) one to three times a day.
And it has the flights to the islands in the prefecture such as Tsushima, Iki, Fukue (Goto Islands).
Main events in Nagasaki Prefecture
Nagasaki Lantern Festival (Around February)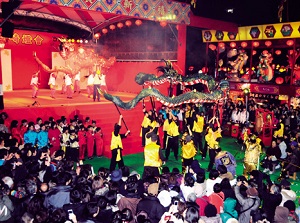 © Nagasaki Prefecture Convention and Tourism Association
Nagasaki Lantern Festival is the annual event for about two weeks from the Chinese New Year's Day.
Originally, this festival had been held as the New Year Festival for Chinese people living in Chinatown in Nagasaki city.
Since 1994, it has been one of the main festival of Nagasaki city.
Many Chinese lanterns are decorated in the town.
The parade of former Chinese dynasty, the reenactment to enshrine the statue of Mazu (Chinese goddess of sea) to a temple, and some other events are held.
Shôrô Nagashi (August 15)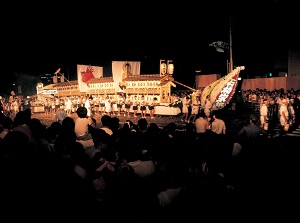 © Nagasaki Prefecture Convention and Tourism Association
Bon (Obon) is a Buddhist festival held to welcome back the spirits of the dead.
In Nagasaki Prefecture, Shoro Nagashi is held for Bon.
On the first Bon day of a dead person, the family carries a decoarated float throughout the city.
The float is in the form of a ship, and it has the soul of the dead person.
When the parade is done, firecrackers are set off.
It has an Chinese influence.
But it is clearly a festival of Japanese Buddhist ceremony.
Nagasaki Kunchi (October 7 - 9)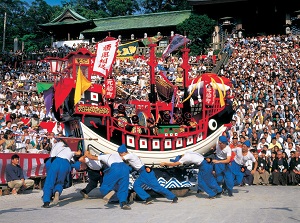 © Nagasaki Prefecture Convention and Tourism Association
Nagasaki Kunchi is the annual festival of Suwa Shrine in Nagasaki city.
59 towns in Nagasaki city divide into 7 groups, and each group with 7 to 11 towns joins this festival in turns.
Each town shows unique performance.
They are dragon dance, Japanese dance, pulling or carrying floats, and parades.
On the whole, they has been influenced by the traditional culture of Portugal, the Netherlands and China.
Local foods and products in Nagasaki Prefecture
Shippoku dish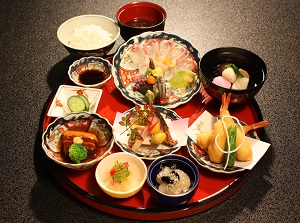 Photo: Kyushu Tourism Promotion Organization
Shippoku is a type of banquet in Nagasaki.
The guests sit around a round table, and eat the various dish on large plates freely.
It looks like Chinese style.
On the plates, Japanese dishes such as sashimi, tenpura, boiled dish of various vegetables, and Chinese dishes are served.
It is said that this style had been born from the dinner with the citizens and Chinese people in Nagasaki in the 17th century.
Chanpon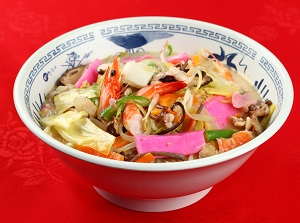 © Nagasaki Prefecture Convention and Tourism Association
Chanpon is a noodle dish born in Nagasaki city.
Pork, Sea foods (squid, shrimp), various vegetables are fried.
Then thick Chinese noodle and soup are added and boiled.
It is completely different from "ramen".
In the early 20th century, a Chinese cook from Fujian in China invented this dish as a cheap and nourishing dish for students from China.
Sara-udon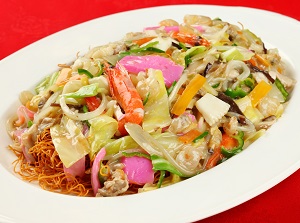 © Nagasaki Prefecture Convention and Tourism Association
"Sara" means "plate", and "udon" is one of popular Japanese noodles.
But this dish serves no udon.
Fried and boiled pork, sea foods and various vegetables are topped on fried Chinese noodle.
This dish was also invented by the cook who created Chanpon.
This is the popular dish in Nagasaki, along with Chanpon.
Castella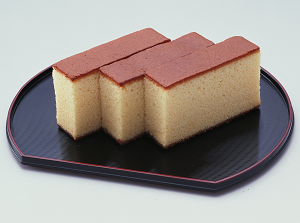 © Nagasaki Prefecture Convention and Tourism Association
Castella is a Japanese sponge cake made of sugar, flour, eggs and starch syrup.
The cake was brought by Portuguese merchants in the 16th century.
The name is derived from "Kingdom of Castile" in Iberian Peninsula during the Middle Ages.
It is a Western cake using no milk, so it became a popular sweets for Japanese people who had been not the custom to use milk and dairy products.