Dazaifu Tenmangu shrine [
太宰府天満宮

]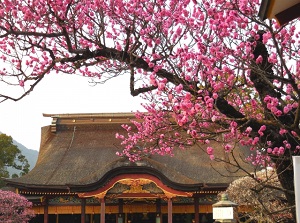 Main shrine of Dazaifu Tenmangu & ume blossoms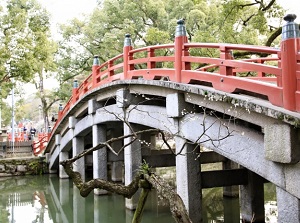 Taikobashi in Dazaifu Tenmangu
Dazaifu Tenmangu is a Shinto shrine.
It is located about 15 km southeast of the center Fukuoka city and in Dazaifu city.
Sugawara Michizane (845-903) was a politician with talent of poem and literature.
He distinguished himself as one of the excellent government officials at a young age, and moved up the promotional ladder.
But he was gotten involved in a political battle in 901, then some critics tricked him into committing a crime without being noticed.
In the result, Michizane was demoted and transferred from Kyoto, the capital city, to Dazaifu, a remote area in Japan at the times.
He died in Dazaifu in 903.
After his death, people tried to send his body to Kyoto by cow carriage.
But the cow carriage was unable to move at the end of Dazaifu area.
People thought that the soul of Michizane hoped to stay in Dazaifu.
Then, his body was buried in Dazaifu and a mausoleum was built there in 905.
Later, a series of evil phenomena such as plague outbreak and abnormal climate occured in Kyoto.
Kyoto citizens thought that the phenomena were the curse of Michizane's vengeful spirit, so they trembled with fear.
The government built this shrine on the Michizane's tomb in 919.
In addition, Kitano Tenmangu shrine for his soul was built in Kyoto in 947.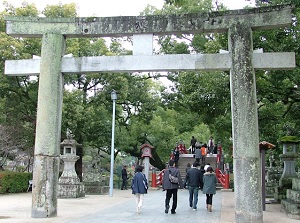 Entrance of Dazaifu Tenmangu
Photo by Railstation.net

Roumon of Dazaifu Tenmangu
Photo by Railstation.net
Visitors walk on the approach, cross Taikobashi bridge (太鼓橋) over a pond, then reach Roumon gate (楼門).
Roumon had been destroyed by fire many times, and current gate was rebuilt in 1911.
After passing through Roumon, visitors reach Honden (本殿, main shrine) and worship the shrine.
Honden was originally built in 919, then current building was rebuilt in 1591.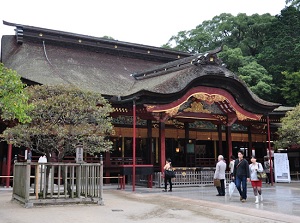 Honden of Dazaifu Tenmangu
Photo by Railstation.net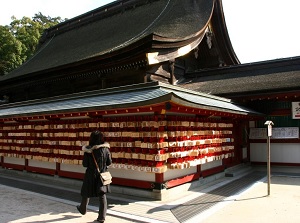 Dedicate 'ema's to pass exams
in Dazaifu Tenmangu
From the period, this shrine has been worshiped as the god of learning, because Michizane was an excellent scholar.
Every year, many students taking an entrance exam visit this shrine.
There is an old Ume (Japanese apricot) tree named Tobi-ume (飛梅) near Honden.
"Tobi-ume" means "flying ume".
It is said that the ume tree in Michizane's residence in Kyoto flew to here in a night after his demotion.
Of course, I guess the story is a fiction, but it is said that Tobi-ume tree is over 1,000 years old.
Therefore, there are about 6,000 ume trees in the precinct.
The ume trees including Tobi-ume tree are in full bloom in the middle of February every year.

Tobi-ume in Dazaifu Tenmangu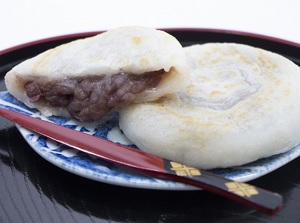 Umegae-mochi
In connection with the ume, "Umegae-mochi", a mochi cake filled with sweet bean paste, is the local confection of this shrine.
There are many tea houses serving Umegae-mochi around the shrine.
Kômyôzenji temple (
光明禅寺

)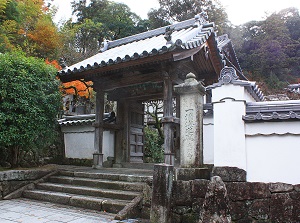 Entrance of Komyozenji
Photo: Kyushu Tourism Promotion Organization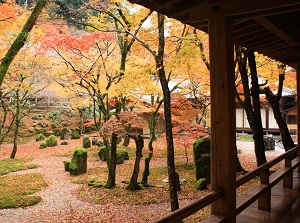 Japanese garden of Komyozenji
Photo: Kyushu Tourism Promotion Organization
Kômyôzenji is a Buddhist temple of Rinzai zen sect.
It is located about 100 meters south of the entrance of Dazaifu Tenmangu.
This temple was founded in 1273.
And it was the temple for the families serving Dazaifu Tenmangu.
There is a Japanese garden using mosses, so this temple is often called Koke-dera (Moss temple).
Unfortunately, it is prohibited to take photos in the precinct.
The priests say that bad-mannered visitors had taken photos in the garden in the past.
Kyushu National Museum (
九州国立博物館

)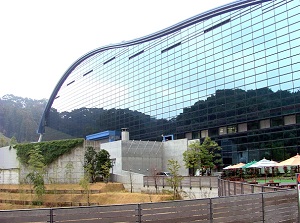 Kyushu National Museum
Photo by Railstation.net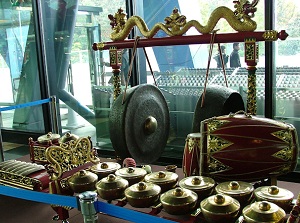 Exhibition in Kyushu National Museum
Photo by Railstation.net
Kyushu National Museum is a national museum located about 1 km southeast of Dazaifu Tenmangu.
It was opened in 2005, and was constructed on a hill owned by Dazaifu Tenmangu.
The museum introduces the Japanese culture from the view of Asian history.
There are many old pictures and artifacts created in Japan and China associated with Kyushu Island.
How to get here
By Nishitetsu railway, about 15 minutes from Nishitetsu-Fukuoka (Tenjin) to Nishitetsu-Futsukaichi.
Then by Dazaifu Line of Nishitetsu, about 5 minutes from Nishitetsu-Futsukaichi to Dazaifu.
About 5 minutes walk to the shrine.
Hotels around Dazaifu Tenmangu
Other Tourist Attractions in Fukuoka Prefecture