Kawachi Wisteria Garden [
河内藤園

]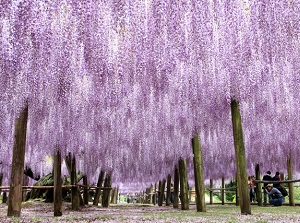 Kawachi Wisteria Garden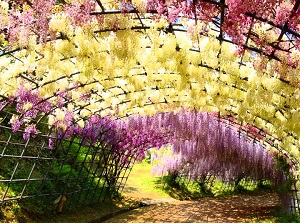 Tunnel of wisteria
Kawachi Wisteria Garden is a private garden of wisteria.
It is located in the mountain area about 9 km south of JR Yahata station.
Yahata district is located about 10 km west of Kokura.
The garden was opened in 1977.
It is about a hectare in area.
22 kinds of wisteria flowers bloom in the garden from late April to early May.
The countless wisteria flowers hang down from huge wisteria-trellises.
And there are two long tunnels of wisteria.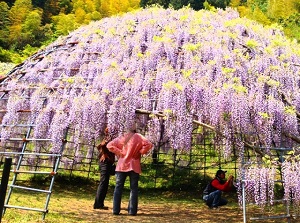 Kawachi Wisteria Garden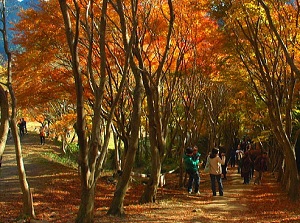 Colored leaves in autumn
And there are about 700 maple trees in the forest of the garden.
In late November, colored leaves are beautiful.
This garden is opened only in above period.
Especially, in the season of wisteria, you need to make a reservation.
Visitors can make a reservation only in two Japanese convenient stores, Seven-Eleven and FamilyMart.
How to get here
By JR Kagoshima Line, about 15 minutes from Kokura to Yahata.
The shuttle bus is operated from JR Yahata station.
But only the visitor having the reserved garden ticket can get on the bus.
It takes about 30 minutes to the garden.
Other Tourist Attractions in Fukuoka Prefecture