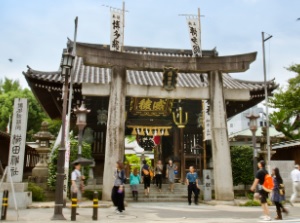 Kushida Shrine
© Fukuoka City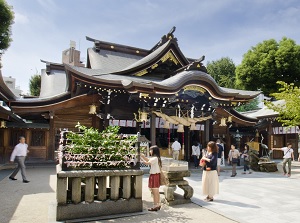 Main shrine of Kushida Shrine
© Fukuoka City
Kushida Shrine is a Shinto shrine in the center of Hakata area.
It is located on the east side of Nakasu river island and about 1 km west of JR Hakata station.
There is Canal City Hakata (A popular commercial complex) about 400 meters south of this shrine.
According to shrine legend, this shrine was founded as a branch shrine of Kushida Shrine in Matsusaka city in Mie Prefecture in 757.
It had fallen into ruin in the 15th century, but current shrine was built when the town of Hakata was reconstructed in 1587.
Since that, this shrine became the guardian god of Fukuoka city.
Hakata Dontaku in May is a very big festival in Fukuoka city.
The members of the parade are given purification in this shrine, then the parade is started.
Hakata Gion Yamakasa in July and Hakata Okunchi in October are major festivals in Fukuoka, and these are also held by this shrine.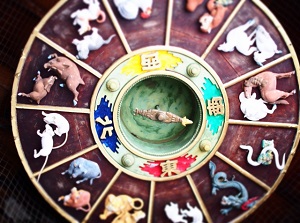 Board of 12 signs of the Chinese zodiac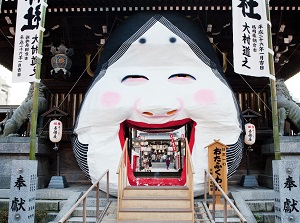 Main gate of Kushida Shrine around Setsubun
© Fukuoka City
The shrine is not so wide and the precinct is about 80 meters square.
There is the main shrine in the center of the precinct.
There are some attractive things in the shrine.
A round board of the twelve signs of the Chinese zodiac is set up on the ceiling of main gate.
It points out the lucky direction of the year.
Setsubun is the traditional end of winter festival and is held around February 3.
During a few weeks around Setsubun, a fat faced woman's mask is set up at the gate.
If you pass through the mouth of the mask, it is said that you will become happy.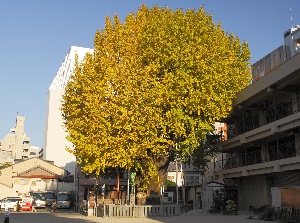 Big ginkgo tree in Kushida Shrine
© Fukuoka City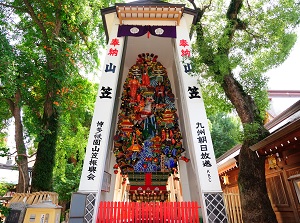 Float of Hakata Gion Yamakasa
© Fukuoka City
There is a big ginkgo tree near the gate and it is the sacred tree of the Shrine.
It is over 600 years old, and the height is over 20 meters.
The trunk is very thick.
There is a spring with three statues of crane near the main shrine.
If you touch the water, it is said that you will live longer.
A beautiful float is displayed in the precinct.
It is actually used in the festival of Hakata Gion Yamakasa, and we can see the float anytime.
There is a place where some stones are dedicated.
These have been dedicated by famous Sumo wrestlers to boast their great strength.
A heavy stone is put in the place.
You can try to lift the stone.
How to get here
About 1 km walk from JR Hakata station.
Or, the nearest station of subway is Gion (●K10 Kuko Line).
About 300 meters walk from the station.
Hotels around Kushida Shrine
Other Tourist Attractions in Fukuoka city