Miyagi Prefecture is located on the Pacific side of central Tohoku Region.
There is Sendai city, which is the prefectual capital and a million city, in roughly center of this prefecture.
On the western side of the prefecture, a mountain range runs.
In the southwest part of the mountain range, there is Mount Zao on the border with Yamagata Prefecture.
The northeast part of the prefecture has a sawtooth coastline, which is the southernmost part of Sanriku Coast.
Snow falls not so much in winter, and it is not so hot in summer.
Miyagi prefecture originally was not a central area in Tohoku District, and Hiraizumi, the southern part of current Iwate prefecture, was it in the 11th and 12th centuries.
But, in the early 17th century, Date Masamune, a leading warlord in this region, built a castle town at Sendai, then it has developed as the central city of this area.
On March 11, 2011, the Great East Japan Earthquake occurred and large tsunami attacked all coastline in Miyagi Prefecture.
Because the northern coast of the prefecture has a sawtooth coastline, powerful tsunami attacked directly the towns by the sea.
On the other hand, the southern coast is flat, so the tsunami swept the towns until 5 to 10 km from the coast.
Therefore, more than 10,000 people were left dead or missing by the earthquake and tsunami in Miyagi Prefecture.
Those account for more than 60% of the total.
Miyagi Prefecture is on the road to recovery from the disaster.
Tourist Attractions in Miyagi Prefecture
Transportation
Railway
To Sendai from Tokyo : By Tohoku Shinkansen, 1 hours and 30 - 45 minutes.
To Sendai from Morioka : By Tohoku Shinkansen, 40 minutes to 1 hours and 10 minutes.
To Sendai from Yamagata : By JR Senzan Line, 1 hours and 10 - 20 minutes.
Express bus
To Sendai from Tokyo : about 5.5 - 6 hours.
Airport
Sendai airport is located about 15 km south of Sendai city.
It has the flights from Narita (Tokyo), Kansai, Itami (Osaka), Chubu (Nagoya), Shin-Chitose (Sapporo), Hiroshima, Fukuoka, etc.
There is no flight from Haneda in Tokyo.
Main events in Miyagi Prefecture
Sendai Aoba Festival (On the 3rd Sunday & the previous day)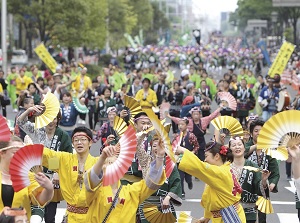 Photo by Sendai City, Tourism Division
Sendai Aoba Festival is the big festival held in Sendai city.
It has been held since 1985, after integrating two festivals which had been interrepted.
On Saturaday (the first day), Suzume-Odori (Sparrow Dance) is held in various streets and the parks.
On Sunday (the second day), samurai procession, children's parade with the costume of the old time, the parade of beautiful floats, etc. are held in the main street in Sendai.
And various events are held in various areas in the city.
Shiogama Port Festival (3rd Monday in July)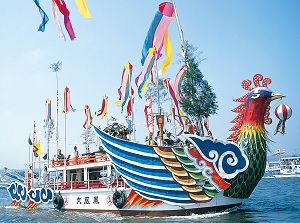 Photo by Miyagi Prefecture
Shiogama Port Festival is the festival held at the port of Shiogama city.
This fastival has been held for development of city since 1948.
Two Mikoshi (portable shrine) are carried throughout the city from Shiogama shrine.
After that, they are shipped on two decorated ship and are paraded around Matsushima bay with many colorful fishing boats.
Additionally many events are held in the city.
Sendai Tanabata Festival (From August 6 - 8)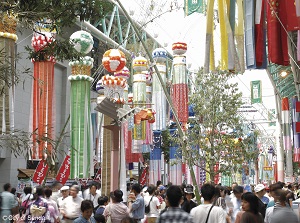 Photo by Sendai City, Tourism Division
Tanabata is one of the traditional seasonal festivals in east Asia, and in Japan generally it is on July 7th.
Especially Tanabata of Sendai is most famous in Japan.
In Japan, we hang colorful paper strips after writing our wishes on bamboo tree.
In Sendai, great and gorgeous decorations are hung all over the city.
So, the whole city is filled with the decorations.
Some events and a fireworks display are also held in the city.
Local foods and products in Miyagi Prefecture
Beef tongue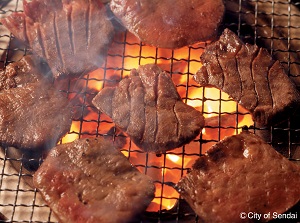 Photo by Sendai City, Tourism Division
Sliced beef tongue with salt or shoyu are grilled over a direct fire.
In Japanese, it is called gyûtan.
After World War II, Allied Occupation forces ate a lot of beef but the beef tongue remained.
A yakitori restaurant in Sendai used the beef tongue and served this menu.
At first, it was only a unique menu.
But, in the era of high economic growth (the 1970s), many businessmen from Tokyo knew the taste and the reputation spread, then gyutan in Sendai became a speciality.
Now there are about 60 restaurants for gyutan cooking in Sendai city.
Oysters

Photo by Miyagi Prefecture
Matsushima bay is one of the Japanese largest production centers of oyster.
The oysters are somewhat small but firm.
The season is from October to March.
Along Matsushuma coast, there are some shop selling oysters.
And a few restaurants that we can eat oysters with baking for ourselves are opened during the season.
Sasa-kamaboko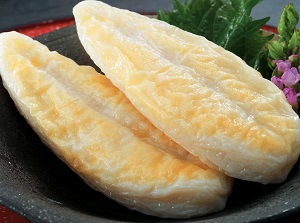 Photo by Sendai City, Tourism Division
Kamaboko is a variety of Japanese processed seafood products.
It is made by steaming pureed white fish.
Especially in Sendai, the product is called "Sasa-kamaboko".
Of course, the form is different from general kamaboko.
General kamaboko is made by placing on a wooden board, but sasa-kamaboko is made in a leaf-shaping mold.
Zunda-mochi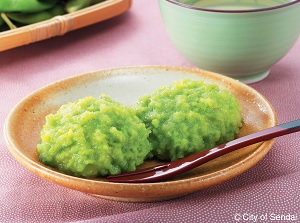 Photo by Sendai City, Tourism Division
Mochi is made by pounding steamed glutinous rice into sticky paste like bread dough.
Boiled green soybeans are ground.
Then sugar and salt are added to it and the mochi is wrapped with the green paste.
It is Zunda-mochi.
It is mainly sold in Miyagi Prefecture.
Originally, the sweets have been made in the farmhouses in the area.
Kokeshi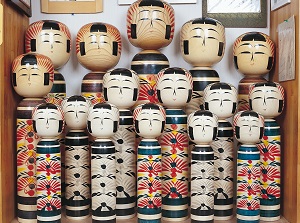 Photo by Miyagi Prefecture
Kokeshi is a simple wooden doll.
Many of Kokushi are made in Tohoku Region, and particularly Miyagi Prefecture is one of the main places of production.
It consists of a round head and a cylindrical torso.
The head is fitted on the torso and a girl's face drawn in.
Two or three colors, such as red, blue or yellow, are used to paint lines or a chrysanthemum design on the body.