Takayama Inari Shrine [
高山稲荷神社

]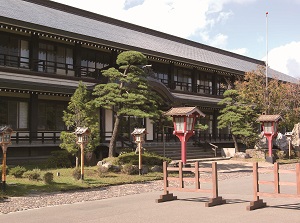 Entrance building
Photo by Aomori Prefecture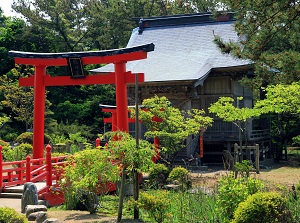 Main shrine
Photo by Aomori Prefecture
Takayama Inari Shrine is a Shinto shrine.
It is located about 40 km east-northeast of Aomori city.
The precincts of the shrine is on a hill near the west coast of Tsugaru Peninsula.
The shrine is one of big shrines in Aomori prefecture, but it is positioned far away from the nearest village.
It is said that this shrine had already been established in the late 17th century.
The shrine is dedicated to the Inari god.
Inari is a god of production, so farmers, merchants and managers, etc. mainly visit Inari shrine.
Fushimi Inari Shrine in Kyoto is famous for the central shrine of Inari, and this Takayama Inari is also the same shrine.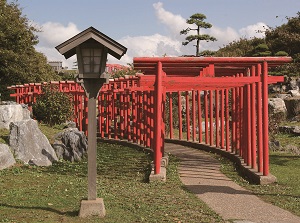 Entrance of Senbon-Torii
Photo by Aomori Prefecture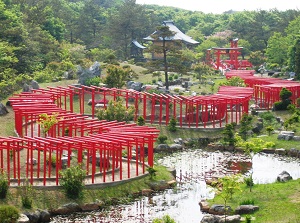 Senbon-Torii
Photo by Aomori Prefecture
Like Fushimi Inari Shrine, there is unique path with many Torii gates in this shrine.
It is called Senbon-Torii.
In an area like Japanese garden, a winding path is set up.
On the path, over 200 red Torii gates are stood like a tunnel.
The scenery is nice.
Each Torii gate was donated by a believer, so this tunnel of Torii has completed by many believer of this shrine for a long time.
Additionally, there are many statues of fox in the site.
Fox is the messenger of Inari god.
How to get here
First, by JR train, go to Goshogawara.
About 45 minutes from Hirosaki.
Then, from Goshogawara station, about 45 minutes by route bus for Kodomari (Juusan route).
Get off the bus at "Takayama Inari Jinja Iriguchi" stop.
From the bus stop, you must walk about 3 km. (about 50 minutes)
Hotels around Goshogawara
Other Tourist Attractions in Aomori Prefecture