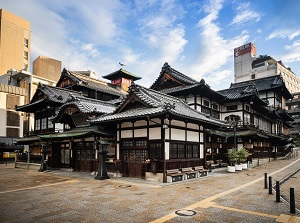 Dogo Onsen Honkan
Photo by Dogo Onsen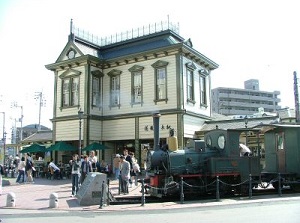 Dogo Onsen station of Itotetsu railway
Photo by Railstation.net
Dogo Onsen is a hot spring resort located about 2 km northeast of Matsuyama Castle and about 4 km east-northeast of JR Matsyuama station.
The first "o" in the word is pronounced long, so it is read as "Dôgo onsen".
It is one of the oldest hot spring, and there are many ryokans and hotels.
About 3,000 years ago, a wounded egret found a hot spring.
The egret came to the hot spring every day.
After some days, the wound cured and the egret flew off.
It was Dôgo hot spring.
Since that, people used this hot spring for cure of disease and relieving fatigue.
Around the 7th century, several Emperors came to enjoy the hot spring.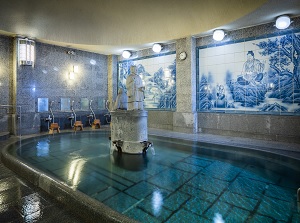 Kami-no-yu for women
Photo by Dogo Onsen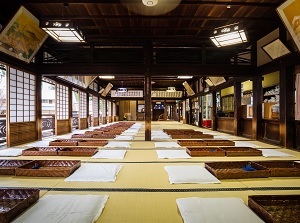 Restroom on the 2nd floor
Photo by Dogo Onsen
In the center of the resort town, there is the public bathhouse Dôgo-onsen Honkan (道後温泉本館).
It was built in 1894, and is designated as a national important cultural property.
It is the symbol of Dôgo onsen.
The bathhouse has three floors.
On the first floor, there are two type of bathrooms.
They are Kami-no-yu (神の湯, Bath of God) and Tama-no-yu (霊の湯, Bath of Spirit).
Tama-no-yu is narrower than Kami-no-yu but the interior is gorgeous.
The resting rooms are on the second and the third floors.
The third floor has private rooms.
The fee depends on the bath and resting room which you use.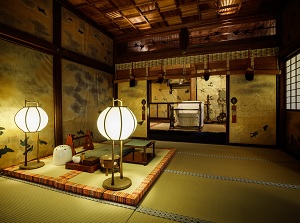 Yushinden in Dogo Onsen Honkan
Photo by Dogo Onsen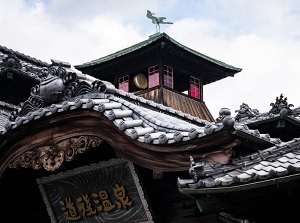 Shinrokaku on Dogo Onsen Honkan
Photo by Dogo Onsen
On the second floor, there is Yûshinden (又新殿).
It is the bathroom for the Imperial Family.
It has been used only 10 times.
Visitors can see it.
A small tower is set up on the roof of the bathhouse.
It is Shinrokaku (振鷺閣) and there is a Japanese drum.
The drum is beaten at 6:00, 12:00 and 18:00.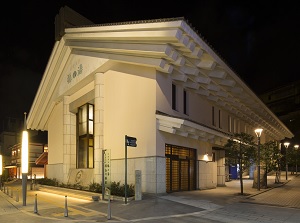 Tsubaki-no-Yu
Photo by Dogo Onsen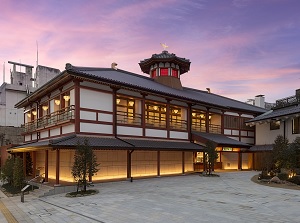 Asuka-no-Yu
Photo by Dogo Onsen
There are two other bathhouses at about 100 meters west of Honkan.
These are also popular with the city's residents.
One is Tsubaki-no-Yu (椿の湯).
It was built in 1953, and has two wide bathrooms for men and women.
Another is Asuka-no-Yu (飛鳥乃湯泉).
It is a new bathhouse opened in 2017.
The structure as a bathhouse is similar to Honkan, and there are the bathrooms on the first floor and some restrooms on the second floor.
How to get here
By streetcar of Iyotetsu railway, 25 minutes from JR Matsuyama station.
Hotels around Dogo Onsen
Other Tourist Attractions in Ehime Prefecture