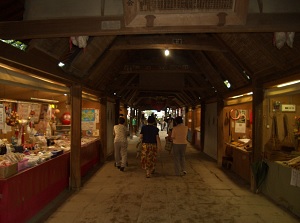 Approach to Ishiteji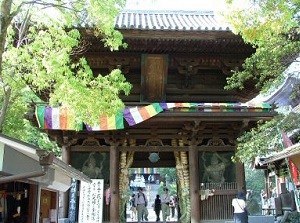 Niomon of Ishiteji
Photo by Railstation.net
Ishiteji is a Buddhist temple of Shingon school which is one of major Japanese Buddhism.
It is located about 1.2 km east of Dogo Onsen.
This temple was founded by high priest Gyoki in 729.
And, high priest Kuukai visited here in 813.
The original name of the temple was An'yôji.
In the current name, "ishi" means "stone" and "te" means "hand".
A son of the lord in Matsuyama was born in 892.
But, the baby was clenching his left hand.
The lord held the prayer services for the baby in this temple.
At that, the baby unclenched the hand.
A stone appeared in his hand and the name of a sacred man had been written on it.
So the name of the temple was changed to Ishiteji (Stone, hand, temple).
This temple is designated as the 51th temple of "88 temples of Shikoku Pilgrimage".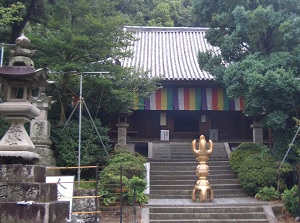 Hondo of Ishiteji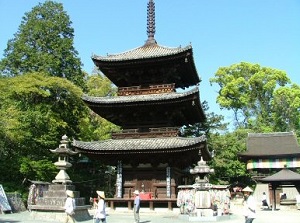 Three-storied pagoda of Ishiteji
Photo by Railstation.net
The approach is a corridor with roof, and some shops selling goods for worshipping and rice cakes.
The visitors reach Niomon gate (仁王門).
It was built in 1318, and is designated as a national treasure.
There are Hondo (本堂, Main temple), Sanjô-no-tou (三重塔, Three-storied pagoda), Shôrô (鐘楼, Bell tower), and some other buildings in the precinct.
It is said that the building was also built around the 14th century.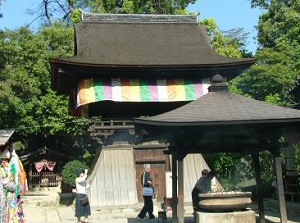 Shoro of Ishiteji
Photo by Railstation.net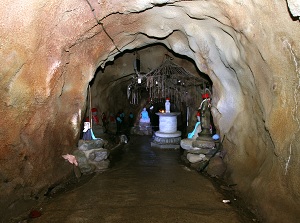 Mantora Cave in Ishiteji
Photo by Ehime Prefecture
There is a tunnel named Mantora Cave near Hondo.
It is a tunnel constructed under a hill and is about 160 meter long.
Many Buddha statues are put on the way and pictures and sutras are drwn on the wall in the dark.
It is said that you will experience the Buddhist training by walking in the tunnel.
How to get here
By route bus, 4 minutes from Dogo-onsen station to Ishiteji stop.
Hotels around Dogo Onsen
Other Tourist Attractions in Ehime Prefecture