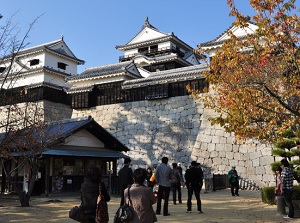 Matsuyama Castle
Photo by Railstation.net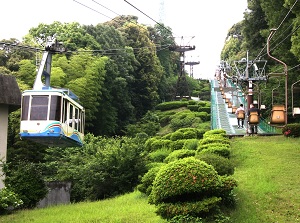 Ropeway & lift to Matsuyama Castle
Photo by Ehime Prefecture
Matsuyama Castle is a castle built by Kato Yoshiakira (1563-1631), the first castle lord of Matsuyama Domain, in 1602.
It is located in the center of Matsuyama city and is about 1.4 km east-northeast of JR Matsuyama station.
The castle tower is one of the 12 original castle towers in Japan.
It is on the top of Mount Katsuyama (or Shiroyama) 132 meters above sea level.
The height of the tower is about 21 meters, and the building has three stories.
The first castle tower was built in 1642.
But it was destroyed by fire by lightning strike in 1784.
Current castle tower was rebuilt in 1854.
It is the last castle constructed as Japanese castle.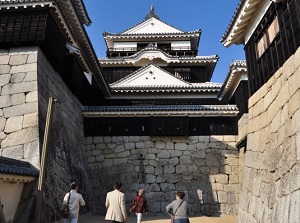 Approach to the castle tower
Photo by Railstation.net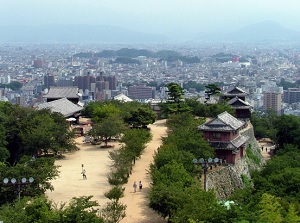 View from the castle tower
Photo by Railstation.net
In the site on the top of the mountain, 21 original buildings including the castle tower remain.
They are the gates, towers and fences, and all of them are designated as national important cultural properties.
In addition, there is a well about 44 meters deep in the site.
It is particularly worth noting that it was very difficult to dig such a deep well with civil engineering technology at that time.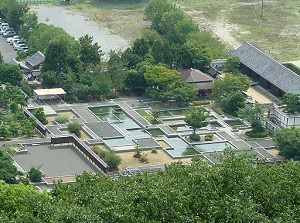 Ninomaru Shiseki Teien
Photo by Railstation.net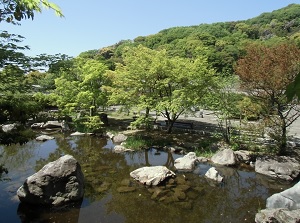 Japanese garden in Ninomaru Shiseki Teie
Photo by Ehime Prefecture
There is Ninomaru Shiseki Teien (二之丸史跡庭園) at the southwest foot of the mountain.
It is the ruin of the palace where the lord of the castle, his family and the soldiers to guard them were living.
There are also a Japanese garden and a huge well used as water for fire protection.
There are four routes to the castle tower on the top.
The main route is on the east side, and a ropeway and a lift are operated.
How to get here
By streetcar of Iyotetsu railway, 13 minutes from JR Matsuyama station, 12 minutes from Dogo Onsen.
Hotels around Matsuyama city
Other Tourist Attractions in Ehime Prefecture