Kochi Prefecture is the prefecture covering nearly southern part of Shikoku Island.
"O" in the word is pronounced long, so it is read as "Kôchi" in Japanese.
The long coastline faces the Pacific Ocean (Philippine Sea) almost-totally.
It arcs widely, and the inner sea is called Tosa Bay.
Tosa (土佐) is the old name of Kochi Prefecture.
The prefecture is mountainous, and there are little flatlands.
So all cities are along the coastline.
There is a small flatland in the center of the coastline, and Kochi city is in the area.
It is the prefectural capital.
The climate is warm, and the area has many hours of sunlight.
Additionally, because the warm and wet air comes from the ocean directly, the annual rainfall is over 3,600 mm and the prefecture has the largest amount of rainfall in Japan.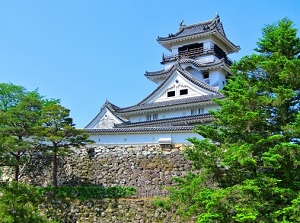 Kochi Castle
In the end of feudal Edo Period (1603-1868), Kochi Prefecture created a unique samurai.
He was Sakamoto Ryoma (1836-1867).
He was one of the heros who overthrew the feudal government and founded a new modern state.
His behaviors were adventurous, so his story has been used in many novels, movies and TV dramas.
He has enjoyed popularity among Japanese people.
In Kochi Prefecture, there are some spots related to him.
His name is added to even the airport in Kochi. (Kochi Ryoma Airport)
Tourist Attractions in Kochi Prefecture
Shikoku 88 temples pilgrimage
Hotels in Kochi Prefecture
Transportation
Railway
To Kochi from Takamatsu : About 2 hours and 20 minutes by JR limited express.
To Kochi from Okayama : About 2 hours and 30 minutes by JR limited express.
To Nakamura from Kochi : About 1 hour and 45 minutes.
Express bus
To Kochi from Tokyo : about 12 hours. (Night bus)
To Kochi from Osaka : about 5 hours.
Airport
Kochi Airport is located about 15 km east of the center of Kochi city.
It has the flights from Haneda (Tokyo), Narita, Itami (Osaka) and a few cities.
Main events in Kochi Prefecture
Sunday Market (Every Sunday)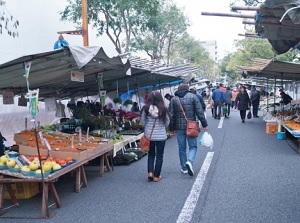 Sunday Market (Nichiyô-ichi in Japanese) is held on Oute-suji street every Sunday.
The market started in 1690, so it has a history of over 330 years.
The street runs from the east side of Kochi Castle to the east and about 800 meters long.
There are over 400 shops selling not only vegetables and fruits also convenience goods, confectionery, garden plants, etc.
It opens from the early morning to the evening.
Dorome Festival (Last Sunday in April)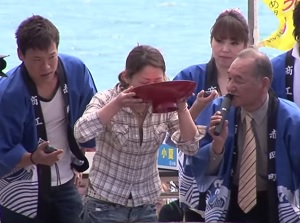 Dorome Festival is the annual event held in Akaoka town in Konan city located about 20 km east of Kochi city.
"Dorome" means young sardine, and dorome fishing has been active in the town.
In 1959, this town started the festival for good catch of dorome.
In the 3rd festival, Sake (rice wine) drinking contest came on the festival.
It is said that there are many heavy drinkers in Kochi Prefecture.
So, it has become the most attractive event and this festival has been known throughout the country.
The alcohol concentration of Sake is two times higher than wine.
Sake is poured into a big cup.
The contestants compete the time of drinking.
Men must drink 1.8 liters, and women must drink 0.9 liters.
Surprisingly, the average times of the passed champions are 12.5 seconds (men) and 10.8 seconds (women).
Yosakoi Festival (August 9 - 12)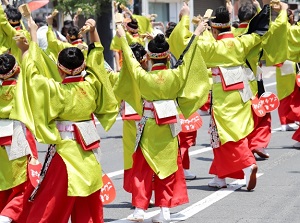 Yosakoi Festival is the summer festival of Kochi city which began to compete with Awa Dance Festival in Tokushima city in 1954.
At first, the main event of this festival was the Bon dance parade with clapping Naruko like castanet.
After that, free arrangement of the dancing and the music was allowed, then many various dancing teams came to join this festival, such as samba, rock, hip hop, Flamenco.
Every year, more than ten thousand dancers of over 180 teams show various dances.
Local foods and products in Kochi Prefecture
Katsuo-no-tataki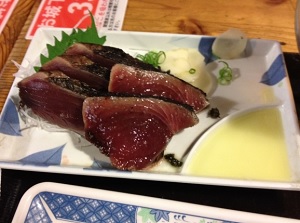 Katsuo-no-tataki is a dish of bonito ("katsuo" in Japanese").
Roughly speaking, it is bonito salad or marinade.
A fillet of bonito is roasted rare, then it is cooled down.
On a large dish, sliced bonito, sliced or chopped vegetables such as daikon (Japanese radish), ginger, garlic, shiso (Japanese basil) are placed, then the sauce mixed with shoyu (soy sauce), vinegar and citrus juice are poured.
It is a salad.
But it is usually served after about an hour to allow the flavor to blend.
It is said that this dish originated in Kochi Prefecture.
Sawachi dish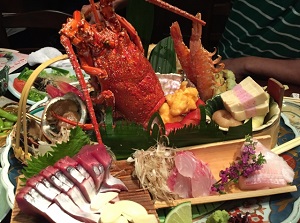 Sawachi is a gorgeous dish in Kochi Prefecture.
On some beautiful large dishes, various foods are arranged compactly.
First dish is for raw foods such as sashimi and Katsuo-no-tataki.
Second dish is for cooked foods.
Third dish is for sushi.
These are the basic set, but a few other dishes are often added.
Sawachi dish has been served on the festival day or happy day.
And all the members in the room eat the the delicious foods on Sawachi all together as buffet style.
Tosa buntan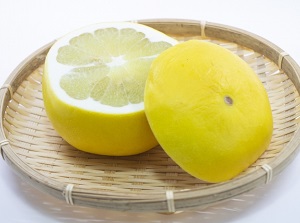 "Tosa" is old name of Kochi Prefecture, and "buntan" means "pomelo".
Pomelo is a kind of citrus fruits, and grapefruit is one of this family.
There are some varieties of pomelo in Japan, and Tosa buntan is one of the tastiest pomelos.
It is sweet and sour in moderation, but it is less bitter than grapefruit.