Tokushima Prefecture [
徳島県

]
Tokushima Prefecture is located in the east part of Shikoku Island.
To the northeast, there is Awaji Island in Hyogo Prefecture across Naruto Strait.
The east coast of the prefecture faces Kii Channel, and the southeast coast faces the Pacific Ocean.
The whole area is mountainous, and particularly, the mountains in the southwest part of the prefecture are steep.
The highest mountain is Mount Tsurugi (1,955 m), and is the second highest mountain in Shikoku Island after Mount Ishizuchi (1,982 m, Ehime Prefecture).
In the north part of the prefecture, Yoshino River flows from west to east roughly in a straight line.
It has been the important river for the people in the north part of Tokushima Prefecture.
But this river has often flooded since ancient times.
So this river is counted among three major violent rivers in Japan, along with Tone River and Chikugo River.
These has been likened to naughty three brothers, and the nickname of this river is "Shikoku Saburo".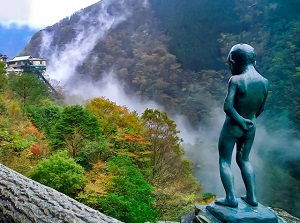 Iya Valley
Most of the main cities and towns are along the coastline and Yoshino River.
Tokushima city (徳島) is located at the mouth of Yoshino River, and is the prefectural capital.
The railway lines of JR also run along the coastline and the river from Tokushima city.
Tokushima Prefecture is connected by Ônaruto Bridge across Naruto Strait with Awaji Island.
And the expressway on the bridge leads to Akashi and Kobe in Hyogo Prefecture through Awaji Island.
So the links between Tokushima Prefecture and Kansai Region are stronger than the other prefecture in Shikoku Island.
To visit Tokushima Prefecture, it is more convenient to use express bus from Osaka or Kobe than JR train.
When you use JR railway, you must follow the path such as Okayama, Takamatsu, Tokushima.
You must transfer the train at each station, and it surely takes over 3 hours from Kansai Region.
The express buses come to Tokushima directly in about 2 to 3 hours.
Tourist Attractions in Tokushima Prefecture
Pilgrimage of 88 Temples of Shikoku
Hotels in Tokushima Prefecture
Transportation
Railway
To Tokushima from Takamatsu : About 1 hour and 10 minutes by JR limited express.
To Tokushima from Okayama : About 2 to 3 hours by JR limited express. (Change the train at Takamatsu)
To Tokushima from Kochi : About 2.5 to 3 hours. (Change the train at Awa-Ikeda)
Express bus
To Tokushima from Tokyo : about 10 hours. (Night bus)
To Tokushima from Osaka : about 2 hours and 45 minutes.
Airport
Tokushima Airport is located about 15 km north of the center of Tokushima city.
It has the flights from Haneda (Tokyo) and Fukuoka.
Main events in Tokushima Prefecture
Awa Dance Festival (August 12 - 15)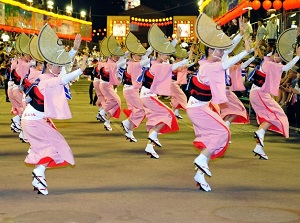 Photo by Tokushima Prefecture
Awa Dance ("Awa Odori" in Japanese) is one of the most famous Bon dances in Japan.
"Awa" is the old name of Tokushima Prefecture.
Especially, Awa Dance Festival in Tokushima city is big, and more than a million visitors come to see this festival every year.
Men dance vigorously or comically, and women dance gracefully but briskly, to the up-tempo music with Shamisen (Japanese three-stringed instrument), bell, drum and bamboo flute.
Men wear happi coat or Yukata (summer cotton kimono), and women wear kimono and a straw hat like a folded disk.
The festival is performed in the form of dancing parade by many dancing teams.
It is said that there are about a thousand dancing teams, and about 100 thousand members of the teams join the parade.
Inugai Farmers' Theater (November 3)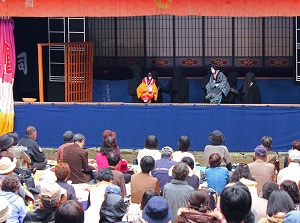 Photo by Tokushima Prefecture
Inugai Farmers' Theater ("Inugai Nôson-butai" in Japanese) is an outdoor theater built in 1873.
It is in the precinct of Goô Shrine in Hata district about 15 km south of the center of Tokushima city.
"Ningyô-jôruri" is a traditional Japanese puppet drama.
It had been developed in Osaka city since the 17th century.
It had been very popular and the theaters for Ningyô-jôruri were built as local entertainment facility in the Shrine in several villages.
Inugai Farmers' Theater has the old type of stage setting.
The annual performance of Ningyô-jôruri is held on November 3 every year.
Local foods and products in Tokushima Prefecture
Sobagome-zosui

Photo by Tokushima Prefecture
Sobagome-zosui is a local dish in Tokushima Prefecture, and is also called "Sobagome-jiru".
It originated in the mountain area at the west part of this prefecture.
"Sobagome" is a food processed from dried grains of soba (buckwheat), but little sobagome is coming onto the market in Japan.
"Zosui" is a rice soup dish.
Generally, it is made by putting rice and some ingredients into Japanese dashi soup and boiling it.
Sobagome-zosui is made using sobagome instead of rice.
Because, the mountain area in Tokushima Prefecture is steep, so it had been difficult to harvest much rice.
Tarai Udon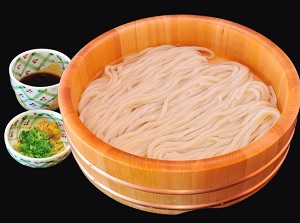 Photo by Tokushima Prefecture
Tarai Udon is a simple noodle dish.

Udon is a main Japanese noodle made of plain wheat flour.
It is boiled in water, then the noodle and its boiled water are moved into a large wooden bucket.
The wooden bucket is called "tarai" in Japanese.
The noodle in the bucket is eaten by dipping it into sauce.
The sauce is basically made of ingredients including soy sauce, dashi stock and sugar.
It is unique to use the river fish in Tokushima Prefecture as the dashi.
It is said that the woodcutters in the mountain had eaten by river in the old times.
Sudachi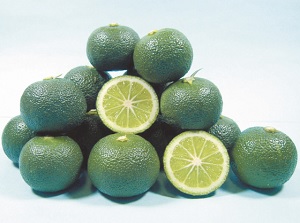 Photo by Tokushima Prefecture
Sudachi is a round and green citrus fruit.
It looks like small lime, and is about 3 to 4 centimeters in diameter.
The scent is milder than lime.
Tokushima Prefecture gained more than 90 percent share of the Japan's sudachi production.
A slice of sudachi is served with many traditional Japanese dishes which include broiled fish, soba noodle, nabe, and even some alcoholic beverages.
Awa-Ai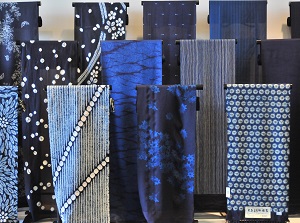 Photo by Tokushima Prefecture
Awa-ai is indigo dye in Tokushima Prefecture.
Yoshino River has often caused floods and there had been serious damage to the crops.
So, production of indigo plant was encouraged by the lord of Tokushima in the earlt 17th century, beacuse indigo plant can be harvested in mid-summer before typhoon season.
In the 18th century, Awa-ai controlled the market in Japan.
But the indigo dye has declined because of cheap imports since the 20th century.
Now, Awa-ai has been designated as traditional products of Tokushima, and some craftmen keep the tradition.