Waki town (Wakimachi) [
脇町

]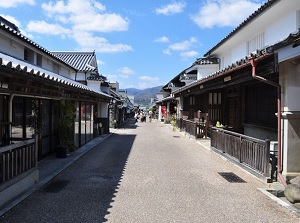 Minamimachi street in Wakimachi
Photo by Railstation.net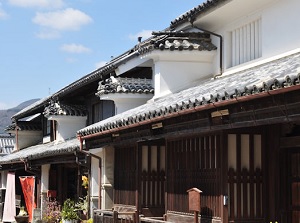 House with Udatsu in Wakimachi
Photo by Railstation.net
Wakimachi is a small town in Mima city.
It is located about 45 km west of Tokushima city.
The town is in the valley formed by Yoshino River, and is on the northern bank of the river.
In the late 16th century, Waki Castle was built on the hill and the castle town was formed around the southern foot of the hill.
At that time, the cultivation of indigo plant for dying was encouraged in the area.
Because Yoshino River was used for water transportation and main roads to Takamatsu and Naruto were set up, Wakimachi was the distributing center of indigo plant.
So this town developed.
Many rich merchants lived in this town, and they competed to build most gorgeous houses.
Each house is two-story, and firewall is installed for prevention of fire spreading on the side of the house.
It is on the one or both sides of the roof.
It is called Udatsu in Japanese.
Udatsu is expensive to install.
So the rich merchants made handsome udatsu to show own financial power.
A railway was opened on the opposite side of Yoshino River in 1914.
The main area of the town moved to the side, so the old town was left.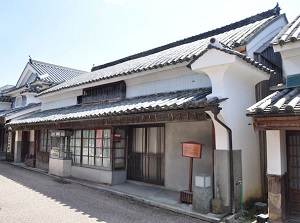 Kunimi House built in 1707
Photo by Railstation.net

Mori House built in 1880
Photo by Railstation.net
In Wakimachi, there are many old houses with udatsu.
Especially Minamimachi street (南町) about 430 meters long is known as "Udatsu town".
85 old houses in the town are designated as the historic buildings, and 50 houses are along Minamimachi street.
The oldest house was built in 1707.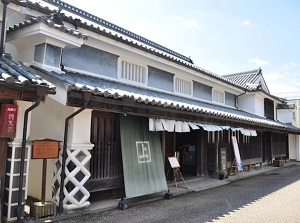 Yoshida House
Photo by Railstation.net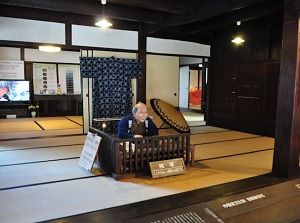 Inside of Yoshida House
Photo by Railstation.net
Yoshida House (吉田家住宅) is the largest old house in the town, and is located around the center of the street.
It is open to the public.
It was the house of indigo merchant established in 1792, and five buildings such as main shop, storehouse, etc. are in the site.
How to get here
By limited express of JR Tokushima Line, about 40 to 45 minutes from Tokushima to Anabuki.
From Anabuku station, there is no route bus.
By taxi, about 10 minutes from Anabuki station.
The distance from the station to Wakimachi is about 2.5 km.
It takes about 40 minutes on foot.
Hotels in Tokushima Prefecture
Other Tourist Attractions in Tokushima Prefecture