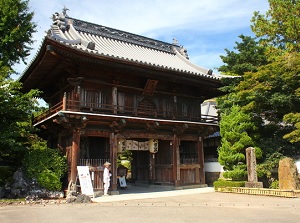 Main gate of Ryozenji
Photo by Tokushima Prefecture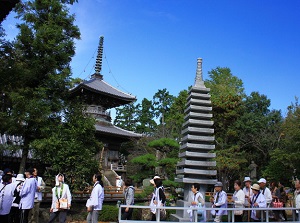 Pilgrims in Ryozenji
Photo by Tokushima Prefecture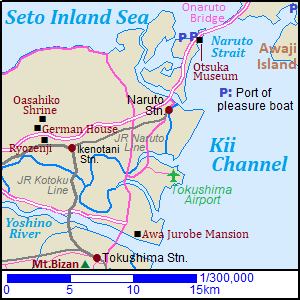 Ryozenji is a temple of Shingon Buddhism which is a major school of Japanese Buddhism.
"O" in the word is pronounced long, so it is read as "Ryôzenji".
It is located about 10 km west of the center of Naruto city.
Ryozenji has the first number of 88 temples of Shikoku Pilgrimage.
Each of the 88 temples has the history that high priest Kuukai (774-835) stayed to do ascetic training.
Therefore, it is full of many pilgrims who are going to start the pilgrimage anytime.
Most of the new pilgrims buy the goods for the pilgrimage (white clothing, sacred cane, straw hat, seal book, etc.) in this temple.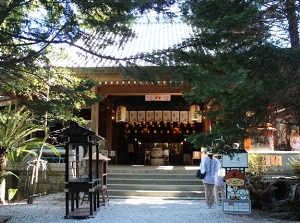 Main temple of Ryozenji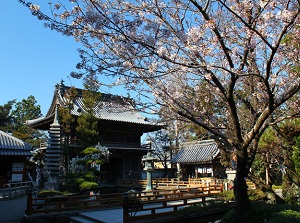 Ryozenji in spring
Photo by Tokushima Prefecture
Ryozenji was founded by high priest Gyoki by order of Emperor Shomu in the 730s or 740s.
Kuukai visited this temple in 815, and had done ascetic training for 21 days.
It is said that the statue of principal Buddhist image was created by Kuukai, but it hasn't been opened to the public.
See the page of 88 temples of Shikoku Pilgrimage.
How to get here
By local train of JR Kotoku Line, 22 to 35 minutes from Tokushima to Bando.
About 15 minutes walk from Bando station. (about 0.9 km)
Or, by route bus for Oasa-jinja, about 40 minutes from JR Tokushima station to Ryozenji-mae stop.
From JR Naruto station, by route bus for Itano-eki, about 26 minutes to Ryozenji-mae stop.
Hotels around Tokushima city
Other Tourist Attractions in Tokushima Prefecture