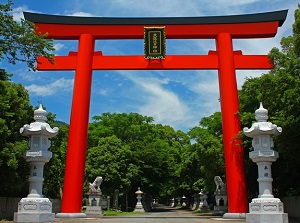 Torii gate to Oasahiko Shrine
Photo by Tokushima Prefecture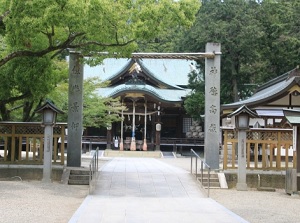 Haiden of Oasahiko Shrine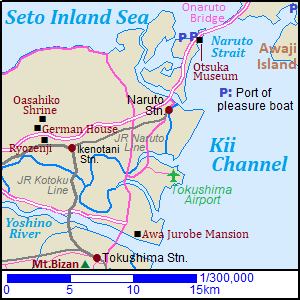 Ôasahiko Shrine is a Shinto shrine.
It is located about 1.3 km north of Ryozenji temple.
According to the history of the shrine, a god came to Tokushima area thousands of years ago and started to plant hemp.
And he created hemp cloths and promoted an industry.
After that, he was enshrined as a guardian god of Tokushima.
That was a legend, but there are some mentions that this shrine existed in the middle of the 9th century in an old history book.
Now, this is the largest Shinto shrine in Tokushima Prefecture.
There is a big red Torii gate about 500 meters north of Ryozenji temple.
The approach from there to the shrine is about 800 meters long.
Honden (本殿, Main shrine) rebuilt in 1880 is in the north part of the precinct, and Haiden (拝殿, Worship hall) is in front of Honden.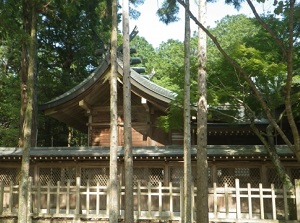 Honden of Oasahiko Shrine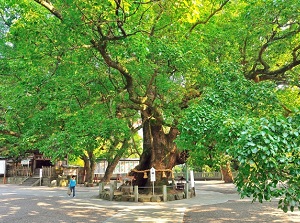 Big camphor tree in Oasahiko Shrine
Photo by Tokushima Prefecture
There is an big camphor tree in the center of the precinct.
The height is about 22 meters and the length of the circumference of the trunk is 8.3 meters.
It is over 1,000 years old, and is the sacred tree of the shrine.
There is Naruto German House about 600 meters south of this shrine.
From 1917 to 1920, there was a prison camp of German soldiers.
There are two bridges constructed by them around the shrine.
One is Doitsu-bashi (ドイツ橋, German Bridge).
Because the Japanese staff of the camp was friendly to the prisoners, the prisoners constructed the bridge as a memory in 1919 before returning home.
It is an arched stone bridge.
The length is 9 meters and the height is 3.2 meters.
About 3,000 stones are used.
It is designated as a cultural property, and visitors can't cross the bridge.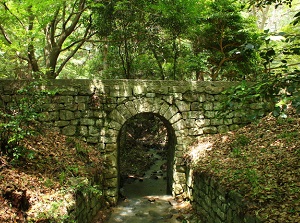 Doitsu-bashi (German Bridge)
Photo by Tokushima Prefecture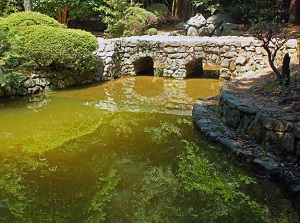 Megane-bashi (Megane Bridge)
Photo by Tokushima Prefecture
Another is Megane-bashi (メガネ橋, Megane Bridge).
It crosses over a pond, and the pond and the bridge were also constructed by them.
It is a small bridge and visitors can cross it.
How to get here
On foot, about 20 minutes walk from Ryozenji temple, about 15 minutes walk from Naruto German House.
Hotels around Tokushima city
Other Tourist Attractions in Tokushima Prefecture